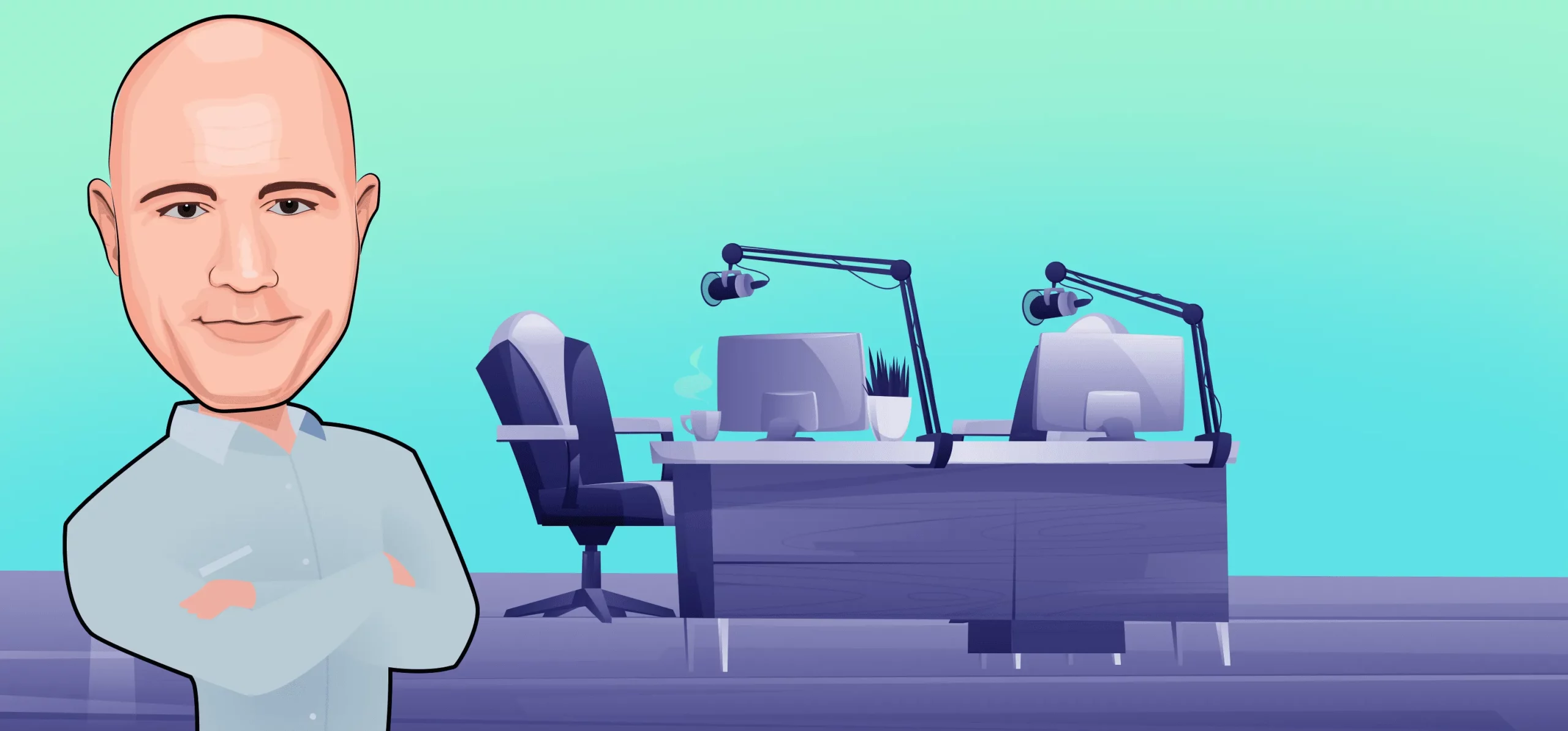 If you're a regular podcast listener, the name Joe Rogan should be familiar to you.
He's the guy with one of the most popular podcasts on planet earth!
And in 2022, he got an exclusivity deal from Spotify, which is allegedly worth 200 million dollars. And if you're starting a podcast, he's one of the best to learn from.
So in this blog post, we'll go over the strategies and lessons that help your podcast become successful.
If that sounds interesting, then keep on reading.
1.  You Can Start Your Podcast From Anywhere
So, you're looking to start your very own podcast?
That's awesome, but do you feel you don't have money for the right equipment?
If that stops you, let me tell you: You don't need special equipment to start!
You won't even need a studio for it.
That's because Joe Rogan didn't have it. Instead, he just started his podcast in his California home. Don't let this equipment talk keep you from starting your podcast.
2. Have High-Production Value
That sounds counter-intuitive to the previous lessons, doesn't it?
Well, while I'm not telling you that you're going to need some great tools, it's always best to have them available. That's because this will help your audience enjoy your content much more.
Just think of Joe Rogan.
He started in his home, but then moved out to a private studio.
Now, he always has crisp audio, and the video is always high-definition. Whenever you can, try to upgrade your tools and software, so your audience can take more pleasure in listening to you.
3. Approach Your Podcast With Passion
There are a lot of reasons why Joe Rogan gets so many listeners.
One of the biggest reasons is that he genuinely is passionate about his podcast. Hearing him interview people and get in-depth about the topics at hand are a blast.
So if you're starting your own podcast, it's best to be as passionate as possible.
That way, you'll make it enjoyable for others to listen to you.
4. Do Consistent Podcast Episodes
One thing that comes clear very quickly is that Rogan consistently creates many episodes. At the time of writing, Joe Rogan has uploaded more than 1,800 episodes and makes 3-4 of them weekly.
But why does he do that?
Well, that's because consistency has numerous benefits:
Find New Audience Members – The first reason you want to make consistent episodes is that it helps you grow your audience. With every episode, you have the ability to get new members. And the more content you provide, the more you can get.
Keep Your Audience Engaged – In addition to finding new people, it also helps your audience stay engaged. Then, they'll know precisely when you upload, which keeps them coming back.
5. Stay Motivated and Follow Your Dreams
When starting a new podcast, you'll feel two things. First, you'll feel excitement as you start your podcast.
But then, you'll also feel unmotivated, as it might not grow as fast as expected.
And if that happens to you, it's vital not to quit, and Joe Rogan is an excellent example.
When he first launched in 2009, his podcast only had 30 million people listening to it. While that might sound like much, it's nowhere near the number, he has today. In 2020, he had 104 million, which is more than triple when he started.
But then again, it took him 11 years to get there.
Keep yourself motivated. And remember that Rome wasn't built in a day, so won't your podcast!
6. Build Your Audience First Before Getting Any Sponsorships
It's no secret that Joe Rogan earns millions from his podcast. And all he does is chat with celebrities!
While that's something that all of us strive for, there's one mistake we should avoid. It's to start getting sponsorships too early.
There are multiple reasons not to do this:
First, people aren't interested in podcasts that start selling on day one. It makes them feel that all they are getting from your podcast is being pitched for new products.
And secondly, you won't have a big enough audience for it. That means many businesses won't be interested in having sponsorship with you, leaving you with pennies.
So instead, be more like Joe Rogan. Before taking his first sponsorship, he made months' worth of content.
Why?
Because this built him a loyal fanbase. 
7. Create Long-Form Content
Nowadays, many people tell you to create shorter content due to the short attention span we have.
However, there's a slight problem with that. That's because Joe Rogan doesn't make 10-minute podcast episodes.
Instead, his average episode length is 2-3 hours long.
Then why is this format so successful for him?
Well, that's because long-form content has a significant advantage: you can get in-depth with the topics. And that's why people like his content so much!
It provides more information about the subject than other podcasts.
Whenever you can, try to make long-form content on your podcast.
8. Stay Genuine With Your Audience
While listening to doctors and celebrities is a fun thing, the main appeal of the Joe Rogan Experience is the man behind it. That's because whenever he's talking, he seems to be a very genuine guy.
And that's what people like about it.
Nowadays, more and more people value the human who's behind the organization than the organization itself.
When creating your next episode, try to be as much of yourself as possible.
9. Research About The Topics Beforehand
Do you know why Joe Rogan's episodes are so enjoyable? Well, that's because Joe Rogan knows how to ask questions.
But how does he do that?
Well, that's easy! He researches the person/topic beforehand. Then he has a better understanding of the guest and topic, which leads him to find the most exciting questions to ask.
When you have a guest for an interview, be prepared to do that as well!
But that's just the first part of it.
10. Ask Open-Ended Questions and Listen to The Answers Carefully
While research is essential, it's also crucial to know which questions to ask. Bad interviewers ask questions that can be answered with a couple of words.
But good ones like Joe Rogan ask open-ended questions!
That leads you to get some interesting answers, which also help you find more questions.
For this, you've got to listen carefully to what they say. Then you can spot some exciting ways your interviewee can elaborate.
11. Use Trends/Controversies
However, that is not the only thing why he has grown so much.
The other clever thing Joe Rogan does is that he chooses to talk about the trendiest and most controversial topics.
There's a reason why he invited the two doctors to talk about the pandemic – they generate more listens.
When there's a controversial topic in your niche, don't shy away from it. Instead, use it to your advantage.
12. Never Let Controversies and Criticisms Put You Down
If you've been listening to Joe Rogan for a while, you've probably seen him talk about touchy subjects and get some criticism because of it.
And while that's something you might not want to experience, it's essential not to quit because of it.
Joe Rogan has had his fair share of criticism, but he has never let it take control. Instead, he solves it and moves on, which we will discuss next.
13. Admit When You are Wrong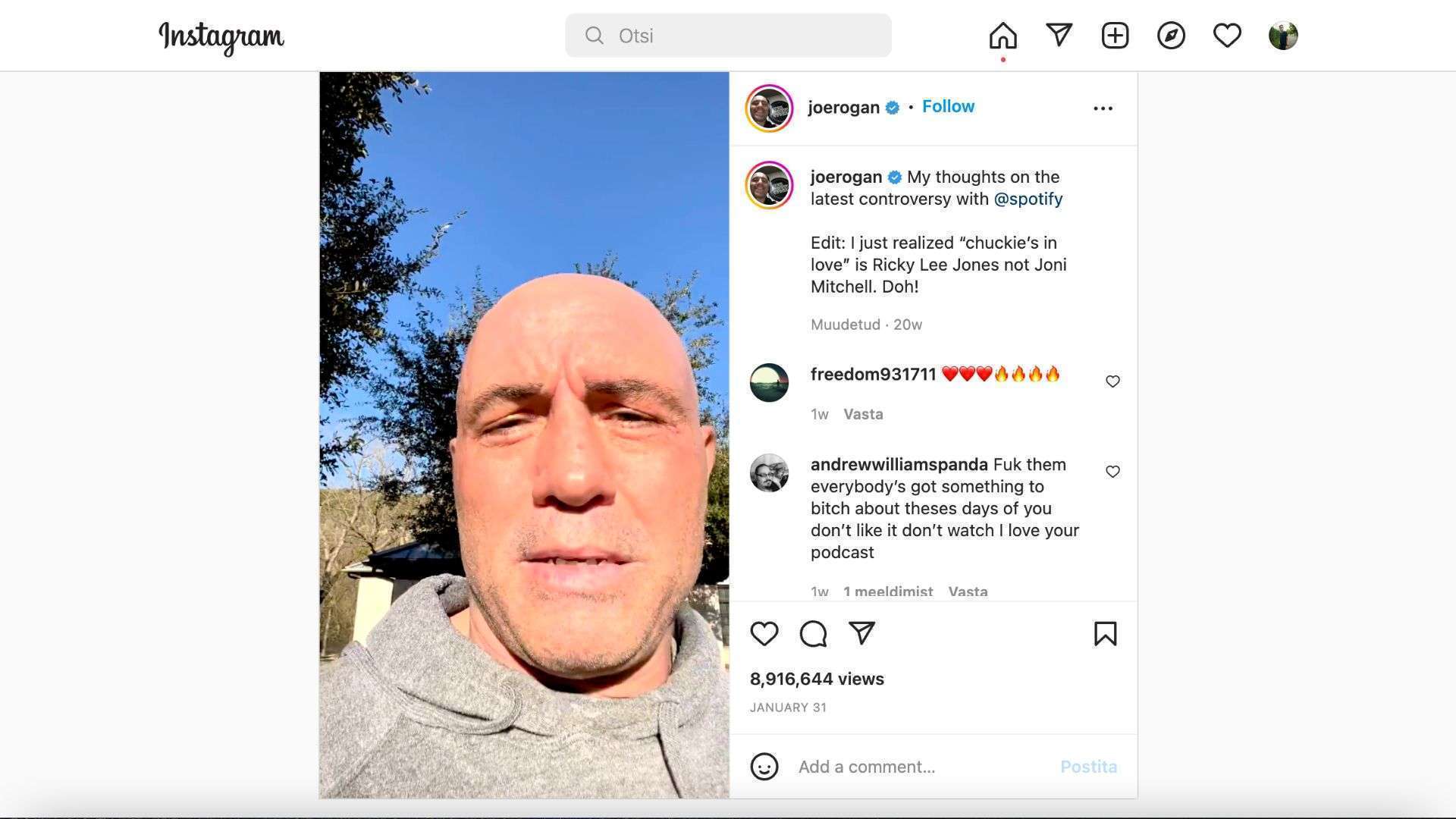 So, what does Joe Rogan do when he gets rebuked for his mistakes?
Easy, he admits it to his audience and apologizes for it.
In 2020, when the pandemic first came, Joe Rogan interviewed a couple of doctors on his show about the virus.
However, it later came out that these doctors were spreading misinformation about it. So in response, Joe Rogan admitted his mistake in one of his Instagram videos:
"Two guests of my podcast have been accused of dangerous misinformation. I do not know if they're right. I don't know because I'm not a doctor or scientist. I'm just a person who sits down, talk with people, and has a conversation with them. Do I get things wrong? Absolutely, I absolutely get things wrong, but I try to correct them. Whenever I get something wrong, I try to correct it because I'm interested in telling the truth."

When you're faced with a similar situation, make sure you don't shy away from it; admit you were wrong!
14. Do Content Distribution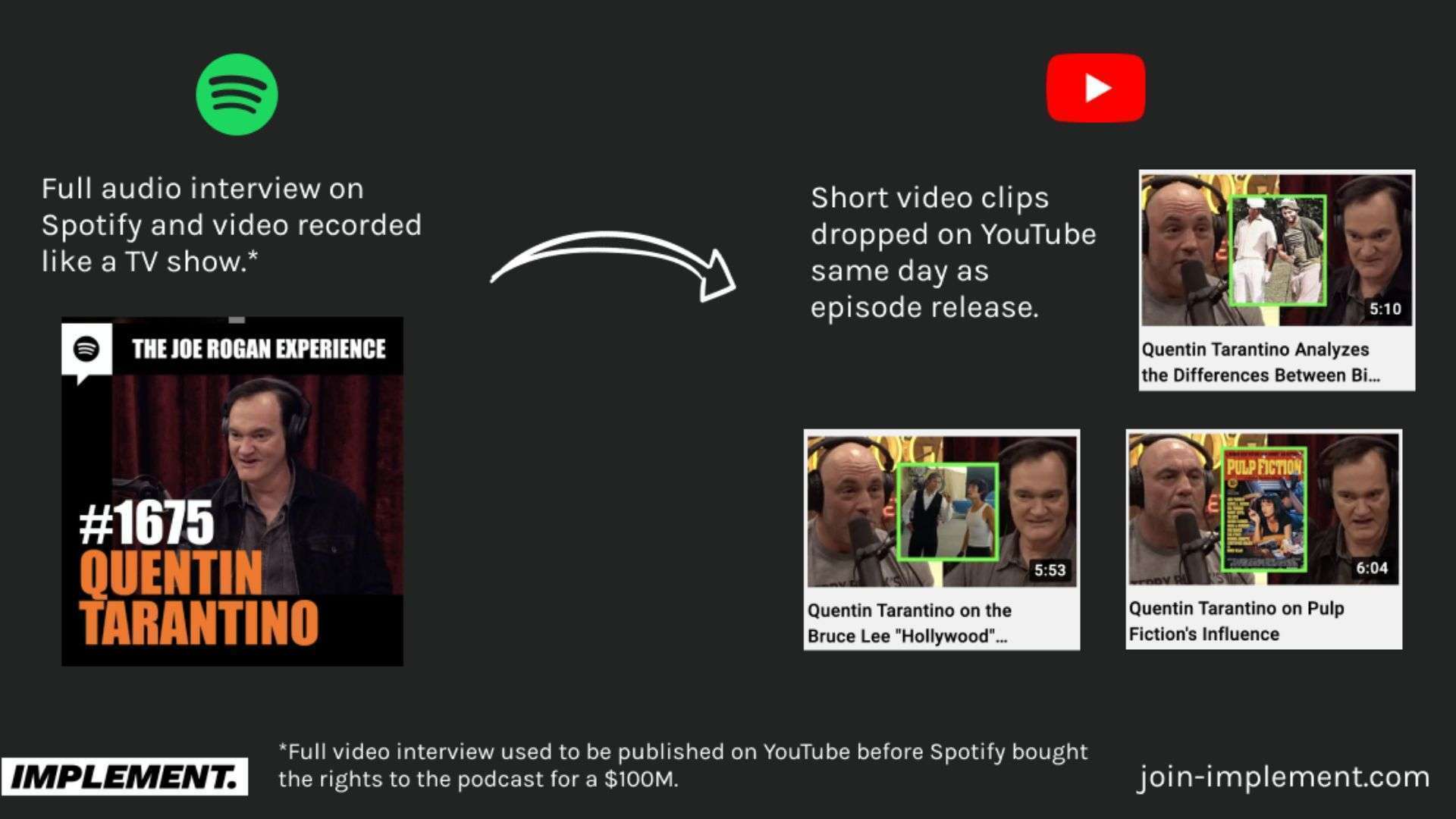 Joe Rogan does a lot of content distribution.
But do you know how it does?
Easy, it's by redistributing his content to other channels. For example, Joe Rogan won't just create a 2-3 hour podcast episode. Instead, he repurposes this content in two ways:
He uploads his video podcast to his YouTube channel.
He then uses the long video and splits the best parts into bite-sized content.
That helps him reach further people, which is why Joe has been able to grow one of the most popular podcasts.
15. Don't Be Afraid to Experiment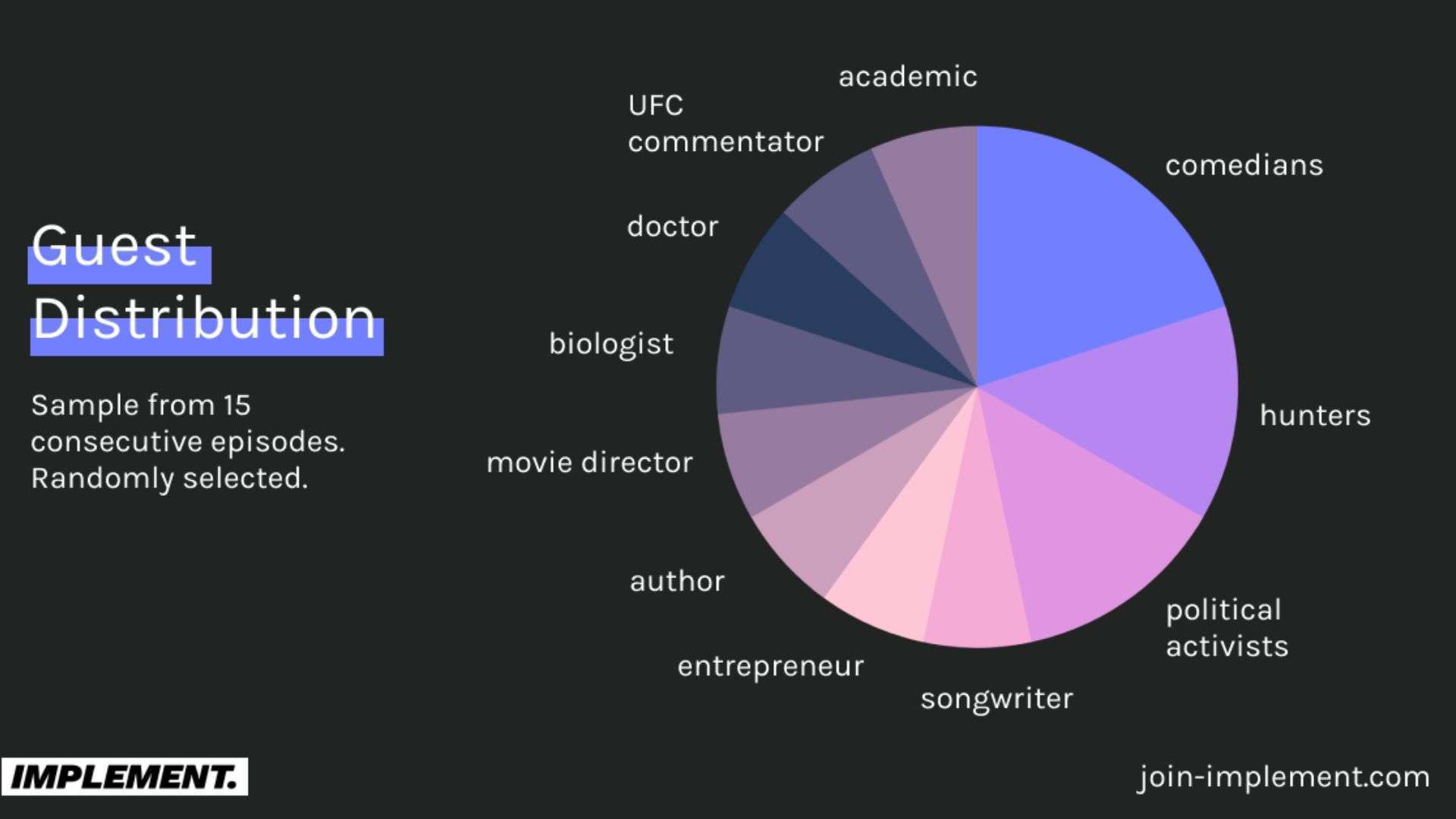 And lastly, when it comes to podcasting, most people find their niche and stay within it.
While that might b a great strategy, you shouldn't be afraid to experiment. That's because, with it, you might find some topics that work for you.
When looking at Joe Rogan, we can see that he speaks about various topics. That includes entrepreneurship, songwriting, and even biology. And yet, he has been able to be successful.
Sometimes, experiment with different topics and see how your audience will respond.
Conclusion
And those were the fifteen lessons and strategies from Joe Rogan.
So as you can see, there's much to learn from Joe Rogan. Once you learn and implement them in your podcast, you should start seeing it grow.
Instead of letting this information collect dust in your brain, go out there and start improving your podcast.