According to Amity, 76% of internet users participate in an online community.
In fact, part of the reason platforms like Facebook and Reddit are wildly active and popular is because of the communities.
Facebook Groups are home to more than 130,000 active communities, and Reddit has more than 130,000 active communities (Subreddits).
Moreover, 40% of people say they're members of online communities where they feel they belong, compared to in-person ones.
What all these statistics go on to tell us is that communities are the backbone of any thriving business.
They are a valuable tool for businesses and individuals to engage with their audience, build loyalty, and increase sales.
If you are a community owner or member, Community AI by Circle.so can be a feature you didn't know you needed.
Let's dive in together.
TL;DR Summary
Community AI is an excellent AI copilot for your online community in Circle. It offers a range of features, including:
AI idea generation
Content repurposing
Automated transcriptions
Member behavior and engagement activity scores
And much more!
SIDENOTE: If you aren't already using Circle, we recommend checking out our highly detailed and actionable Circle review to explore all of its non-AI-related community benefits.
What is Community AI?
Community AI is a suite of AI features for managing and growing your online community with AI, on Circle.so (an all-in-one online community building platform).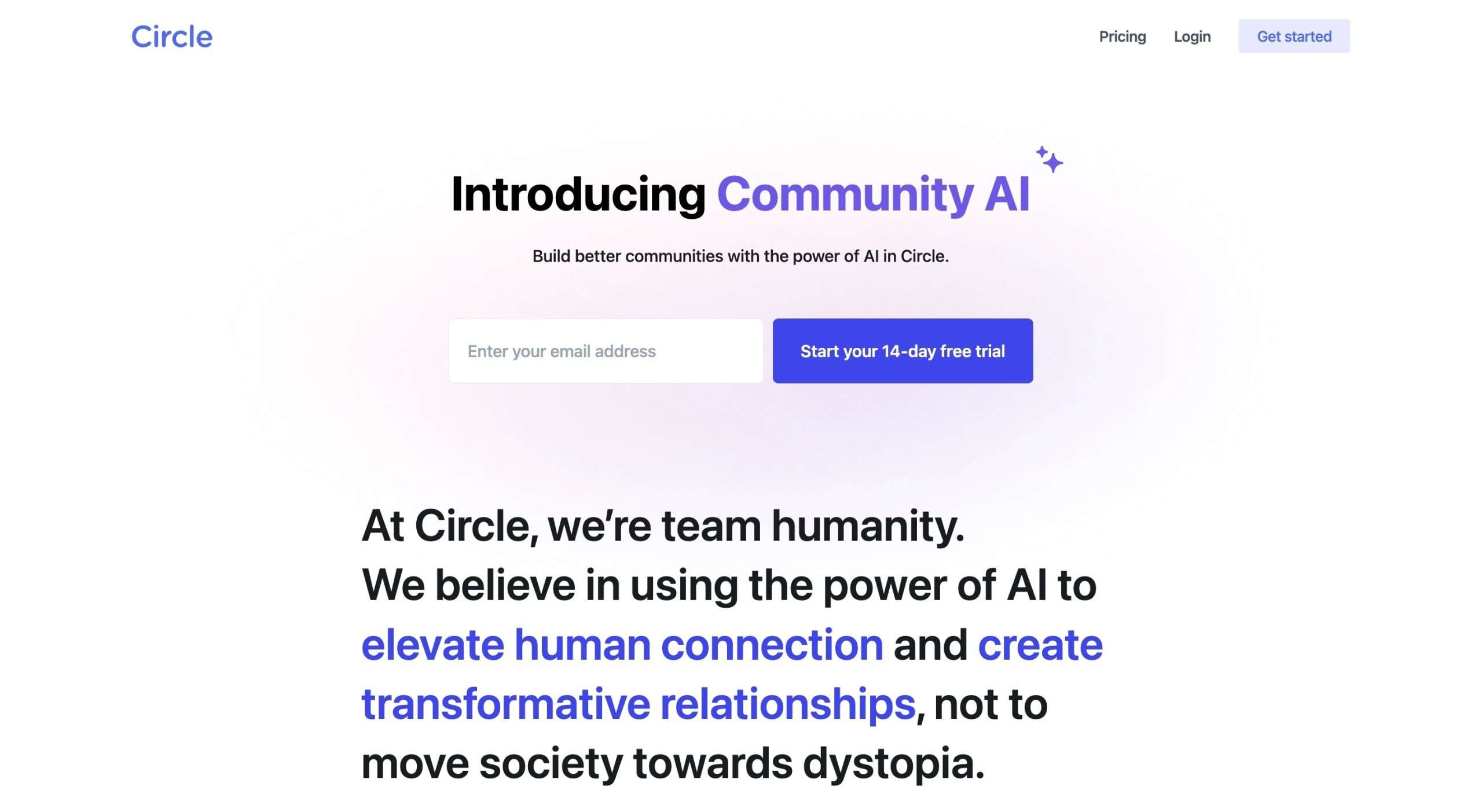 Circle team recently introduced a cool set of AI features that complement the existing community features.
It's the main objective?
According to the co-founder and CEO (Sid Yadav), Community AI is introduced in Circle as a way to leverage the power of artificial intelligence to enhance and improve online communities.
It's to enable community builders like you to create better connections, facilitate learning, foster collaboration, and enhance overall member engagement within their communities.
Community AI features are designed to enhance the quality of interactions and relationships among community members.
They provide features that are meant to streamline workflows, generate ideas, refine discussions, and facilitate content creation, making the community-building process more efficient.
With that said, let's take a more magnified look at the features it has to offer.
Community AI Features
Although Community AI is itself one of the features of Circle, it comes with a bunch of features worth exploring.
Content Copilot
Content Copilot serves as a creative companion, helping community members overcome writer's block and streamlining their writing process.
With Content Copilot, you can generate infinite ideas for various types of content, such as:
Discussions
Course lessons
Events
And more.
It utilizes AI-powered algorithms to suggest ideas, prompts, and insights to fuel your creativity and ensure you never run out of inspiration.
Copilot also provides powerful editing features that enhance the efficiency of your writing workflow.
Whether you need assistance with refining your drafts, improving the structure of your content, or polishing your language, It has everything.
Additionally, Content Copilot facilitates easy repurposing of your content. It enables you to effortlessly create summaries for event recaps, lessons, and posts.
By condensing your content into concise and engaging summaries, you can save time and ensure your members receive the key takeaways without feeling overwhelmed.
The best part?
The content copilot can be seamlessly connected with your Circle community's text editor, which not only saves time, but It's also easily accessible.
Automated Transcriptions
The Automated Transcriptions feature is designed to make your video content searchable, accessible, and inclusive for your community members.
By providing automated transcriptions for your video posts, event recordings, and course lessons, you ensure that all members of your community can engage with the content.
The AI engine in Circle generates transcriptions within seconds, eliminating the need for manual transcription services or time-consuming manual efforts.
With transcriptions, your video content becomes instantly searchable.
Members can easily find specific information or answers to their questions by searching keywords within the transcript.
It enhances the discoverability and usability of your video content, increasing engagement and satisfaction among your community members.
Transcriptions also allow you to navigate through the video content more efficiently. You can jump to any position in the transcript, enabling you to focus on the parts that interest you the most.
What is even better is that in addition to transcripts, all your uploaded videos will be automatically available as closed captions. This is done at no additional cost.
Not bad!
Activity Scores
This is a big one. The Activity Scores feature helps community builders understand the behavior and engagement levels of their community members over time.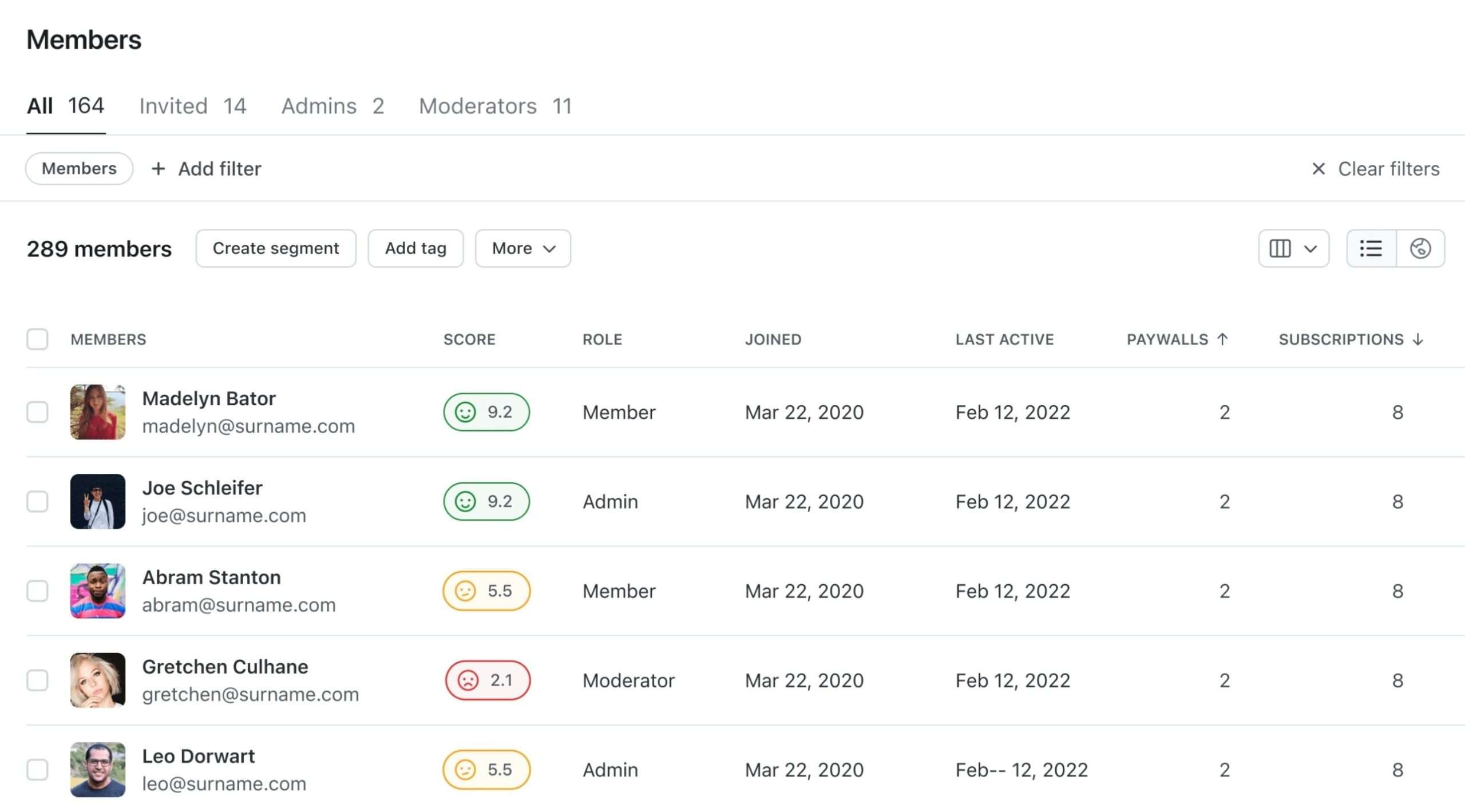 It provides valuable insights into the activities and interactions happening within your community, allowing you to measure, identify, and optimize impactful actions.
Activity Scores allow you to choose specific signals or actions that align with your community goals. You can define which activities or behaviors you consider important and meaningful within your community.
Additionally, you can monitor and track the engagement trends of your community members over time. It provides you with data that helps you understand how active your members are and how their engagement evolves.
And by observing the activity scores of your members, you can experiment with different strategies, outreach methods, discussion prompts, and events.
Activity Scores are also a great way to implement positive reinforcement learning by rewarding your active members. This will motivate them to share more wisdom and add value at scale.
In a nutshell, by leveraging Activity Scores in Circle, you can make data-driven decisions to enhance your community engagement and drive meaningful interactions.
These features not only make Community AI a decent choice to consider but also one of the very few community-building platforms to have done this successfully with phenomenal AI integration.
With that out of the way, let's quickly look at the pros and cons of Community AI.
What We Like About Community AI
I really appreciate their content copilot, the AI writing companion, which helps you overcome writer's block and provide suggestions for high-value discussions that community members will find valuable.
The automated transcription is also super useful as it enables you to quickly find specific information within the video, enhancing the overall viewing experience.
We also have Adobe functionalities provided in Activity Scores that help identify which community efforts are practical and provide valuable insights for scaling and improvement.
Where We Wish Community AI Did Better
While AI can enhance community experiences, some members may find it impersonal or prefer more human-driven interactions.
As of now, the Community AI feature is only available on Business, Enterprise, and Circle Plus plans, which can be costlier for many.
Community AI Pricing
Community AI is available on the following Circle plans:
Business ($219/month or $199/month on annual billing)
Enterprise ($399/month or $360/month on annual billing)
And Circle Plus (Talk to sales for exact pricing)
Both the Business and Enterprise plans come with a 14-day free trial.
Wrapping Up
To say the least, Community AI is a game-changer for online community builders.
What sets Community AI apart is its commitment to empowering community builders to create better connections, facilitate learning, and enhance overall member engagement.
The AI integration in Circle.so is seamless and user-friendly, making it a no-brainer platform for community building.
While some members may prefer more human-driven interactions, the benefits of Community AI cannot be overlooked.
It saves time, improves efficiency, and provides valuable insights for scaling and improvement.
So, what are you waiting for? Unlock the full potential of your online community with Circle.so and Community AI.
Besides me, your community members will thank you for it!