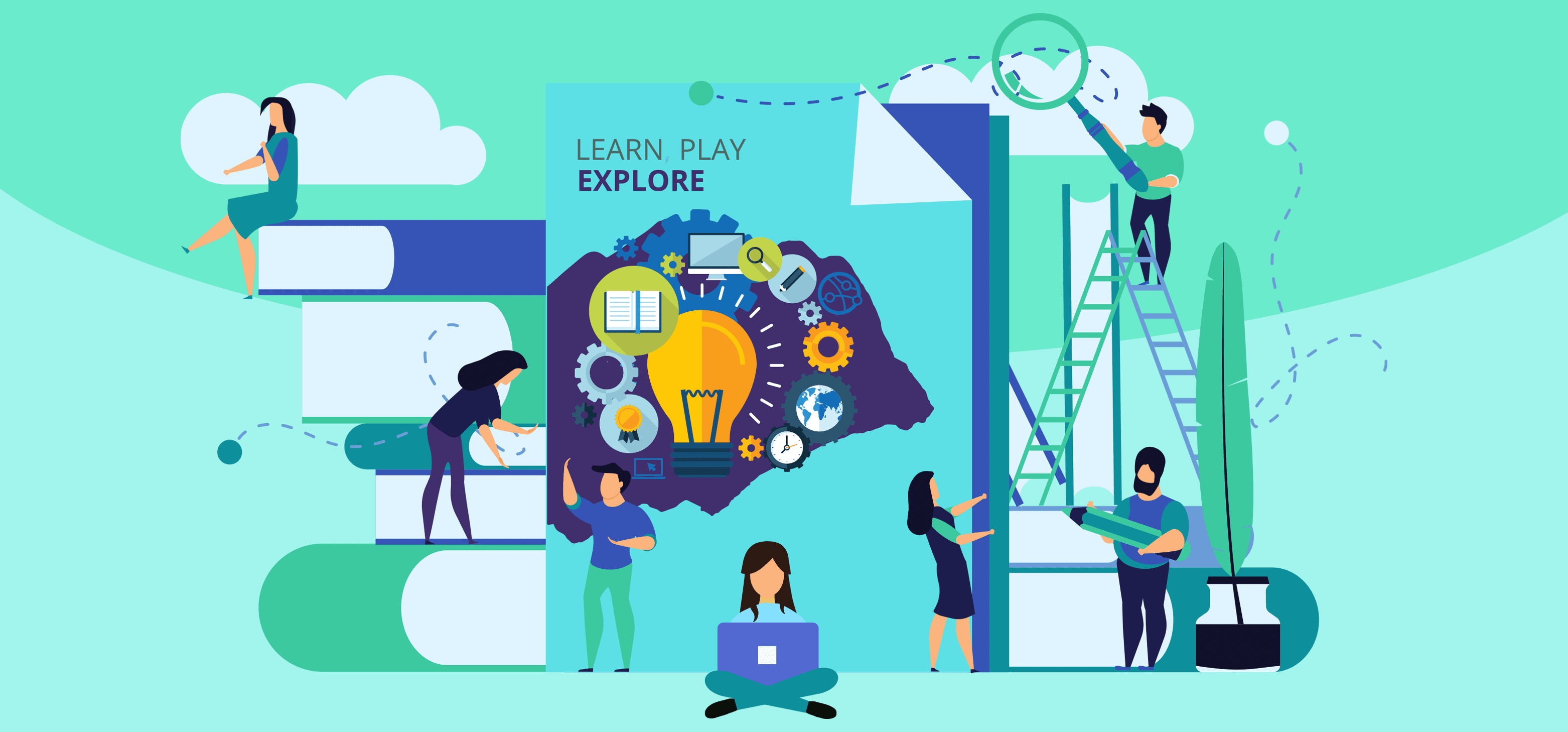 Struggling to choose which software is best for designing a book?
Unless the book you're going to design goes by the name of J.K. Rowling. Or unless you're an indie author whose last name reads as Shakespeare or Chaucer. You're going to be doing a hell of marketing and promotions. 
But before that, ask yourself!
How seriously do you care about designing your book?
Modern readership is divided into paperbacks and e-books. In both cases, you need to lay out well-formatted pages and typography.
But your reader would more likely get the paperback format if the cover design provokes creative interest. Just like how you feel about these cover designs.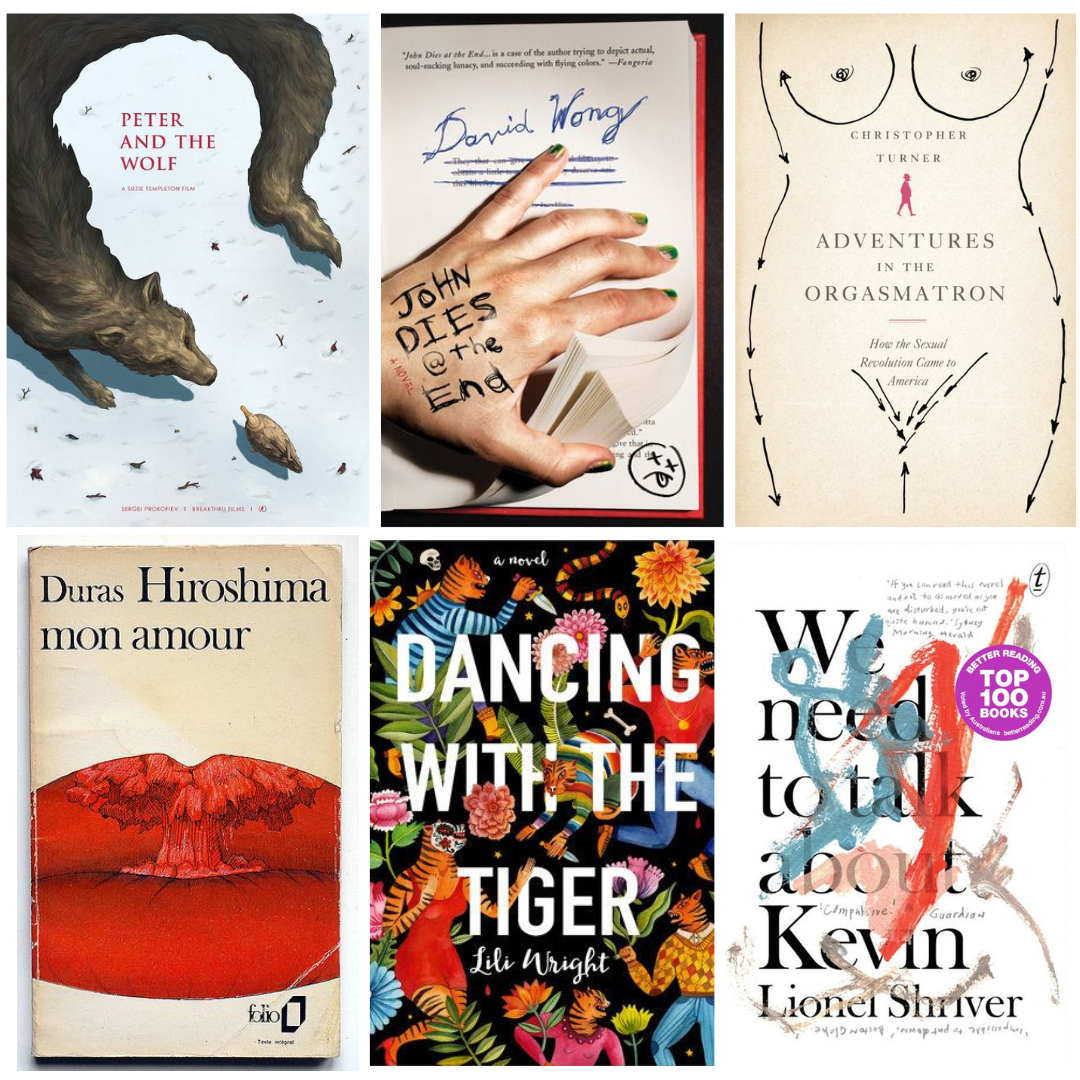 Why book design matters so much?
There is no accurate stat for this. But we can all agree upon two things:
A creative and meaningful book cover that catches your eye first. And psychologically, it plays a bigger role in purchase decisions. Be it a book or a graphic shirt. 

Your story might be a page-turner. But any irregularities in the layout may leave your readers with a bad reading experience.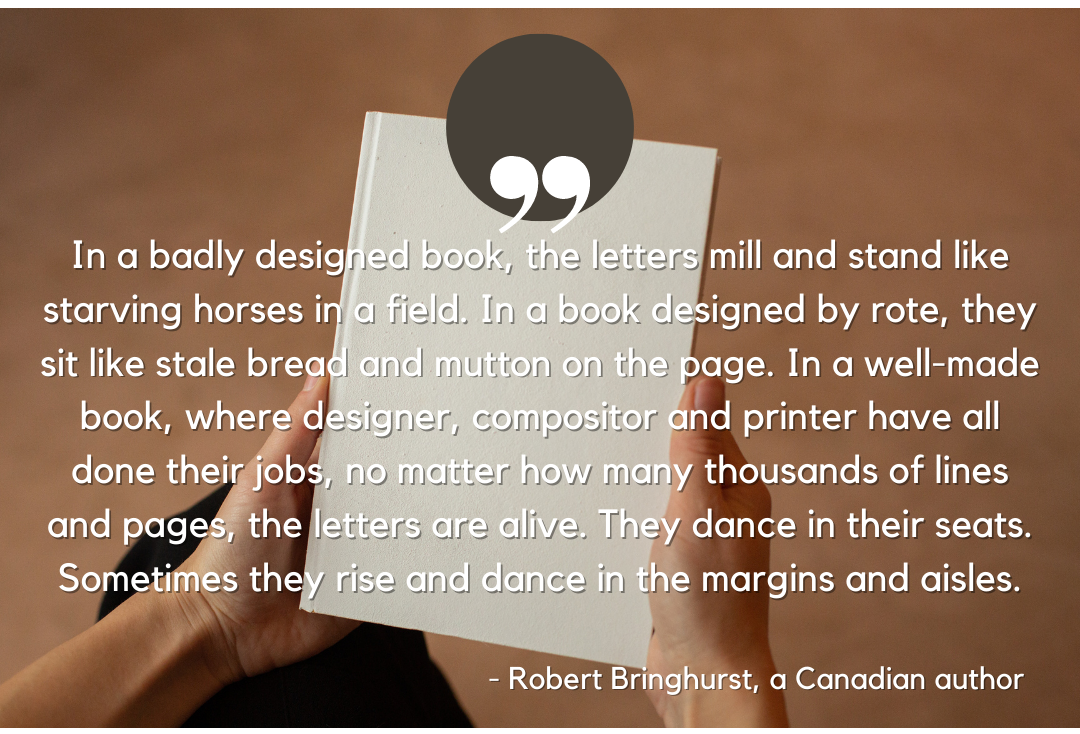 It would be a shame if your cover design fails to communicate the desire for reading. No matter if your story has a more exciting tone than the bestseller "It ends with us".
It would likely end up in the abyss. Knowing that over a million new books are launched each year. And the numbers will keep increasing.
The problem lies with indie authors too. Because of unprofessional formatting, most of them receive a bad rap.  
Some of them are still stuck with MS Word. Yuck!
So is there a solution for making a professional book design?
Of course.
In this article, you're going to find out 12 best software for designing a book.
On the creative side, it's your job to make your book stand out from the crowd.
But when it comes to cover design and formatting, these tools are going to do most of the heavy lifting for you. Without having you to spend hours.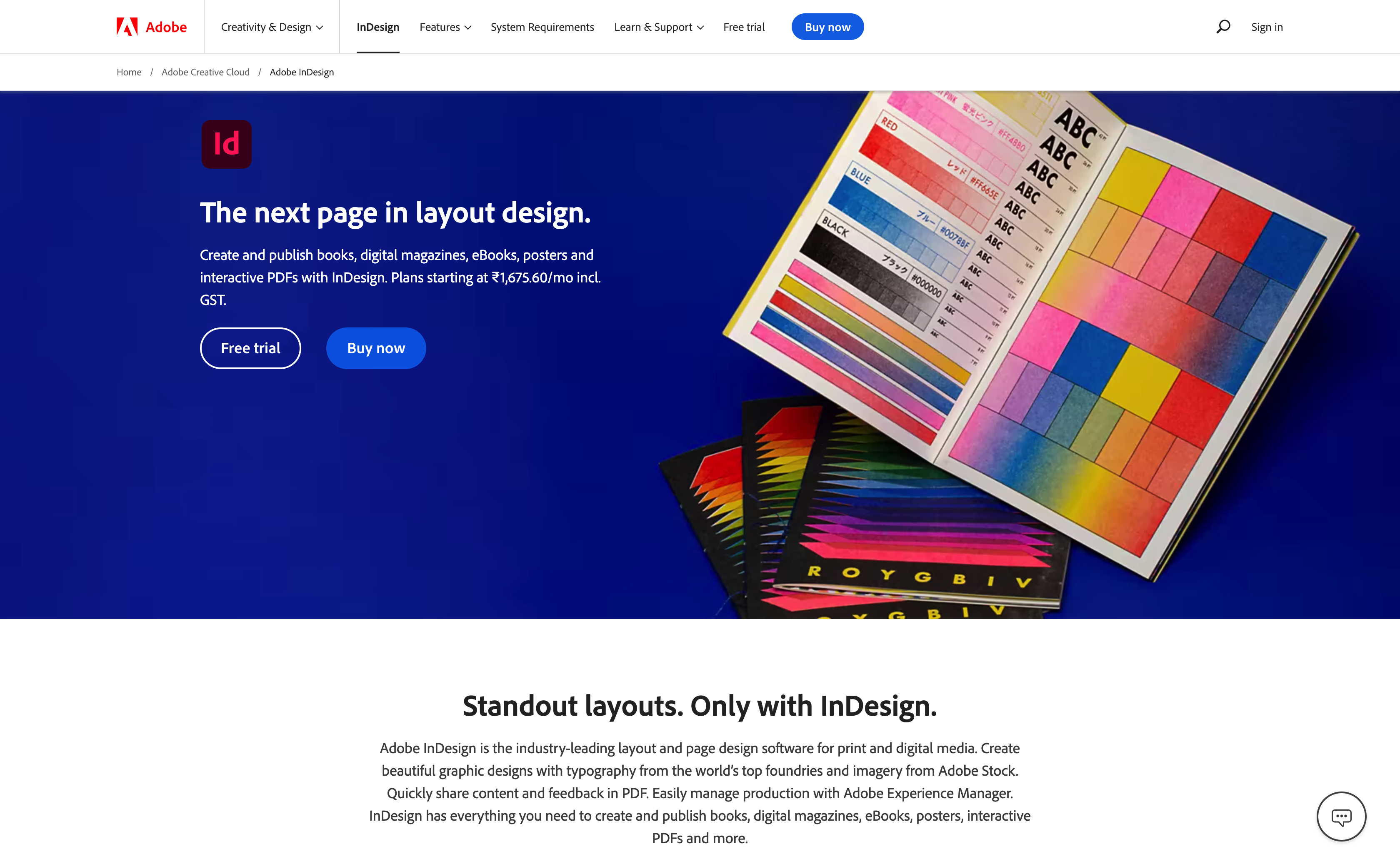 While you can use Photoshop or Illustrator for book designs, InDesign is quite a narrowed-down tool.  
You can literally design any kind of stationery prints and digital books.
But what makes InDesign so demandable?
Because it never ceases to surprise you with unique features. You'll always get first-hand experience of something you may not find elsewhere. 
Like recent updates that feature automation capabilities. When you paste unformatted text from elsewhere, InDesign auto-identifies headers and text bodies.
Moreover, it also keeps the styles, alignments, and spacing. Without losing the format. 
Works best if you're working alongside Illustrator or Photoshop. 
You'll get an even greater experience when you subscribe to Adobe Creative Cloud. 
Subscription, however, could be a dealbreaker for some. 
And if you're thinking of working on InDesign alone, you won't have enough freedom, though. 
However, you'll have enough features to give you a kick-start in book design: a massive font library, preset templates, shape tools, color options, and everything you need for print and digital publications. 
But it's even rewarding with the creative suite. Gives you the advantage of cloud storage, automatic backups, stock libraries, file syncs, collaboration, and sharing.  
So, if monthly pricing doesn't bother you, InDesign can do more than you've asked for.
It doesn't limit you to creating beautifully crafted book designs and layouts. As long as it's not about size. 
InDesign works great with limited book sizes. Although it boasts the ability to handle thousands of pages in a document.
However, the platform gets very slow. Not ideal for rendering too many pages. Like an academic book. You'll then need Adobe Frame maker – its close kin.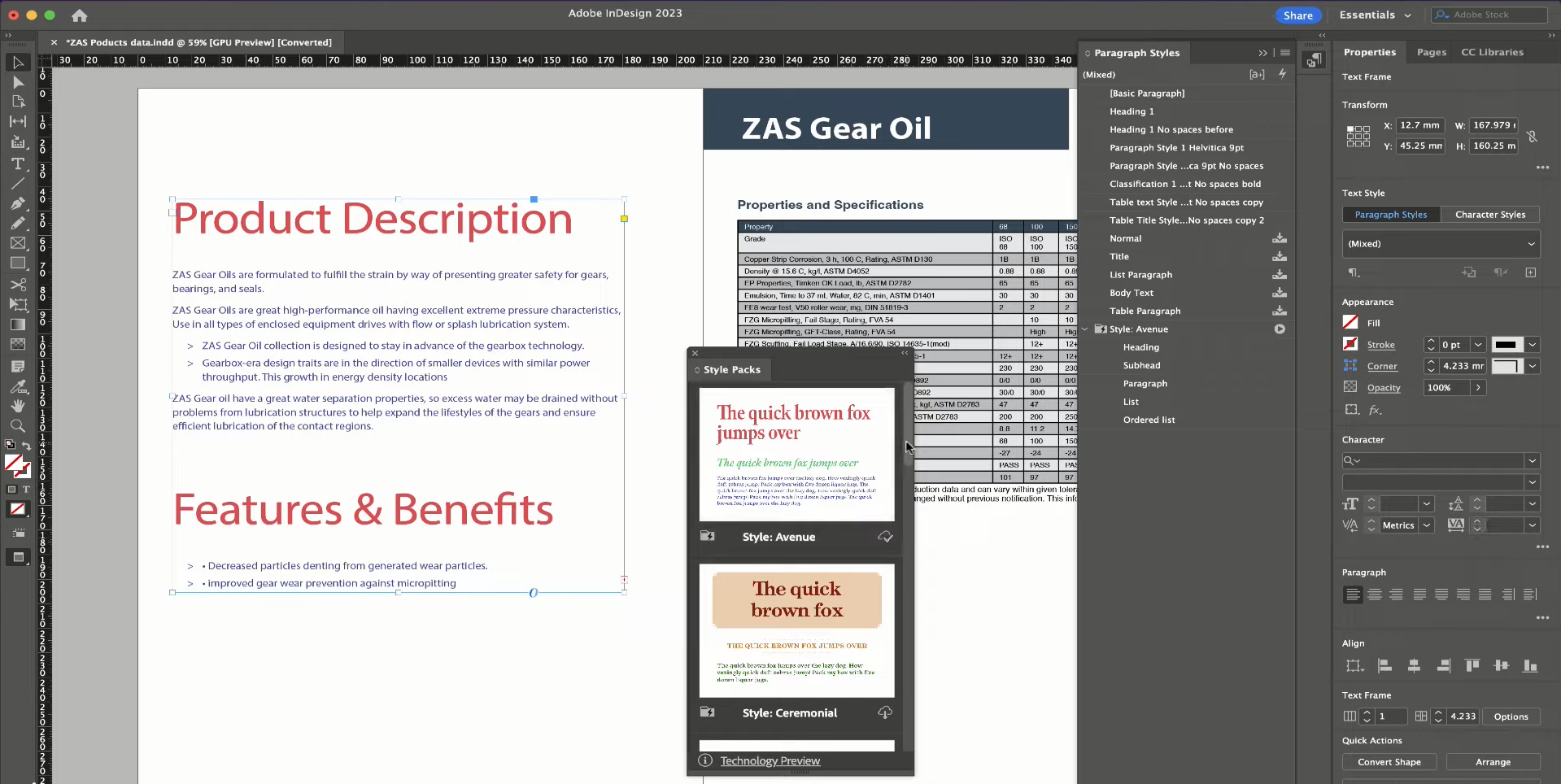 Compatible platforms: Windows (with graphics support) and macOS
Design abilities: Excellent photo and layout editing software. Very marketing oriented. Need to depend on Photoshop 
Ease-of-use: A bit of a learning curve
Value for money: As long as you're vested in regular publishing. Monthly subscriptions may be a deal-breaker for some indie publishers.
Support: Email, chat, and community forum
Adobe InDesign key features
Lets you arrange the content in a single click. You can drag any text or image forward or backward the way you want. 

Gives you control over text reflow. A creative way to style your content around images or shapes while maintaining the spacing. 

Features alternate layout. Gives you the benefit of redesigning the document with different dimensions or sizes. It works like a wonder in case your client urgently demands the document in a horizontal layout rather than the vertical one you sent. 

Intuitive canvas and customizable interface. You can rearrange the icons, and panels the way you feel is easier to navigate. Or make the interface less crowded with the only tools you need.

A split window helps you with productive workflow. You can work simultaneously on two panes – while working on different layouts or just using them for reference. 
Adobe InDesign pros and cons
Pros:
Supports a number of file formats

Great tool for print publishers

Advantages of Adobe creative suite

Available as a desktop as well as an iPad app

Multi-language support

Features live collaboration
Cons:
Not ideal for heavy documents

Not ideal for low-end PCs

Monthly subscription 
Pricing
Single app: $20.99/month 
Adobe Creative Cloud: $54.99/month
2. Reedsy Editor – Best for delegating book design tasks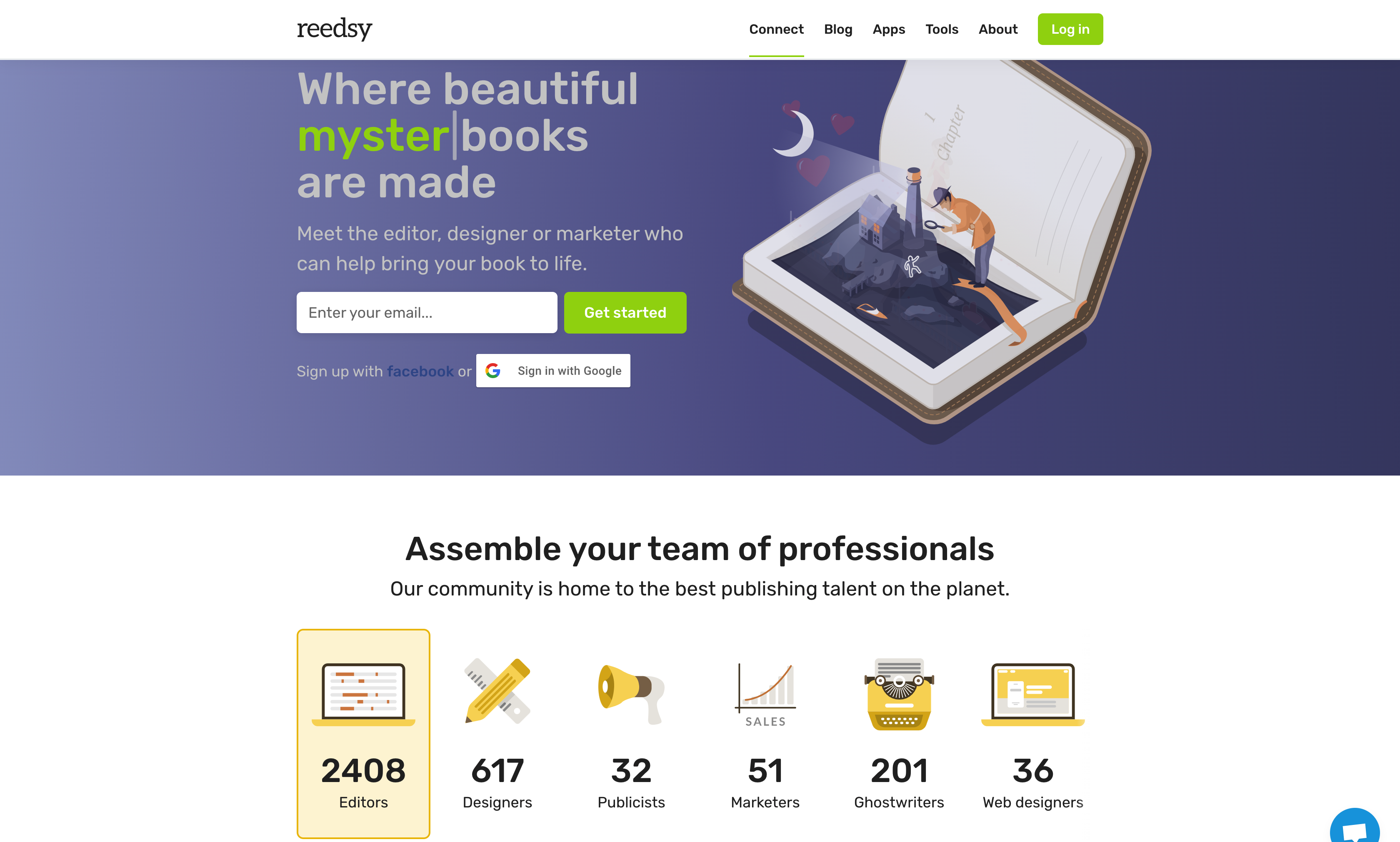 There is a different community of Indie authors who shower love on Reedsy.
It's a hell of a path if you're into the self-publishing journey. From designing your book cover to getting it published. And eventually, marketed. 
What if you could delegate some of these tasks to experts? 
While you focus more on something you're good at. Which is, writing a great novel. 
Reedsy is not a publishing company. But a web-based service marketplace. Where you can find intensively vetted editors, designers, marketers, book reviewers, and translators.
Even ghostwriters. 
Though, it's not a big deal if you're something of an artist. Reedsy supports standard image formats like PNG and JPG. All you need to do is upload. It automatically resizes the image to fit the shape of the cover. 
However, it lacks image customization within the content. Unlike InDesign, where you can creatively reflow your text around images. 
Reedsy is more of a simple editor with pre-set designed formats. For example, themes for specific niches like:
Reedsy for non-fiction

Classic for good old literature looks

Romance for pure fiction.
You'll also find a side panel with a list of elements that complete your book: copyright page, prolog, epilog, dedication pages, author page, index, etc. 
A great addition to help you maintain the anatomy of the book.
Next up, you'll find "Trim sizes" which lets you choose from the size to export your book in. Specifically meant for prints.
You can also choose to keep drop caps and add endnotes.
Nothing more to expect on the customization side. You'll miss the frames, though. 
But it's much better than Kindle Create and many such platforms that limit publishing on any platform but Amazon. 
With Reedsy, you can publish not only on Amazon. But also Kobo, Barnes & Noble, and Apple.
Reedsy is free. And will always be. 
However, hiring freelancers doesn't come cheap. But it ensures you receive quality service. That can make your book stand out from the crowd.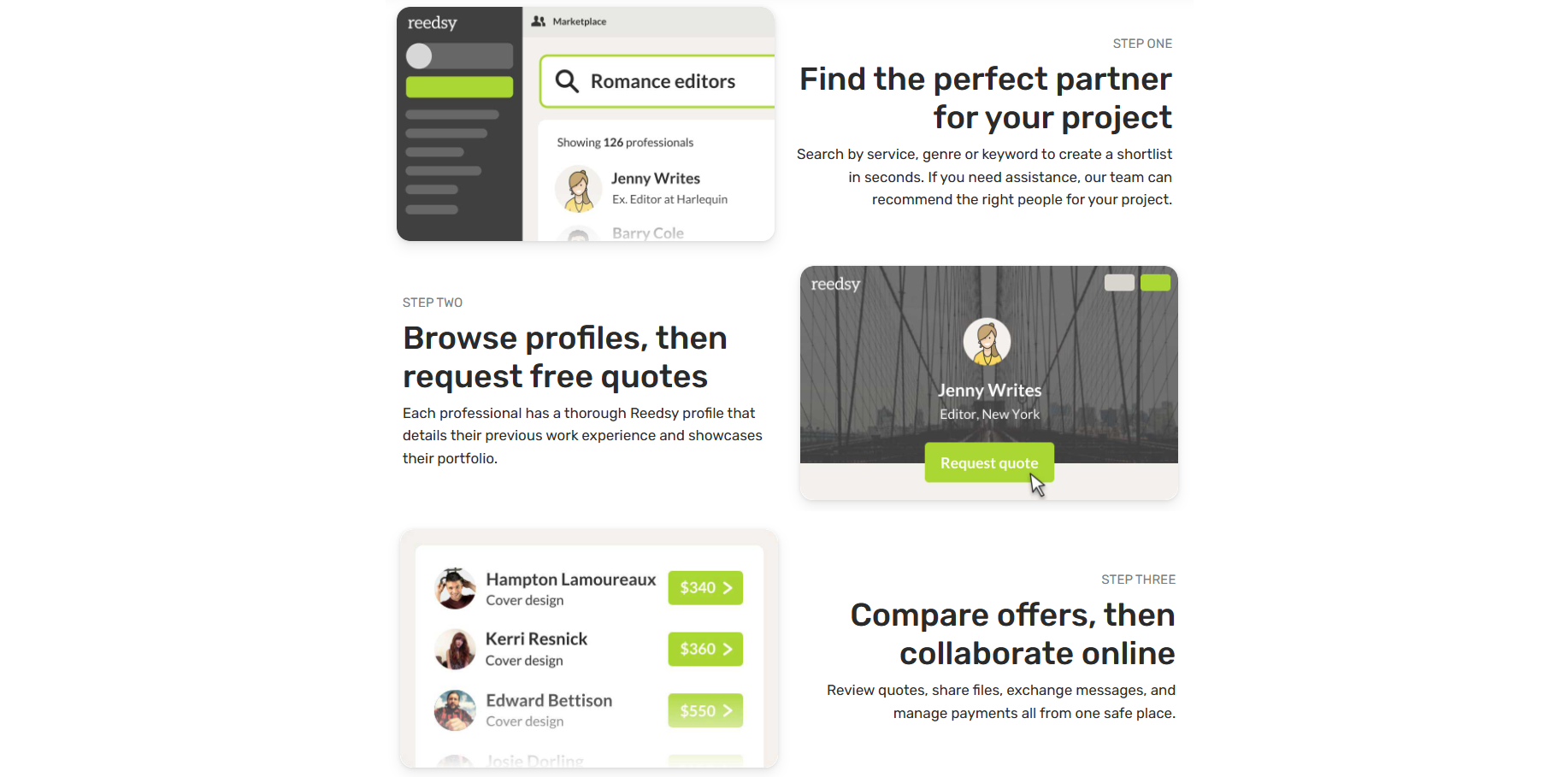 Compatible platforms: Web-based
Design abilities: Features basic e-book layouts only, nothing fancy. 
Ease-of-use: the Interface is dead-easy. Made for authors who don't like spending much time on book design.
Value for money: Basically it's free. But comes with freelancer services that are a bit on a pricier side
Support: Chat support, email, community forum
Reedsy Editor Key features
Built-in spell-check ability and autosuggestion. If you're working on Chrome, you can integrate with the Grammarly extension.

Features "Goals & Insights" panel. Helps to access your productivity metrics. As well as set a goal or create a deadline.

Robust word processing and collaborative editing capabilities. You can check version history while working with freelancers. Also features comments and in-text customizations like Google Docs.

Features a social page. Just like on Fiverr or Upwork. But better in terms of credibility and trust. Great for social presence and searching freelancers by skills or ratings. 

Pre-built book templates and front matter elements like a preface, table of contents, index, ISBN number, etc.

 
Reedsy Editor pros and cons
Pros:
Content length is no bar

Supports multiple image formats for imports

Formats compatible with many e-book marketplaces

Completely browser-based services

Free book design platform (unless you hire freelancers)
Cons:
Lacks customization and book design elements like frames

No design editor, need to import cover designs

Freelancer services are not cheap
3. Canva – Drag-and-drop solution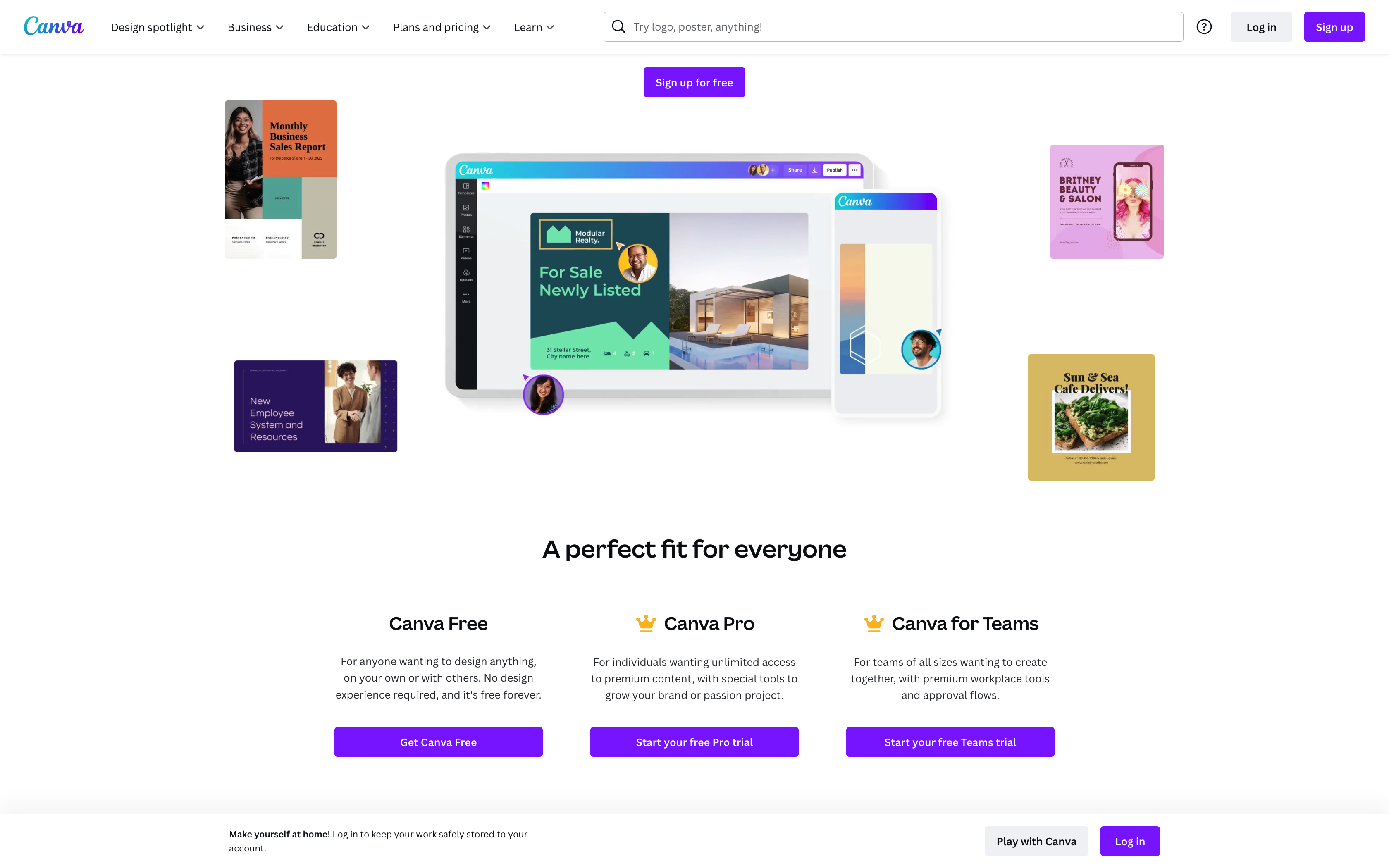 Not a designer?
No worries. Canva is just the right place for you. It's just like your ready-to-cook meal.
Without having to endure heavy editing tools. 
Everything on Canva is online. You can use preset templates for book covers. And choose from millions of graphics to make it life-like.
Designing custom layouts for pages works like a breeze. As you drag elements onto the canvas, design grids will help you with content alignment. 
And yes, you don't have to worry about design resources. They're in abundance. You may even import illustrations.  
You can literally experiment with everything pre-designed here. 
Because it's specifically geared toward someone with little to no knowledge of design. Just like marketers or self-publishers who find designing from scratch hard. 
However, if you're something of a designer, Canva might not be that adventurous. 
Also, note that you won't find advanced typography options. No doubt, you'll have access to the font library. However, it's neither as massive as Adobe Fonts, nor will you have many customization options.
In this case, you may need to work with a proper design editor. 
Overall, Canva is a perfect tool for print publishers. You'll not be limited to any layout, be it for an e-book, magazine, brochure, or photobook.
To get an understanding, you can get started with the free version. However, you'll find a big difference between the free and pro versions. 
But if you're vested in a long-term design, the yearly plan won't disappoint you.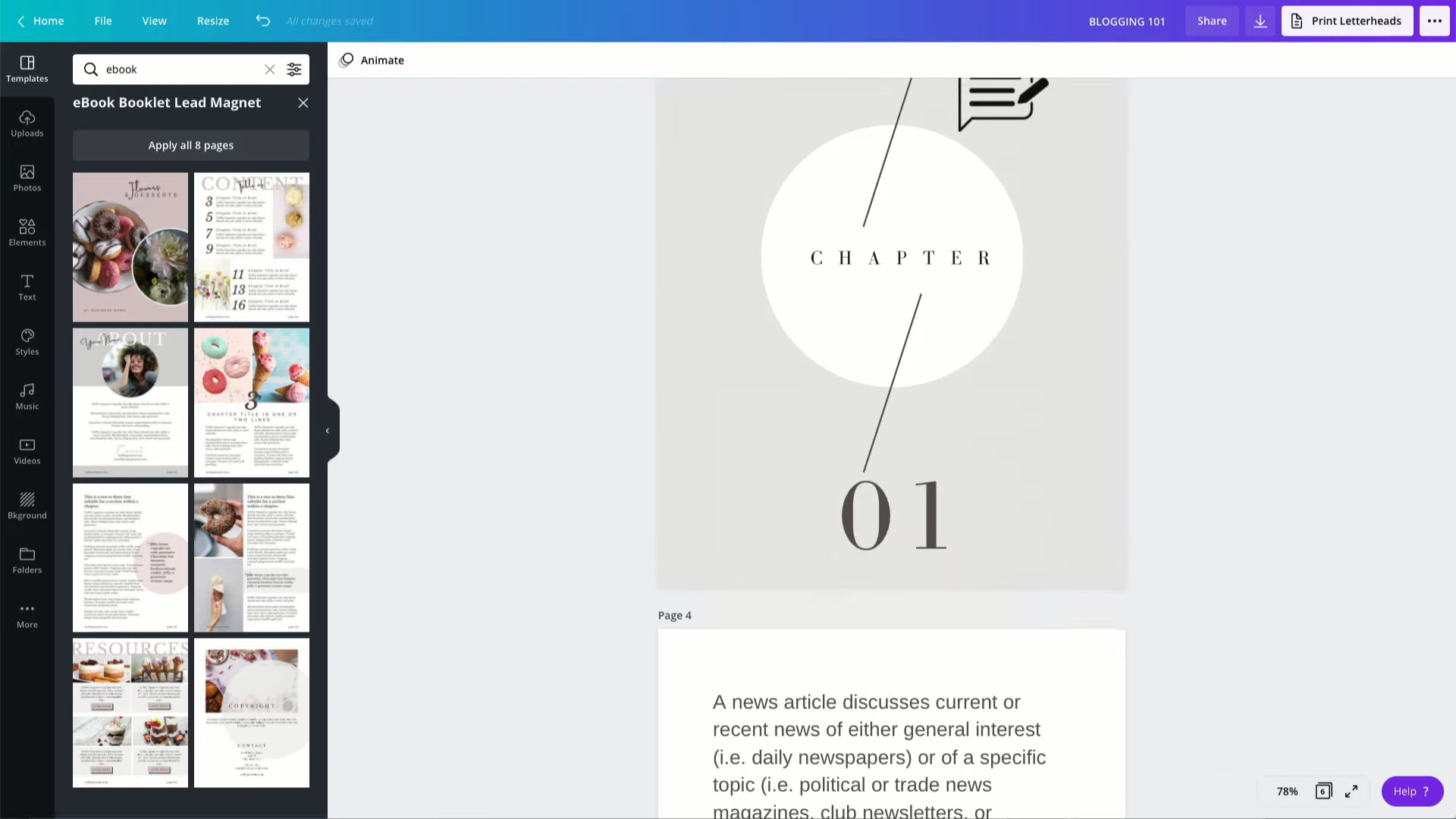 Compatible platforms: Windows, Android, macOS, iPhone, and iPad
Design abilities: Basically drag-and-drop stuff. Millions of design elements. But nothing for serious designers. 
Ease-of-use: Super easy to use and navigate. No need for tutorials.
Value for money: Features and functionalities worth the annual pricing
Support: Email and community forum
Canva key features:
No-brainer drag-and-drop functionality with millions of graphics, color options, shapes, backgrounds, templates, and layouts.

Features "Brand Kit" which is a special tool to help you with brand identity. The business theme helps in establishing brand identity. So based on your theme, you can shape your graphics, font, logo, and template that represent your business. 

Seamless cloud collaboration helps you connect with your colleagues or clients. You can work along with them to design graphics or layout of the book. 

You can also use the whiteboard tool to work remotely and share ideas, brainstorm, and design with up to 50 users. 

Comes with a 3D mock-up – a great feature for marketing. You can also create simple 3D animation effects for book promos. 
Canva pros and cons
Pros:
Millions of graphical and multimedia assets

No designing skills required

Multi-language support lets you create books in any language

Comes with integration options to help you with branding 

Free for university-registered students
Cons:
Can't design from scratch

The free version doesn't offer any feature for book design
Pricing
For an individual: $119.99 per year
For a team of 5: $149.90 per year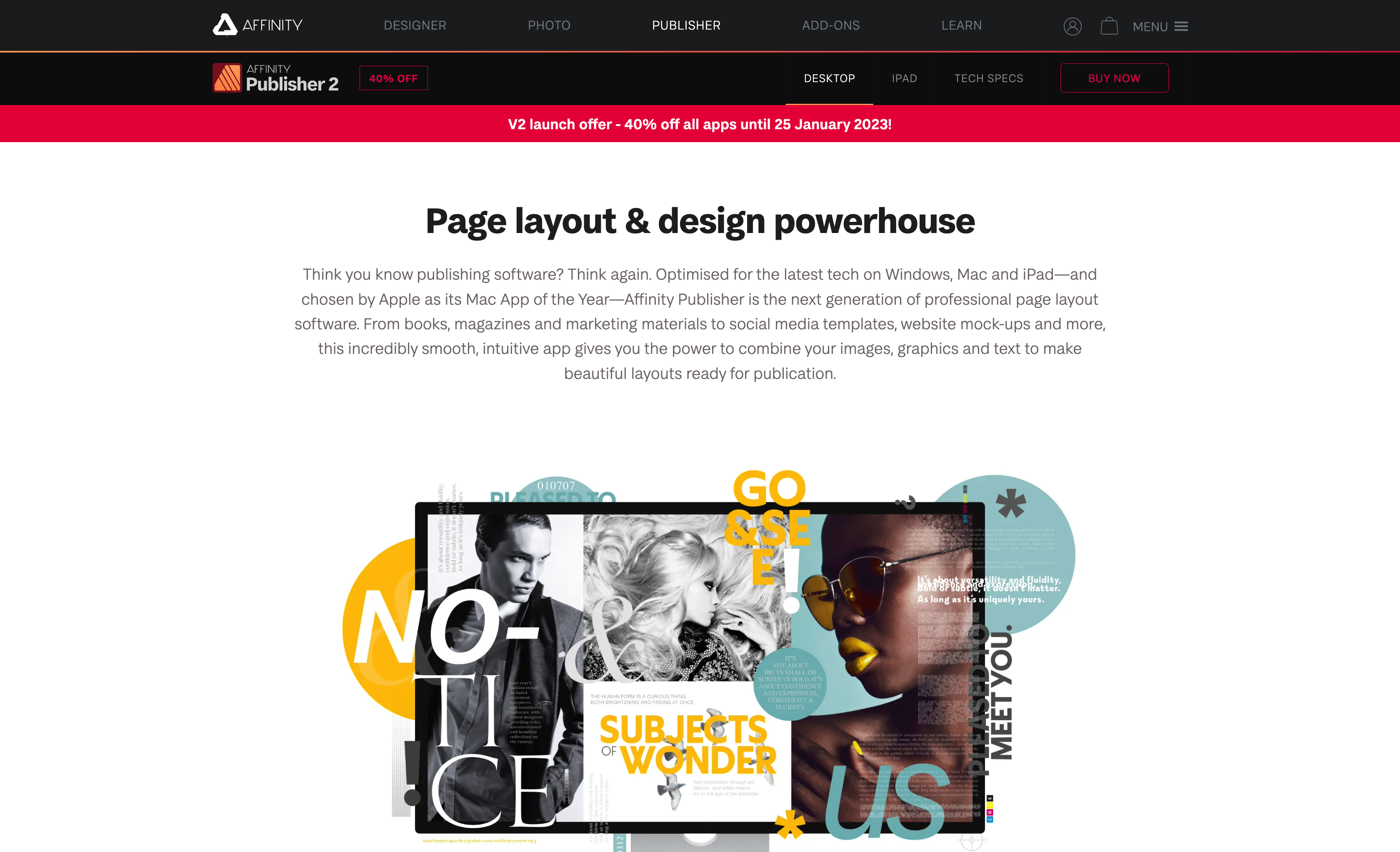 Affinity's suite of design software always takes its users by surprise. And Publisher is no exception. 
It's sophisticated. And packs in everything to help you in content design and desktop publishing. 
If you're new, you'll love to see that Affinity houses a rich community of designers. 
You'll also find that many of them have moved from InDesign. Because every Adobe problem has an Affinity solution. 
Affinity Publisher pretty much resembles InDesign. But one of the key reasons behind the switch is Adobe's monthly plans. A huge turn-off to most of them. 
Whereas, you can literally own Affinity tools, forever. 
The transition goes pretty smoothly. You'll quickly learn the ropes and pick up the interface. 
Yes, both are available on Windows and Mac. And both of them feature an intuitive design editor.  
But with us, you'll learn that they use different terminologies to define features that work almost the same. For example, "placeholder text" in InDesign means "filler text" in Publisher. 
However, there is a single most important reason why some designers prefer Affinity Publisher over InDesign. And that is Studio Link. 
On InDesign, you'll particularly find it difficult to work alongside a separate software – Photoshop or Illustrator. Specifically when you're working on page designs. 
On Publisher, however, Studio link lets you use Affinity's flagship designer tools within its own interface. Without having you switch to and fro. 
Thus, helps you maintain the workflow. And reduces the hassle of working with multiple tools.
Even reduces your hassle of paying each month. This means, Publisher's one-off pay is easily worth around 4 months of InDesign.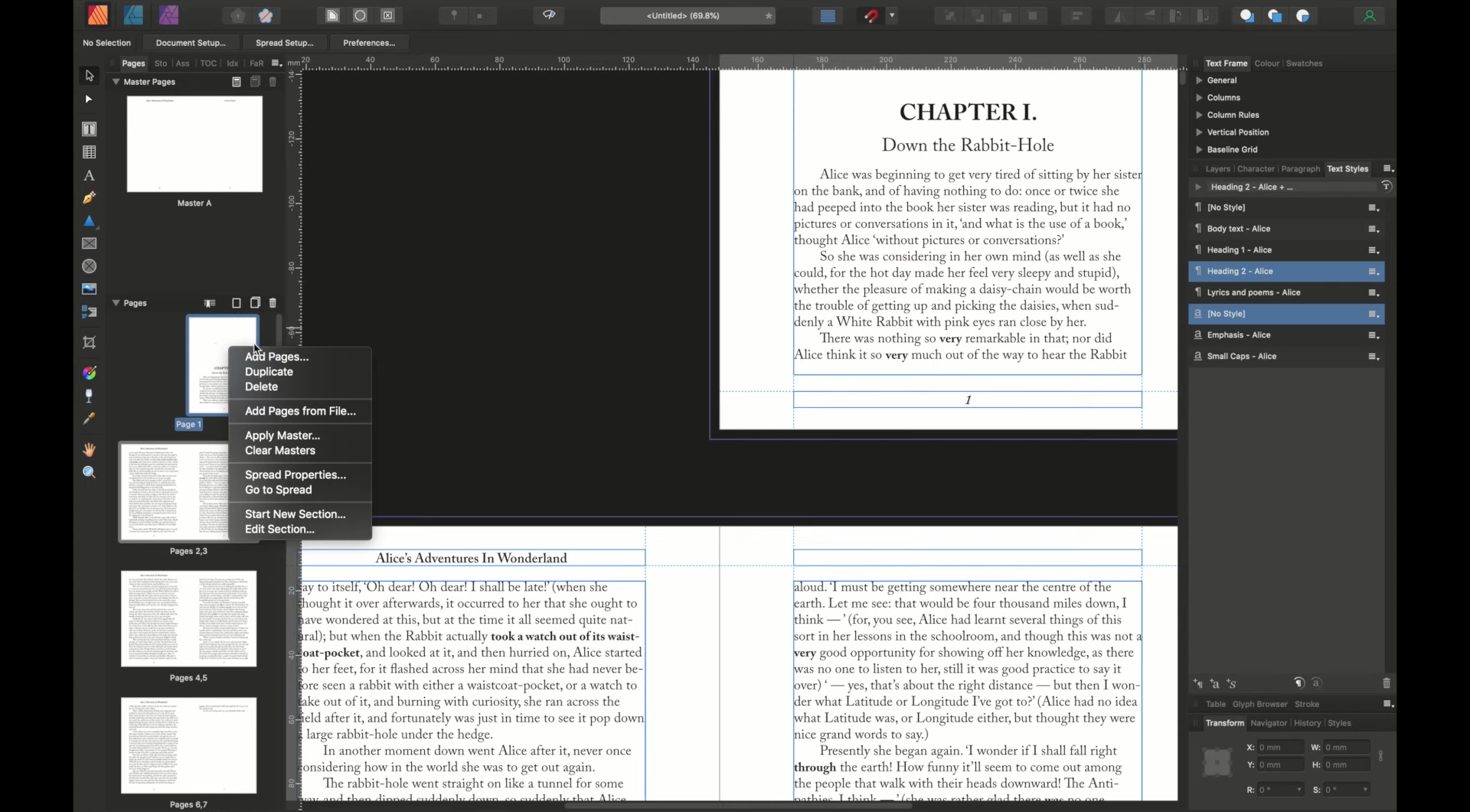 Compatible platforms: MacOS, Windows (with graphics support) and iPad
Design abilities: Advanced photo editing and customization abilities
Ease-of-use: A bit complicated interface. May take a while to get used to.
Value for money: A great value for those who are not regular and don't want to fall into the subscription trap.
Support: Email and social media community
Affinity Publisher's key features
With StudioLink, you can integrate other Affinity apps (Affinity Photo and Affinity Designer) within the same interface. Provides seamless workflow.

Affinity's layout functionality is the key highlight. Easy to design custom layouts, frames, text, and tables. 

Features advanced typography options like artistic text tool, and frame text tool that auto-reflows the text, no matter how you adjust the images or frames.  

Comes with dynamic filler text. Responsive in nature as you increase or decrease the size of the text frame. This reduces the need for manually adjusting the text.

Affinity Publisher edges over InDesign when it comes to filing format support. Easy to export your designs in multiple formats namely: PNG, JPG, PDF, EPS, EXR, HDR, TGA, GIF, TIFF, WMF, PSD, and SVG.  
Affinity Publisher pros and cons
Pros:
Excellent import and export capabilities

Supports a wide range of file formats

Supports InDesign file imports

Suitable for both print and digital book design

One-off pricing with free updates
Cons:
Lacks plugins for extended functionality

Live collaboration like InDesign is missing
Pricing
Windows or macOS one-off pricing: $40.99
Universal license: $99.99
5. Flipsnack – For making password-protected flipbooks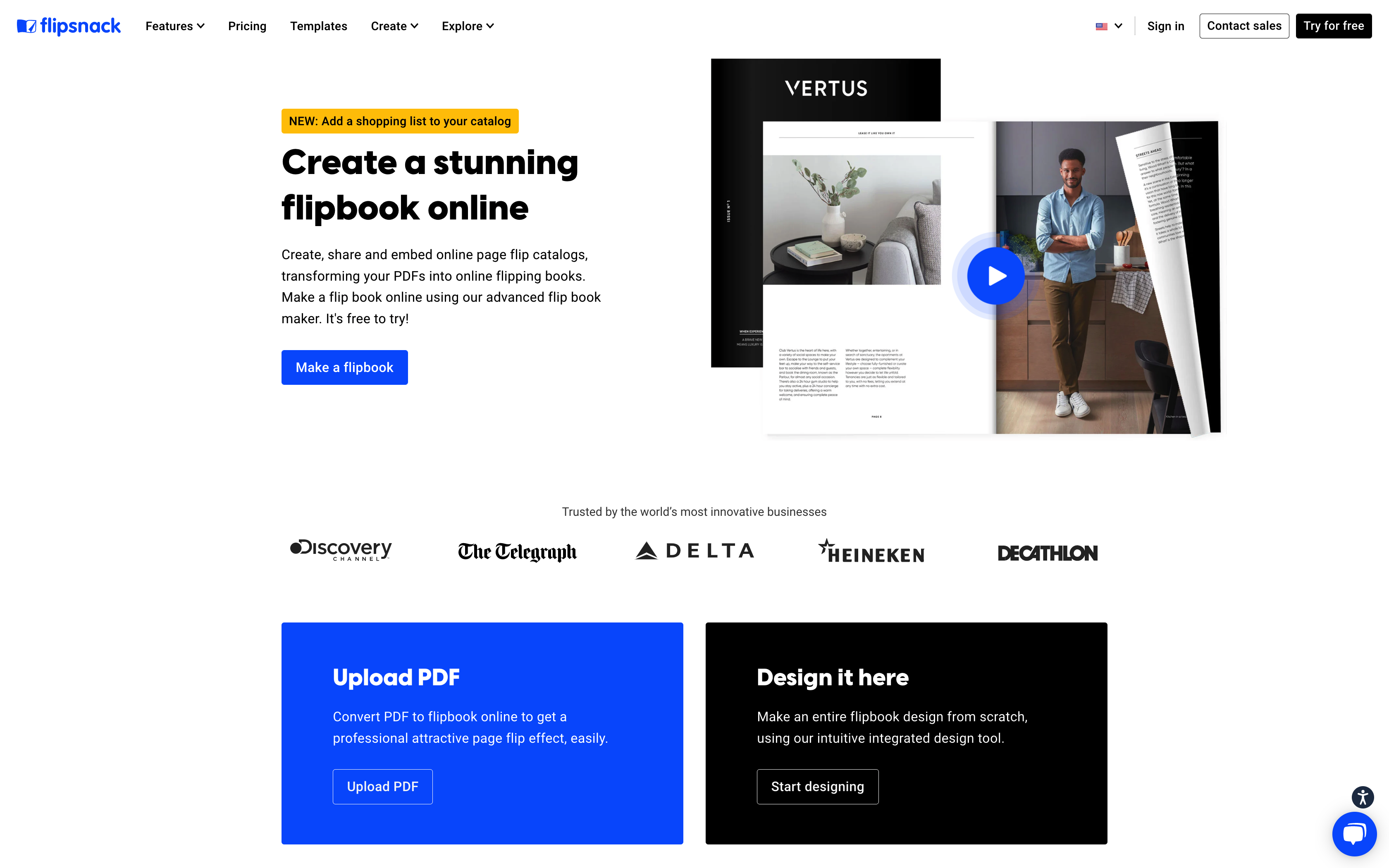 Flipsnack is one of the best software for designing flipbooks. But what exactly is a flipbook?
Certainly, not an e-book. Rather, a digital recreation of physical books. 
Like how page curl leaves a shadow every time you turn it. And with this 3D effect, the sound of a fluttering page follows. Giving you a realistic look and feel.  
But is this important anyway?
It is.
Flipbook can bring you more advantages than just the look and feel. 
The first and most important one – is authorized access. 
Many e-books are illegally circulated across the internet. And nothing can be done about that.
Flipsnack, however, ensures your digital books are password-protected. And distributed in a secure way. This means, only those who paid for your book will receive the access key.
Flipsnack understands how important user engagement is. And so, it lets you embed multimedia elements to provide an immersive experience like none. 
For example, text links, image links, audio, videos, YouTube embeds, and GIFs. And even animations. 
Isn't that cool?
On top of that, flipbook can help you with SEO optimization efforts. With Flipsnacks, you can get in-depth stats that can help you with a better understanding of your audience.  
You see, flipbooks are not a new marketing trend. But with Macromedia/ Flash-based content dying, the digital publication got a new face.
Flipsnack has the advantage of HTML5 format. Which can run on any desktop OS or mobile platform without any issues. 
HTML is, you know, faster to load. Easily indexed by Google. Makes it easier to design layouts. And supports almost any multimedia file. 
You may try out many such flipbook makers that can help you create interactive books. But overall, I think Flipsnack seems to be an exceptional one.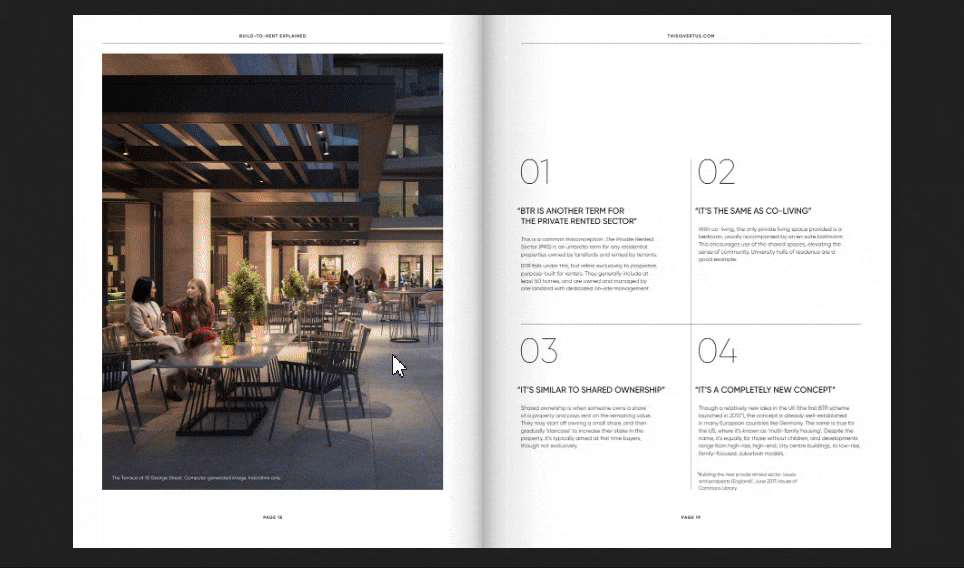 Compatible platforms: Windows, iOS, Android
Design abilities: Used to design HTML-based flipbooks only, specifically focusing on interactive design for sales and conversion.
Ease-of-use: You'll mostly embed multimedia elements and make personalized choices with ease
Value for money: Unless you're a business actively publishing several books each month, the hefty subscription may be a deal-breaker for many
Support: Live chat is available on all plans. Priority support only for Business plan
Flipsnack Key Features
Comes with a monetization option. You can set clickable links and ad displays in your flipbook to promote your products or services.

Privacy to avoid unwanted access. Let your audience access trail pages and keep the rest part locked. Until they make the payment. 

Lets you seamlessly convert PDF files into flipbook format without losing the quality and alignment. 

Customizable templates, user interactivity, and multimedia features make it visually appealing. 

Features Batch Convert mode saves your time and lets you convert multiple PDFs into flipbooks at the same time. 

The option to integrate with Google AdSense and Google Tag Manager can help you with digital marketing strategies. 
Flipsnack pros and cons
Pros:
Gives you control over the distribution

Flipbooks can be downloaded 

Multimedia and interactive-rich features

Great companion for digital marketing

Viewer statistics and analytics

Ease of customization
Cons:
No free version for beginners

A lot of cool features missing in the starter plan

The choice of fonts is limited
Pricing
Standard Plan when billed annually
Starter: 14$/mo
Professional: 35$/mo
Business: 79$/mo
Enterprise plan when billed annually
Business Plus: 149$/mo
Enterprise: 355$/mo
6. Adobe Framemaker – For academic or scientific materials
Why use Adobe Framemaker when you already have InDesign?
It's just like asking, why Photoshop when you've got Illustrator. 
Framemaker is a powerful word processor. Made to fine-tune documentation for your books. It's not graphic-intensive like InDesign. 
But has much better capabilities to structure large documents. 
InDesign works on a different architecture. Works on page level rather than document level. Which makes it hard to work on design enhancements on a file with 500 pages, for example.  
Even the slightest change may incur misalignment with the text, images, page counts, and awkward content breaks. Can mess up the entire aesthetics of your book design.
But when it comes to creative freedom, InDesign will knock your socks off. However, you'll find Framework is not nearly as cool. 
Mostly focuses on text alignments, layouts, and margins. And low on the creativity part.  
It was basically created for technical writing – software or hardware manuals (which no one reads). But the editing capabilities make it a fitting tool for designing academic books, journals, or any professional documents.
Really helpful to maintain a uniform structure throughout a huge document. 
For your understanding, here's a brief comparison between Framemaker and InDesign.

Note that, converting content back and forth between Framemaker and InDesign is not a good idea. Framemaker is definitely owned by Adobe. But not a part of your creative suite package.
So it's a matter of your preference as to what kind of book you're looking to design.  
Compatible platforms: Windows only
Design abilities: Intuitive with page layout design, but not ideal for creative design. Specifically for the knowledge base, academic course books, whitepapers, and scientific journals.
Ease-of-use: Complex and not very user-friendly. But works like magic once you get hold of it
Value for money: Unless you're not familiar with any other Adobe tool, the subscription model might bother you. But a valuable tool for long-term book designers.
Support: Email, chat, and community forum
Adobe Framemaker Key Features
Features WYSIWYG PDF – provides a flexible and responsive authoring environment. Makes your document export-ready in multiple formats.

Able to handle complex layout designing across hundreds of pages without crashing the app. 

Helps you automatically generate tables of content, cross-links, indices, and any type of pagination you want.

Architecture based on standard XML and DITA. Eases your authoring process, content reuse reduces errors, and overall improves productivity. 

Supports image imports in many formats. You can import images from Illustrator or Photoshop. And make design edits. 
Adobe Framemaker Pros and Cons
Pros:
The seamless word-processing solution

Handles high-volume and complex documents

Exceptional layout formatting

Ease of multi-channel publishing

Supports localization and translation

Collaboration among content reviewers and developers
 Cons:
Low on graphic designing  

Not suitable for sales and marketing content

Excluded from Adobe's creative suite

A bit on the pricier side
Pricing
$39.99 per month (billed annually)
Note: Framemaker doesn't fall under the Creative Cloud subscription.
7. QuarkXPress Premium tool for publishing companies
What plays a key role in a successful print publishing business?
A reliable software for book design. That works like a milling machine. 
QuarkXPress is certainly one of the best book design software for publishing houses. It's reliable. And works like a machine.  
And probably the oldest book design software in use since 1987. 
Businesses have been using this for printing magazines, brochures, newspapers, catalogs, posters, and whatnot. 
But in time it also leveraged its capabilities in digital marketing. This means you can design your e-books, flipbooks, or any digital content. 
It gives you complete control over the tone of the text, page bleeds, layouts, graphics, photo editing, and digital publishing. 
As a designer, you'll enjoy creating vector designs. Specifically for e-book formats. 
Did I forget to mention content intelligence?
QuarkXPress is great for marketing insights. As much as it's for design. You can literally use it for predictive and prescriptive analysis. 
Based on who your audience is. How should the content be designed that can leave an impact? How customer engagement goals can be achieved. And ultimately, revenue generation.   
I doubt if any software houses creativity and productivity tools as robust as QuarkXPress. 
However, unlike Adobe InDesign, there is no monthly subscription. Yes, it has one-off pricing.
But sounds quite expensive. Unless you're vested in it for the long term. 
You'll find superior functionalities in Adobe products with the ability to integrate with the creative suite. 
You'll also notice that Adobe frequently comes up with new features. And also keeps on improving their previous tools. 
QuarkXPress, however, focuses more on rolling in just more features. And often ignores upgrading the functionality of existing features. 
Also, they charge you extra for collaboration services. This may sound like a dealbreaker if you're not into large-scale publishing. 
But in terms of longevity, QuarkXPress hits the ball out of the park. It supports up to 10,000 pages in a document. 
Overall, QuarkXPress is a go-to software for anyone looking to commit to book design for the long term.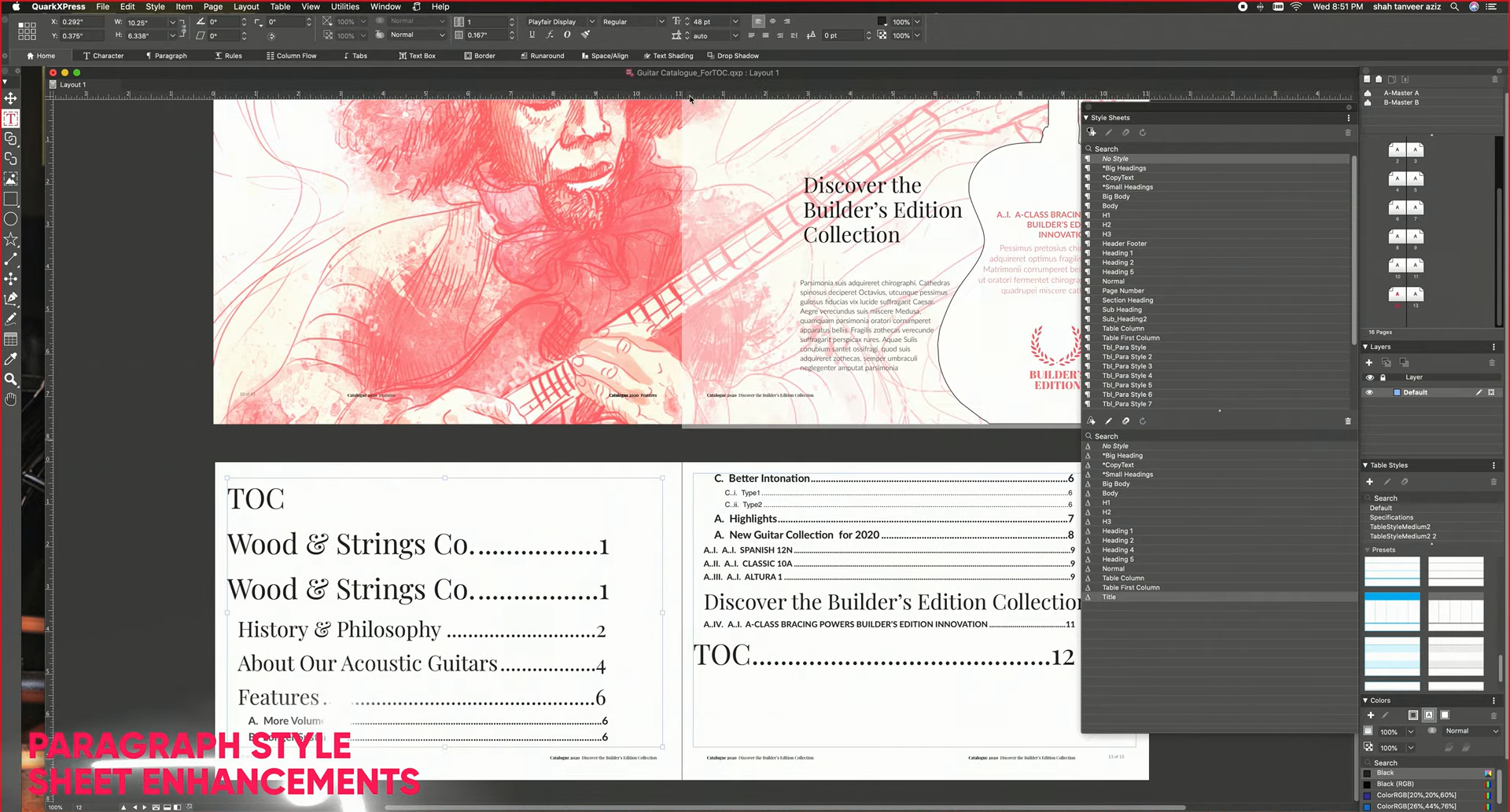 Compatible platforms: Windows and macOS
Design abilities: Comes with photo manipulation and color management features. Also powered with AI to help you optimize your book design
Ease-of-use: Easy to use, but feels a bit overwhelming with the raft of features QuarkXpress offers
Value for money: Annual subscription may get you into the deal. But the one-off pricing feels like a heavy investment unless you're vested in the long term. But it's worth the features and functionalities.
Support: Live chat and phone support are available.
QuarkExpress Key Features
Preview mode lets you preview your document in any format before exporting or publishing. 

One of the few software that features a Hexachrome color profile. Provides more color accuracy than traditional CMYK. Specially meant for print formats.

Features content intelligence and automation to curate content based on your target audience and optimize for better engagement. Great for digital publishing. 

Ability to add interactive elements to digital formats like animations, GIFs, slideshows, videos, and links. 

Customizable interface, photo manipulation, and illustration tools. Also features a stock image library. 
QuarkExpress pros and cons
Pros:
Photo manipulation and page layout editing

Better color management features than its competitors

Perfect for lengthy books

Multiple file format support

Features content intelligence for analytics
Cons:
Expensive book designing software

Collaboration feature is charged separately 
Pricing
Per year pricing: $259
One-time purchase: $699 (includes support and maintenance for a year)
Additional per year support: $299
One-time license for collaboration: $250
8. Scribus – Best free book design software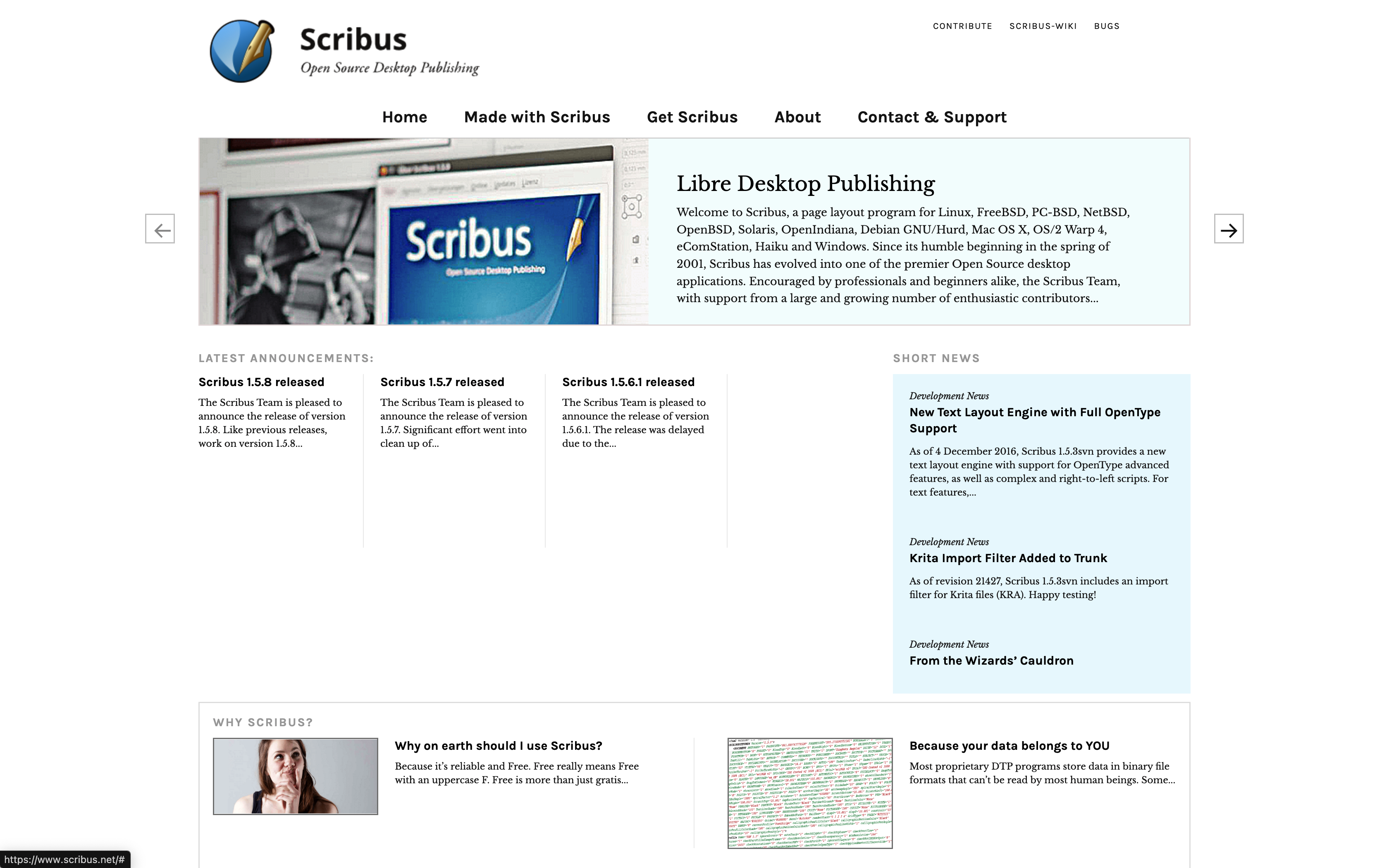 Have linux?
But looking for InDesign-like software for book design?
Scribus might be worth your time.
You may find this old-school software. But don't judge the book by its cover!
I agree the user interface and overall aesthetics are quite outdated. But believe me. It packs in most of the desktop publishing capabilities that are found in paid software. 
 It's basically free. Run by a group of enthusiasts. So, no matter if you're a new or Indie author on a tight budget. Scribus might be a good starting point. 
You'll find some familiarity with InDesign, though. 
From setting up layout, and styles, to importing content. Pretty much the same. 
Also, features like page customization, importing Illustrator files, and wider localization support may often give you an InDesign-like experience. 
Scribus also improved the workspace, file imports and exports features, and user interactivity.  
Dark mode further gives a nice touch. 
Yet, it lacks many intuitive features. That you can get only on paid tools. Like spell check, cloud storage, collaboration, and automation abilities. 
Won't make much of a difference if you can compromise. You can still get the job done. 
It's open source. Great with customization. Compatible with multiple OS. And less cluttered than InDesign or Affinity. 
What I don't like is that Scribus is too slow with the updates. This led to compatibility issues in Apple Silicon initially. 
Overall, it's a great alternative to many paid software. Pair with Inkscape or Krita to design book covers.
Compatible platforms: Windows, macOS, and Linux distros
Design abilities: May lack intuitive features, but has enough of them to design books of any format
Ease-of-use: Simple interface and easy to get familiar with its design editor
Value for money usage: Great option for aspiring authors on a shoestring budget
Support: Community forums
Scribus Key Features
Nothing short of styling and customization. Comes with several predesigned templates, design tools, and a huge number of fonts. 

Master page feature saves your time. Helps you create a layout once and apply it to all the pages.

The latest update brought many new features and UI improvements. Extended support to multiple file formats as well as image formats. Also features dark mode. 

Features XML-based platform that helps you structure your documents as well as restore damaged ones. 

Supports both RGB and CMYK color profiles and features 200 ready-made color palettes. 
Scribus pros and cons
Pros:
Free and open-source tool

Multi-platform compatibility

InDesign-like canvas experience

Best for low-end PCs

Decent file imports and export feature
 Cons:
Update releases are pretty slow

Lacks intuitive design features

Lacks customer support
9. Scrivener – Book designer with a powerful word processor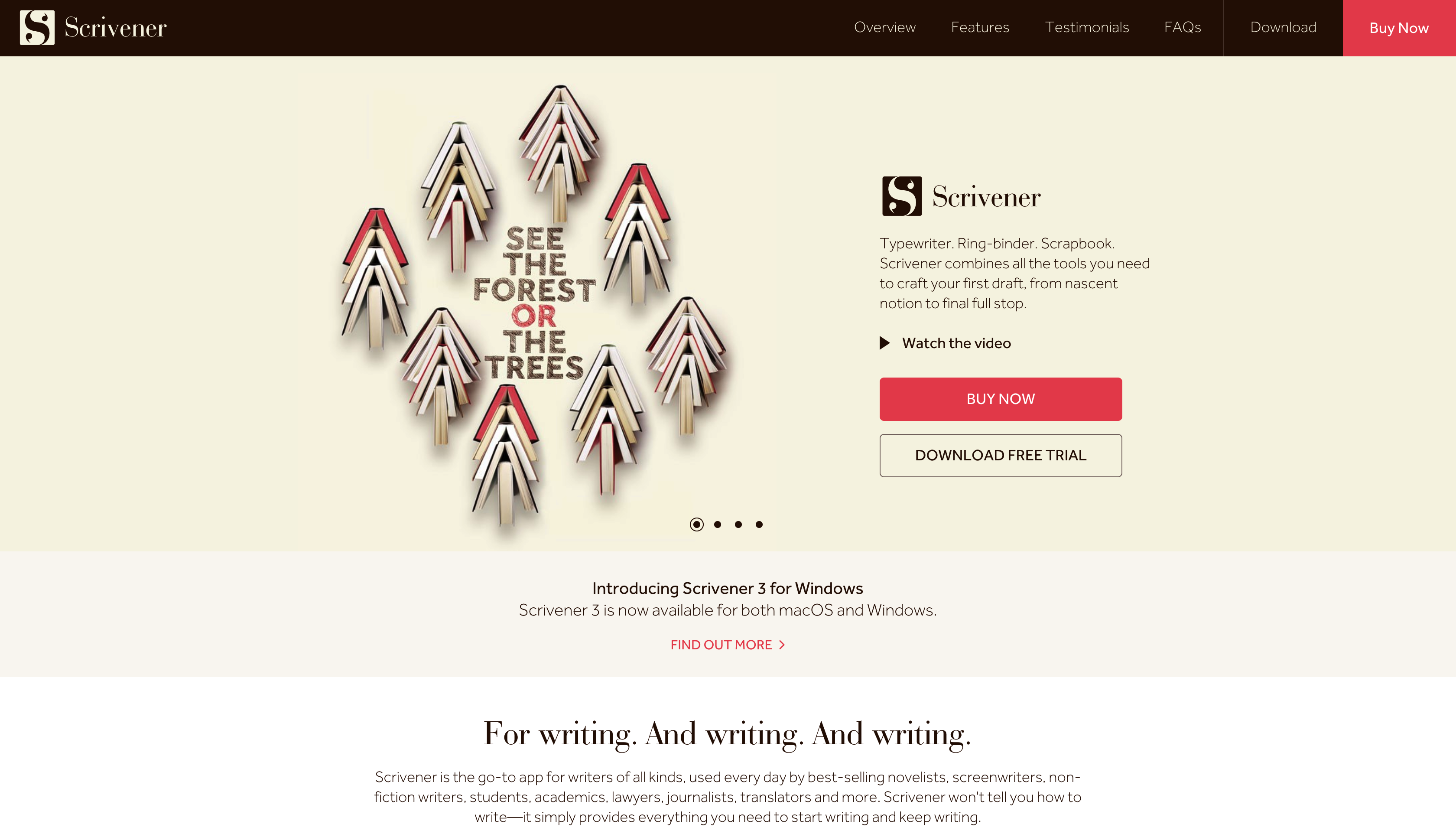 Scrivener is not just a book design software. But a powerful word processor as well. So powerful that it may leave MS Word users in splits. 
Scrivener is created by Literature & Latte. Definitely not a type of coffee. But a haven for book writers. Those who want to create a blockbuster manuscript, turn it into a book and get it published. All under a single roof. 
However, Scrivener packs in so many features that might overwhelm you at first. But also gives you complete control over customization. 
Everything's here for a self-published writing journey. You won't have to copy-paste your manuscript from elsewhere.
Scrivener takes the simplicity of standard word processor tools to a great extent. Like binder and corkboard features. That helps you manage every element of your story – your research, drafts, chapters, images, and even side notes.
You can arrange them in color codes based on their progress. Really good for visual reminders to know what's complete, what needs to be done, or revised.
However, you won't have a lot of things for setting up templates. But it does let you import additional templates. Quite basic if you like designs as much as writing.
But what I love the most is its ability to export into multiple formats. Like if you want to export into hardcover, paperback, e-book or kindle – all at once. Rather than exporting them one by one.
Overall, Scrivener offers great productivity at reasonable pricing. No matter if you get it on your Mac, iPad, or PC.
Syncs well across these platforms as well. But just one complaint. 
You need to get separate licenses for each of them.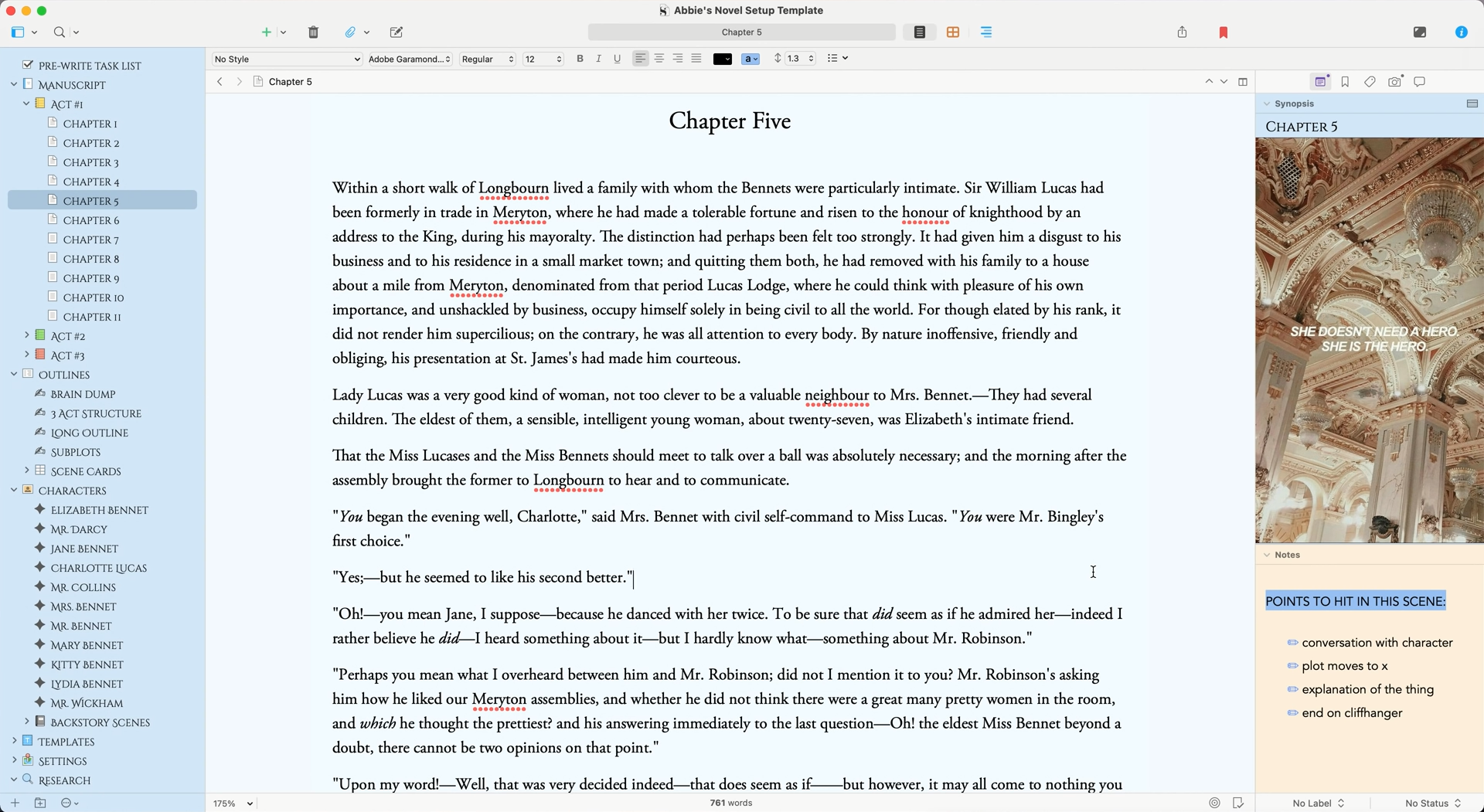 Compatible platforms: Windows, macOS, iPad, and iOS
Design abilities: Comes with advanced layout design capabilities and customization control. No photo editing option, however.
Ease-of-use: Easy to get familiar with but the comprehensive range of features may feel difficult to manage at times
Value for money: One-time license sounds exciting. But you need to get additional licenses if you're moving from Windows to macOS, for example. 
Support: Email and community forum
Scrivener Key Features
Binder feature, basically a side panel, helps you manage the flow of documents in an organized manner.

Cork board is similar to Binder. Instead, it lets you order your chapters or scenes like sticky notes. Gives you a panoramic view of your project. Easy to drag and reorder the flow of documents.

Features over 20 template options based on the type of your book, like a novel or poem. Or based on genres like fiction, non-fiction, biographies, etc. You can also import your templates and customize them.

With the multi-tasking ability, you can work on two documents simultaneously. Or have a document on one side and a note-taking panel on the other side of the split screen. 

Full screen mode which expands the working area and hides unnecessary tools for a distraction-free workflow.
Scrivener pros and cons 
Pros:
Complete customization control
Powerful word processing abilities
Supports multiple formats for export
Multi-tasking editing abilities
Affordable one-time purchase
Cons:
Requires a license for each supporting platform
Feature-rich but a bit difficult to manage
Pricing
Windows or Mac: $59.99
Bundle pricing: $95.98
iPad/ iOS version: $23.99
10. Vellum – Only for Mac users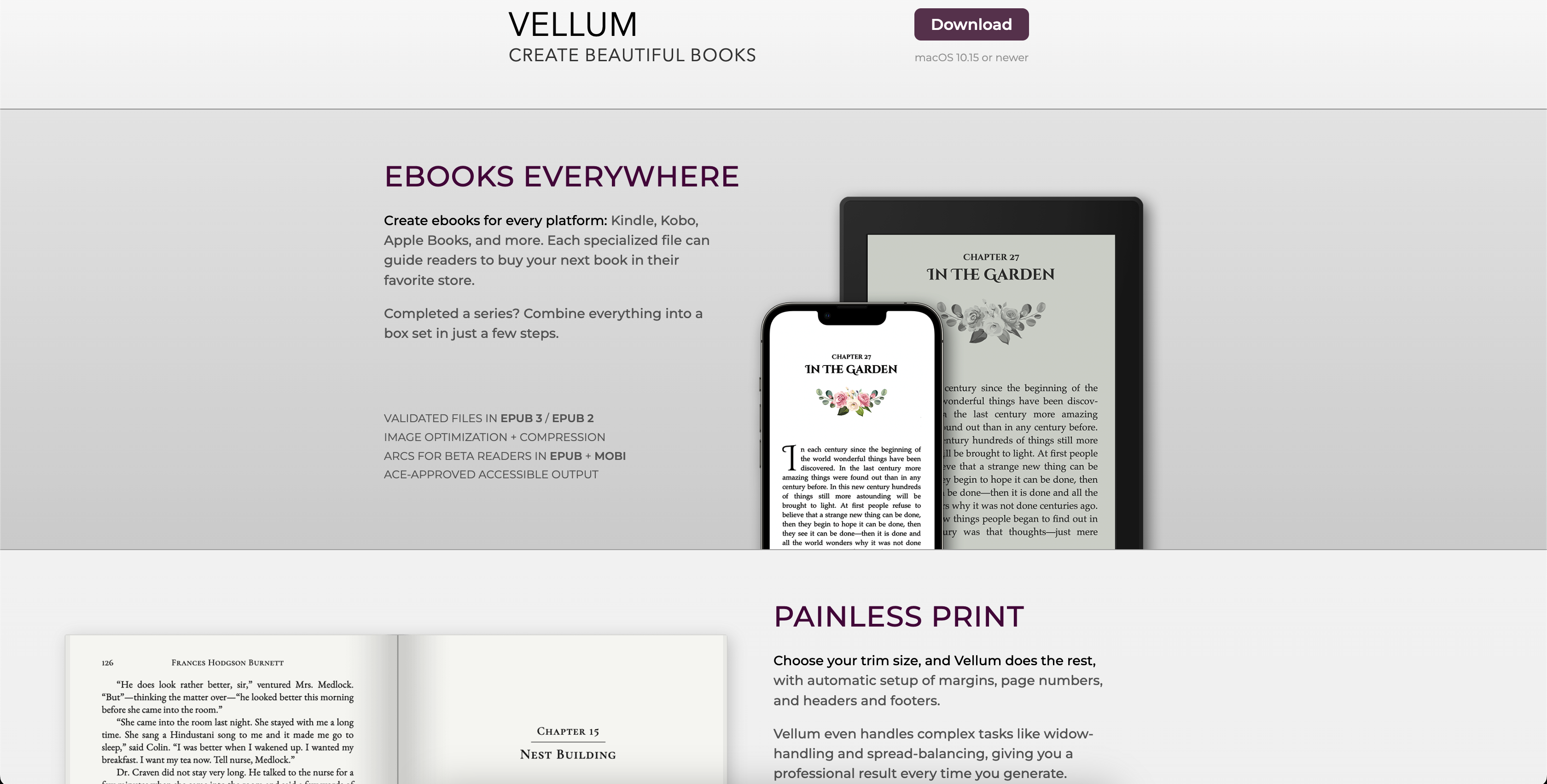 A Mac user?
Vellum is specifically for you. Sorry, PC users!
However, if you're planning to get a Mac anytime soon, don't skip it.
You know, it's always special when design software is specifically built for Mac systems. Vellum is that unique software that offers you creative ways to design your digital and print books. 
It also makes a good word processor. So, you don't need to depend on a different tool just for writing.
However, speaking of importing your documents, you don't have the luxury of format support. The only format you could import is the .docx type. 
Despite this caveat, Vellum automatically restructures the imported document without disturbing the styling and indentations.
You don't need to redo the table of contents or headings by yourself.
Also, it doesn't impose any burden on design decisions for your book type. Comes with 8 preset layouts for different types of genres. Though, you can't do anything more beyond that. 
Once you're done, Vellum lets you preview your book in whichever format you want it to be published. Not just formats. You can also see how responsive your book is on Kindle, iPad, or any e-reader. 
Just to make sure you're not disappointed with the end result. Or can change your mind in time.
Same thing with the pricing. Vellum has one-off pricing, yet doesn't come cheap. So it lets you use every feature you can get in the paid version. But the difference is, that it doesn't generate the final copy of your book.
Compatible platforms: macOS only
Design abilities: Basic layout designing. Comes with pre-made templates with limited customization. But can help you with creating box set.
Ease-of-use: Pretty straightforward. Quite like your typical word processor with simple styling options.
Value for money: One-time license, but high on pricing. Only valuable for you if you're a 24/7 Mac worm. 
Support: Email support only
Vellum Key Features
Comes with 8 pre-designed layout styles based on genres. For example, Meridian gives a classic novel layout, Sudo's dramatic touch for modern fiction, Artisanal's retro-like aesthetics for biographies, etc.
These layouts automatically change all the elements of the manuscript like chapter headings, body, ornamental breaks, headers-footers, etc. Also works for the document imported as MS Word files.
The document can be exported in formats including hardcover, paperback, and e-book.
Option to preview your final copy of the e-book for multiple devices such as Kindle, iPad, Nook, Kobo, and even mobile devices.
Helps you with designing a book series or box set. With the volume feature, you can differentiate your books which makes it easier to understand the sequence. While keeping the same styles and layout.
Vellum pros and cons
Pros:
Ready-made book styles
Word processing capabilities
Easy to make box sets
Future updates are free
Preview mode available
Consistent updates and feature enhancements
Cons:
Not available on PC, iOS, or Android
One-time yet steep pricing
Only imports .docx or Word files
Pricing
Vellum Press (Ebooks + Hardcopies): $249.99
Vellum Ebooks only: $199.99
11. Atticus – Best cross-platform book design software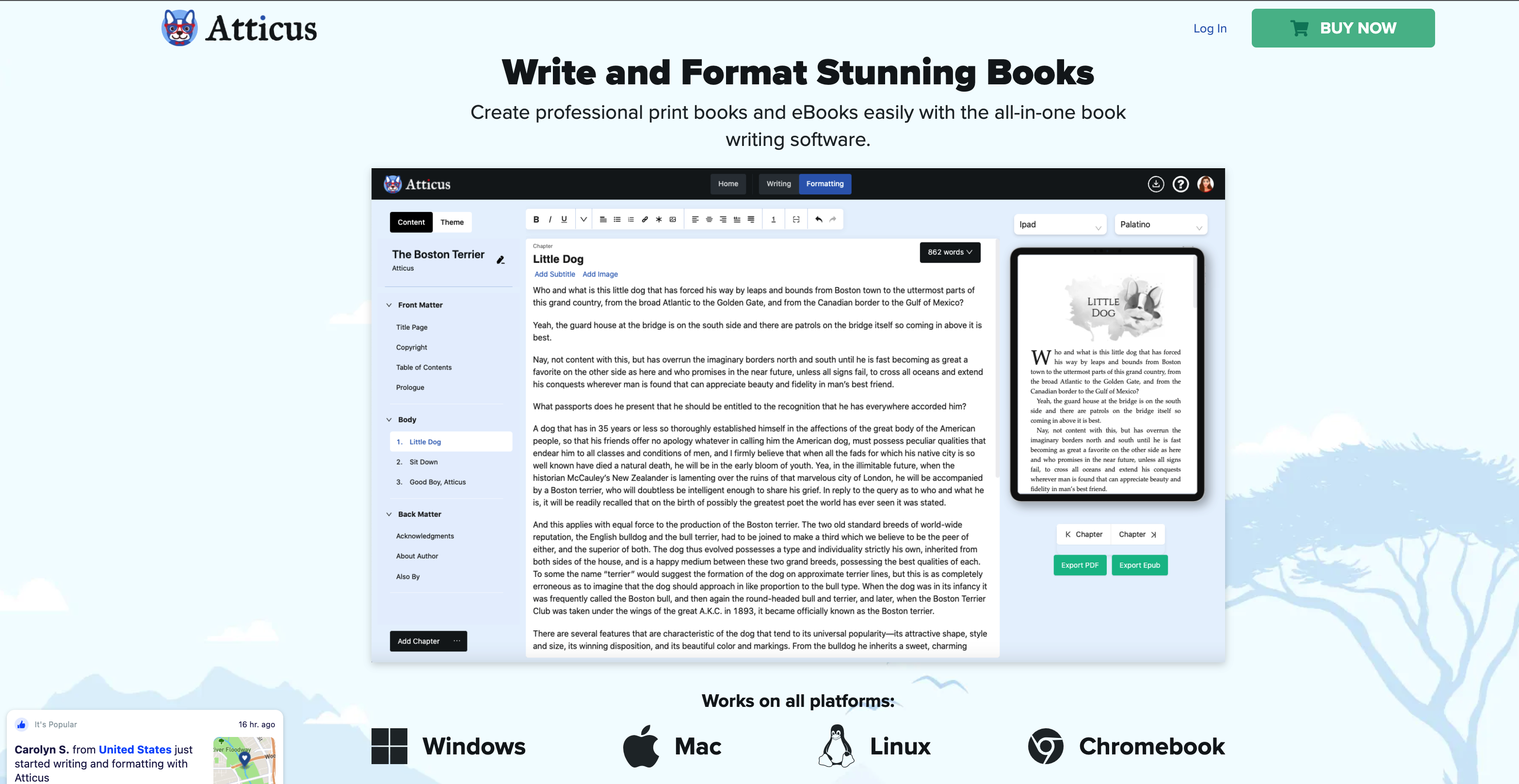 Did you test Scrivener or Vellum by now?
Atticus will give you a familiar feel. To be precise, a good balance between the complexity of Scrivener and the limitations of Vellum. And gives you a lot less headache with word processors, formatting, and publishing.
But why Atticus?
Why all of a sudden a book design tool that most of you are unaware of?
It's relatively new. Built for indie publishers like you.
Even better if you're a publishing house. Who wants a hassle-free way of preparing books without getting much into the heavy editing part.
But most importantly, it's cross-platform software. That comes at an unbeatable one-off price. Feels like a fair deal when compared to software in the same league.
The text editor is the first thing that you'll get to grips with. Not comprehensive like a typical word processor. But not clunky like Google Docs either. And easier to create your book's front and back matters.
Now, new software means, it reckons to have a competitive advantage.
Not just in terms of cross-platform compatibility. But also the luxury of customization. You may also choose from over 20 pre-designed book layouts – that suit every style you could imagine. For just any genre.
And even make marginal changes to them. And check out the preview of what your theme might look like. On paperback, hardcover. Or any e-reader format you may not have heard of yet.
Atticus also makes sure your finished book is export-ready. As both digital and print formats.
But what makes Atticus special is that exports can feature on almost all the book markets that you may have heard of. Platforms like Amazon, Apple Books, Barnes & Noble, Kobo, Scribd, and many more. Which is an advantage for your book to receive good exposure.
Atticus may soon come up with collaboration features and version history. Dark mode and plot organizer tools are also on the cards. That could probably make for an interesting neck-and-neck comparison with competitors by then.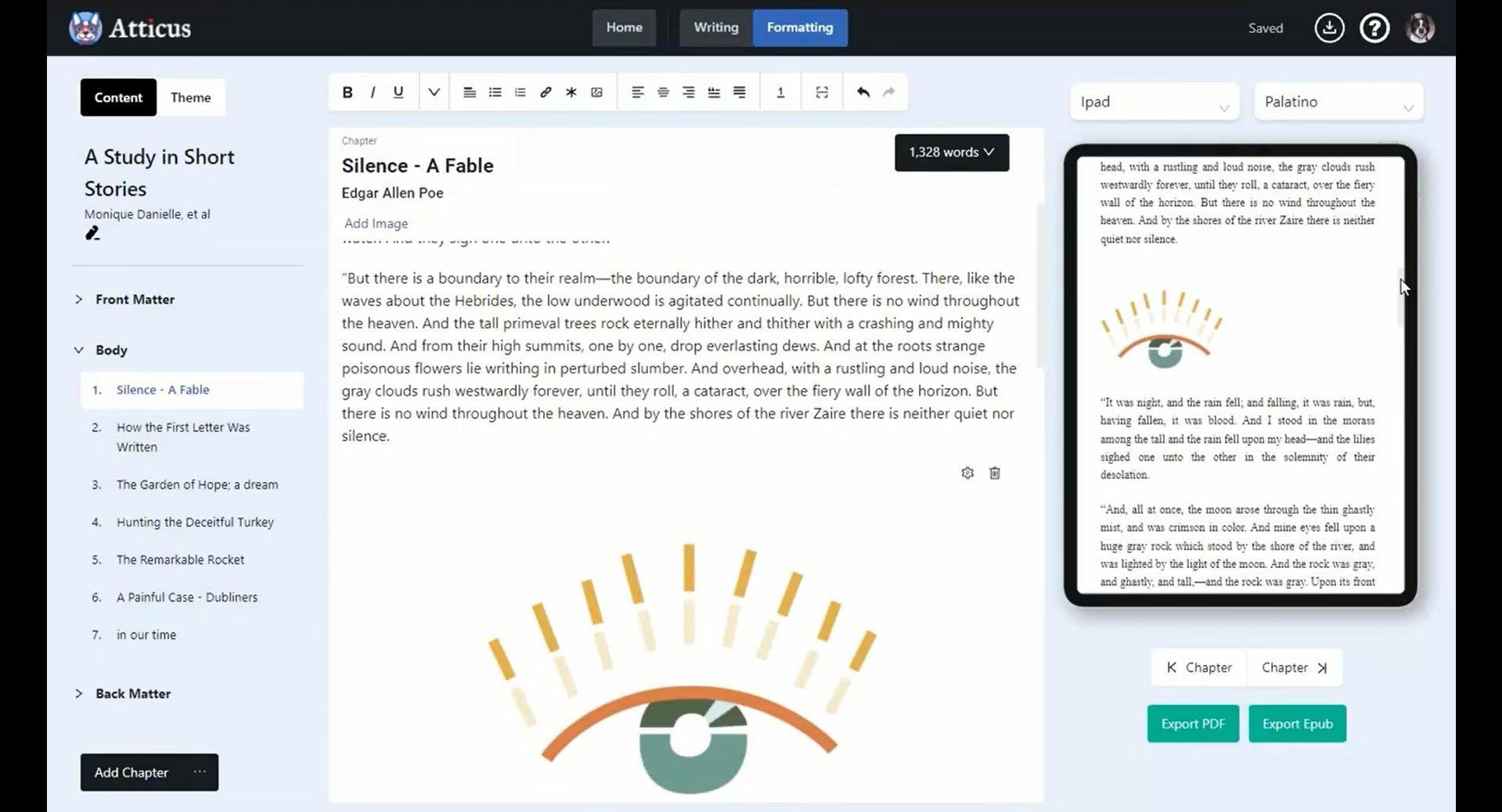 Compatible platforms: Windows, macOS, Linux, Chrome OS
Design abilities: Comes with a number of pre-designed templates along with a basic theme builder. Great for any genre.
Ease-of-use: Clean and concise interface makes you feel ready to jump into it. Very handy customization tools. Resembles Scrivener but a lot less complex. 
Value for money: An attractive one-time deal for indie publishers.
Support: Email support only
Atticus key features
Compatible with Mac, Windows, Linux distros, and Chromebook.
Features over 20 pre-designed templates with customizable theme builders.
Ability to modify layouts within the templates such as font type, size, heading style, ornamental breaks, headers-footers, print time sizes, and many more.
Let you add or update reusable elements like "about the author", and "acknowledgment", etc on several books.
Comes with a device preview feature where you can check how your book format looks on over a dozen reading devices – both e-ink readers and mobiles.
Cloud-based as well as downloadable. Helps you edit and make customization when you're offline. And back up content when online.
Atticus pros and cons
Pros:
Multi-platform compatibility
One-time affordable pricing
Ideal for large print books
Flexible layout customization
Preview options for multiple formats
Cons:
A relatively new tool in the market
No support in MOBI format until now
Pricing
One-time pricing: $147
Covers both Ebooks and Print formats
12. Bookcreative – Book design software for minimalists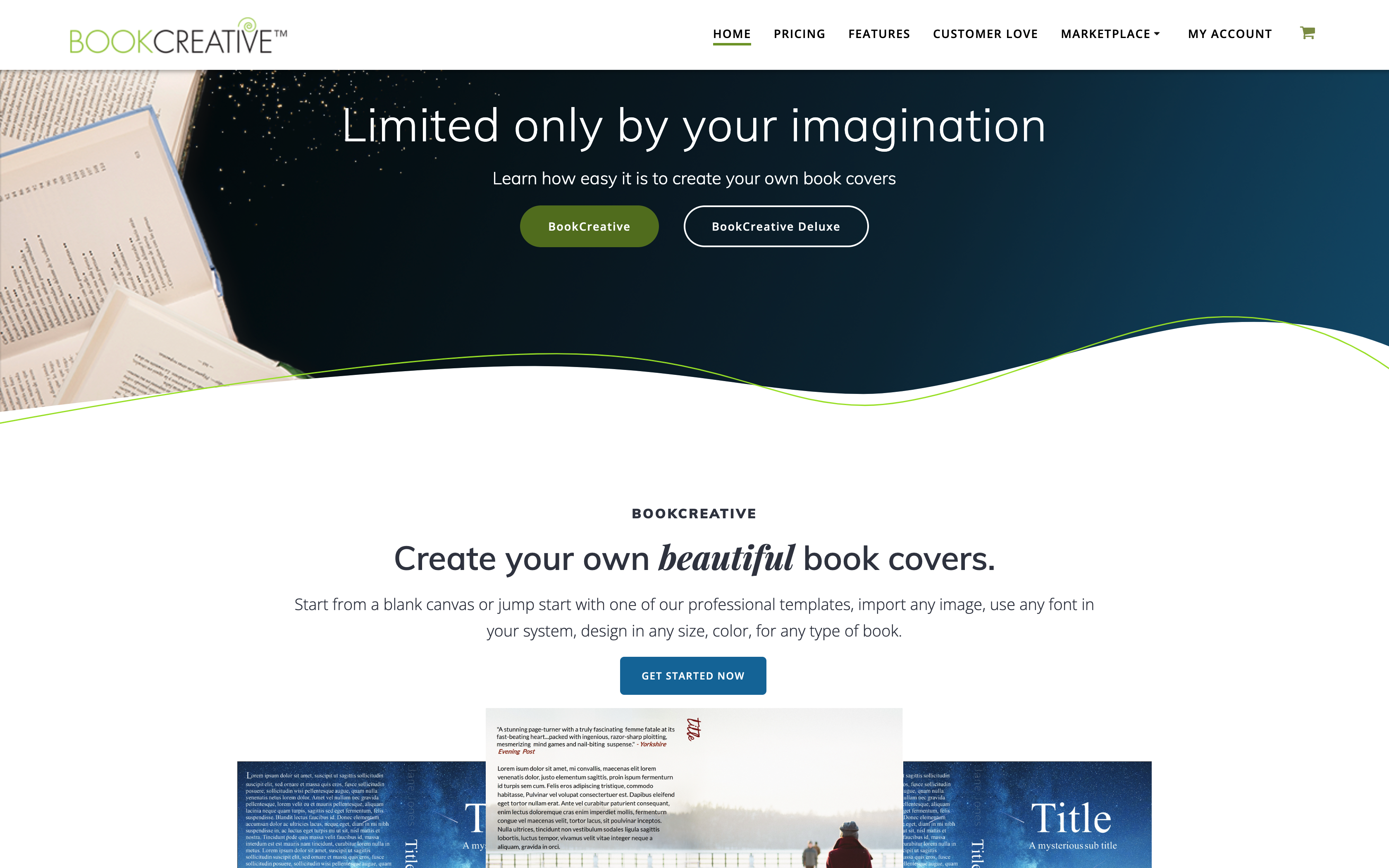 A desktop publishing app doesn't necessarily need to be a resource-heavy tool. Or a money-mongering tool. To be considered good enough for book designs. 
BookCreative is one such software that isn't quite known to a lot of you folks.
But it's nothing short of a wonder. Once you're done with the manuscript, Bookcreative takes the front seat. And steers you through your book publishing journey.
From designing your book cover to formatting pages. And eventually, getting it marketing-ready.
For all kinds of book formats – hardcover, paperback, e-book, magazine… you name it.
Not all writers can design. Bookcreative makes sure you won't need to bang your head on it.
As you explore the software, you'll find a library of stock templates for covers. But the best thing about it?
You can customize them all. And make your own masterpiece design. Just like those international bestsellers.
Now, page formatting is generally not an interesting part of many design software. With Bookcreative, however, you won't complain about it. 
Everything from setting your layout to structuring your content feels like a breeze.
From the moment you upload your manuscript. 
But you're going to love the fact that it takes a step further to help you promote your book. Marketing materials make it easier to create a buzz around your book.
Now, don't expect anything beyond that. You won't get any automation or cloud features. 
Moreover, the one-off pricing makes it a pretty exciting deal. Especially the Standard package.
You may also consider the Deluxe package, which costs $100 more. However, we don't see a lot of details as to what specific features each of them offers.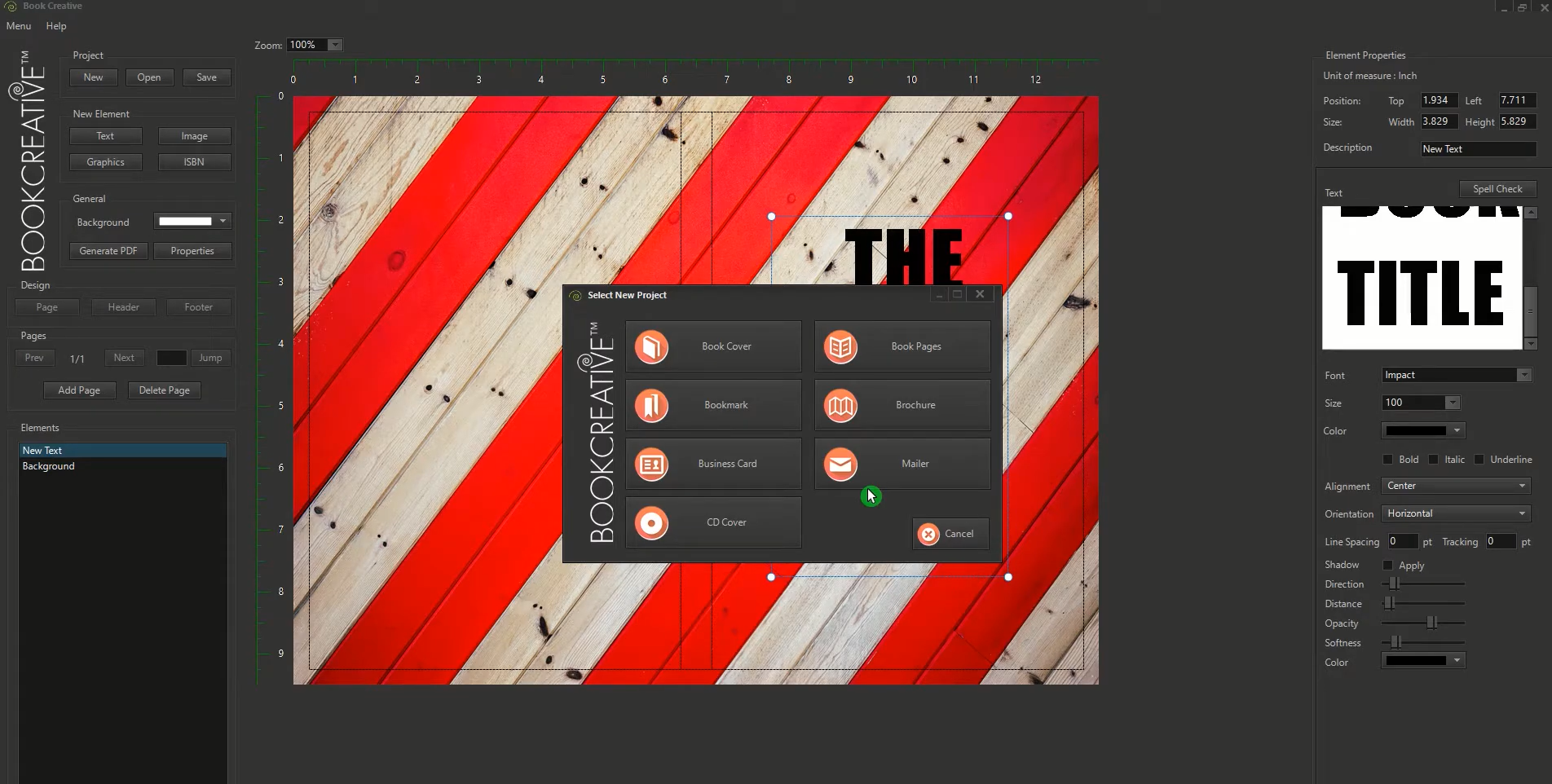 Compatible platforms: Windows and macOS
Design abilities: Comes with a basic photo manipulation editor.
Ease-of-use: Not a feature-heavy tool and mainly geared towards non-designers
Value for money: Quite a satisfactory deal for indie publishers
Support: Email support only
BookCreative Key Features
Formatting option for both prints and e-books. Also use of custom color palettes, typography, and shapes.

Comes with auto page numbering, spell check, and a fully customizable page layout.

Ease of creating marketing materials for social media promotions or ad features.

Built-in image manipulation tool. And able to export to formats like JPG, PNG, PDF, TIF, and GIF.

Book cover templates are available for both Paperback and Kindle formats. Only the Deluxe package supports editing and adding custom graphics.
Bookcreative Pros and cons
Pros:
Reasonable one-off pricing

Free updates available

Page formatting options for both e-books and prints

Decent text and photo manipulation features

Comes with promotional materials 
Cons:
Not enough familiarity with the marketplace

Lacks advanced design features
Pricing
Standard version: $97
Deluxe version: $197
Final Words
Book design software is a great tool for someone making a living out of designing or authoring. 
By now, I hope you're familiar with most of them. Perhaps the popular ones.
But it's up to you to see what works best in laying out designs for your books. Not everything works on everything.
Is your draft straightforward prose?
Or is it highly structured? That may consist of tables, diagrams, or any academic elements. 
Or is it about publishing in multiple e-book formats?
Seriously, make a checklist of things that can help you in picking the software for book design. This is going to take a lot of pressure off of you in outlining the book you wish to design and sell.
Without pissing you off with manual formatting.
And lastly, ask yourself!
What was it like when you once locked your eyes on a well-designed book, quietly waiting for attention while resting on the shelves with other page-turners? 
Of course, you wanted to know about it, didn't you?
So what's stopping you from creating the same experience with your audience?