Businesses across continents have been taking steps towards getting (and staying) a step ahead of their competitors.
For the most part, that is a given.
Only a few businesses understand and excel at the fact that this growth is largely based on customers' trust.
To let the numbers speak, let us look at one of the most known pieces of statistics: acquiring a new customer is 5 times more expensive than retaining your existing customers.
Theoretically and statistically, customer satisfaction is an epicenter of all businesses.
This customer satisfaction comes from providing quality customer experiences, which emerges from your business' ability to meet customers' expectations (preferably exceeding those too).
With eCommerce, this highlights on the surface as it is an industry that has quantifiable products, and things are quite white and black as compared to a service-based industry.
Quantifiable industries are better matched with the quantifiable value that your business provides to all customers.
Thus, providing rewards, points, and cashback is one of the best ways to convey to your customers that your business is not all about earning a profit, but also about catering to your customers.
Here I've listed 10 Shopify reward apps and software that will help you implement such a reward system in your eCommerce store:
ReferralCandy is quite a dedicated reward management application that's been working wonders for Shopify eCommerce owners for years.
Using this application, you can track your sales and referrals that sprout out of those sales, and reward your customers who participated in these referral-centric activities in the form of points.
It also enables you to explore its customizing options concerning emails. Through this, you can update your customers about your new offers, coupons, and any special gifts such as a special birthday discount.
To enhance the entire appeal of your products and rewards benefits, ReferralCandy provides you with a referral widget feature that invites your customers to engage with your referral program.
Pricing: starts at $49 per month.
Additional Features
Enables you to launch a non-branded referral program that includes banners and logos; this adds up to your branding and marketing efforts.
A wide range of integration options with major marketing platforms. Some of these are Google Analytics and Mailchimp.
Pros
A one-stop solution considering tracking the key metrics of rewards and customer referrals.
It allows you to reward your customers automatically after successful referral completion.
Cons
Stage-based referral incentives are not provided to your customers.
HTML customization is not quite thorough.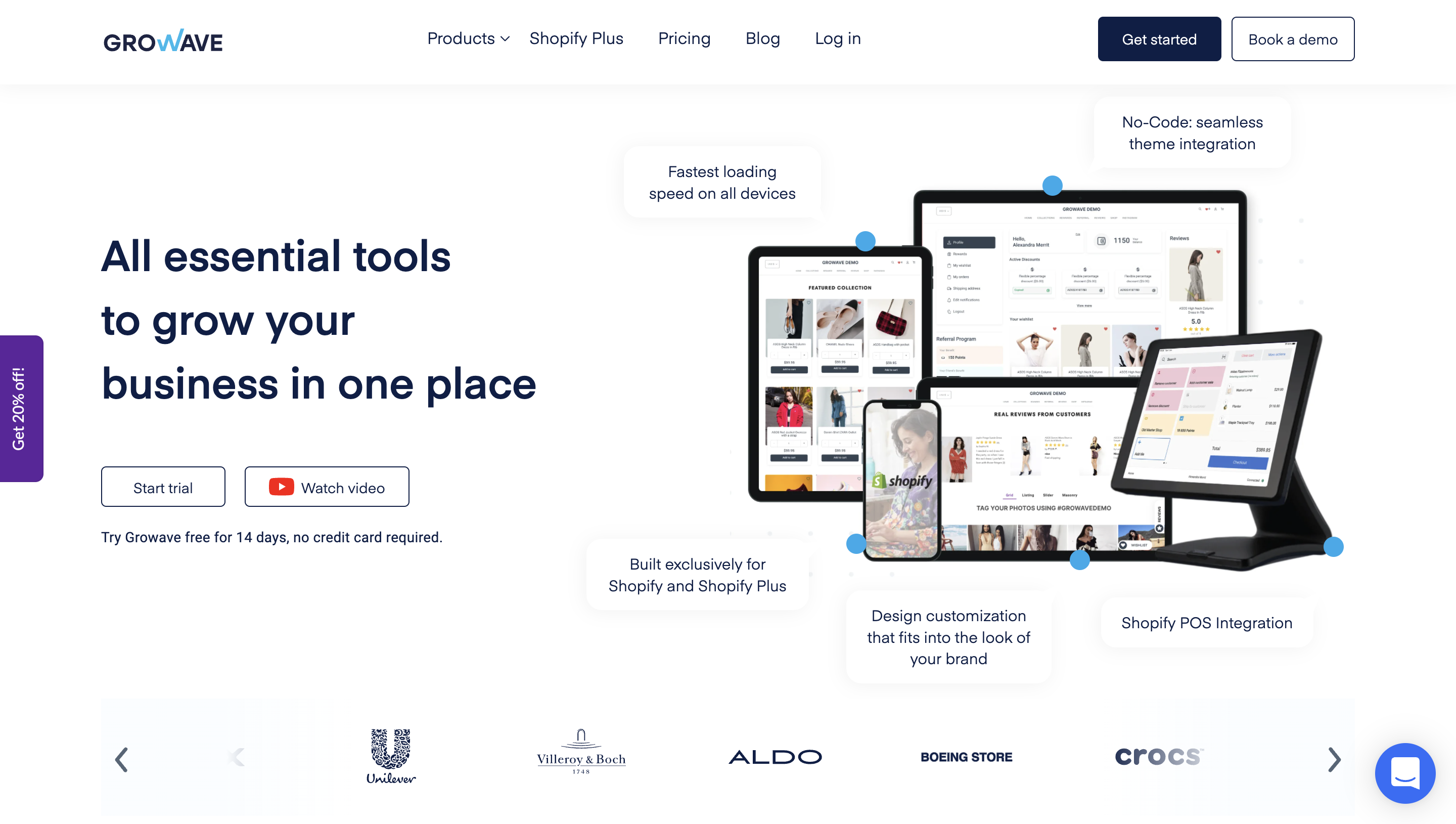 Rated among the highest-performing applications on Capterra, Growave is the one-stop solution for your customer-engagement requirements.
Instead of allowing you to simply give rewards to your customers through this application, Growave takes a step further and offers features to create reward and loyalty programs that are tier-based and point-based.
These loyalty programs incentivize customers to walk through your eCommerce store and preferably take an action (as that leads to rewards and points).
Another way customers earn points is by uploading photos of the products they have purchased from your business. This authentic word-of-mouth marketing benefits your business as well as invites other customers to pitch in as well.
Pricing: starts at $19 per month.
Additional Features
Its points-redeemable feature allows your customers to redeem it in various ways: cash, gift cards, discounts, etc.
You can use it to share tips and personalized emails to your customers regarding how to manage and earn more rewards.
Pros
Automated alerts regarding a new reward program.
Points-expiry alerts via emails.
Cons
Its UI is not very easy on the eyes.
It could use a bulletin board-style feature to make it easier for customers.
Stamped.io is a Shopify rewards application that is topping most of the lists of the best Shopify applications. One of the reasons for the success of this application is its ability to boost customer retention and increase sales.
It does so by providing excellent features such as customizable and impactful landing pages for loyalty programs, highly-dedicated rewards pages for inviting your customers to engage with it, and a certain hint of flexibility considering rewards.
This artificial intelligence (AI) – enabled Shopify rewards application also measures Net Promoter Score (NPS), analyzes your business' shoppers' reviews, manages user-generated content (UGC), and helps in managing your brand overall, including social media curation.
Pricing: starts at $19 per month.
Additional Features
Third-party integrations include many more options than its competitors. Some of these applications include Zapier, Zendesk, Facebook, Magneto, and many more, which enhance productivity and email marketing efforts alongside customer acquisition.
Allows you to track your customers' feedback and reviews to specific team members and increases your business' efficiency.
Pros
Facilitates features such as custom forms and display widgets.
It is mobile-optimized, works with any theme, and is 100% responsive.
Cons
Customer service takes a long time to respond.
Its plugins are limited as compared to other Shopify rewards applications on the market.
This one of the best-rated Shopify reward applications currently provides more than 50,000 easy-to-use reward programs across the world.
Smile.io comes with a number of features that help eCommerce brands on Shopify to turn their one-time purchases into repeat sales ‌ that enhance their customer loyalty to a whole new extent.
You can use Smile to increase your acquisition efforts (and results) by using features such as VIP programs, rewards management, activity tracking, third-party integrations, multi-channel marketing, ROI tracking, and even gamification.
It also helps you financially as it supports fresh and repeat sales and reduces the cost of gaining consumers by engaging them in promotions, awards, sales, points, and various types of rewards.
Pricing: starts at $49 per month.
Additional Features
It levels up your email marketing outcomes by enabling you to integrate your Shopify store with various tools such as Mailchimp and Hubspot.
Rules out a need for developers and allows you to manage your rewards based on customer activities.
Pros
Recent changes to the platform have improved the user interface experience.
Tiers creation in your VIP program.
Cons
The chat feature could use some improvements.
Not practically affordable for small businesses with budget constraints.
Rise.ai is a perfect rewards application for eCommerce store wonders using Shopify. When it comes to customer experience, it is not always easy to know what is working and what is not.
However, it is a given that to enhance your customer service, providing value is a tried-and-tested way.
With the help of Rise.ai, you can share gift cards and store credits with customers who make a purchase. These gift cards can also be personalized and your customers can share the same with their loved ones.
Rise.ai also enables you to build an instinctive customer loyalty program through which you can automatically provide store credits to your customers, and in turn, increase high retention rates.
Due to its simple and seamless user interface, Rise.ai has been used by owners of Shopify eCommerce businesses where their team members do not need specific technical skills to use this application.
Pricing: starts at $16 per month.
Additional Features
It allows you to encourage your customers to participate in a program and receive a stored-value digital loyalty card.
Rise.ai does not operate on a point-based system but in a more meaningful and direct currency: store credit.
Pros
High-quality and bulk-created gift cards feature.
Allows you to track recipients' emails and send targeted offers and updates.
Cons
It does not come with the credibility that its competitors bring to the table.
Integrations using Rise.ai are yet to be improved.
Ekoma is a powerful Shopify reward application that can be launched on your desktop within minutes and change the course of your rewarding system.
The moment you have a potential customer on your online store, Ekoma's reward program incentivizes them to increase their references.
It allows you to create personalized labels, customizable rewards, and solid engagement that helps you boost sales and decrease the cost of customer acquisition.
It has a wide range of options using which you can reward your customers – 8 ways, to be precise. Also, to have a better understanding of how these rewards are bringing to fruition, you can use Ekoma to allow your customers to leave their feedback.
Pricing: comes with a free trial.
Additional Features
It allows integration with platforms such as Facebook, Instagram, and Twitter that solidifies your brand's online presence.
Claims to increase the likeliness of referrals placing orders by 4 times as it is based on the trust factor.
Pros
It has 3 different reward programs that increase customizing options.
Ekoma has an easy-to-use mobile interface alongside its desktop version.
Cons
There is a lack of guidance and support by Ekoma's support team.
Its paid version is relatively more expensive as compared to other reward applications.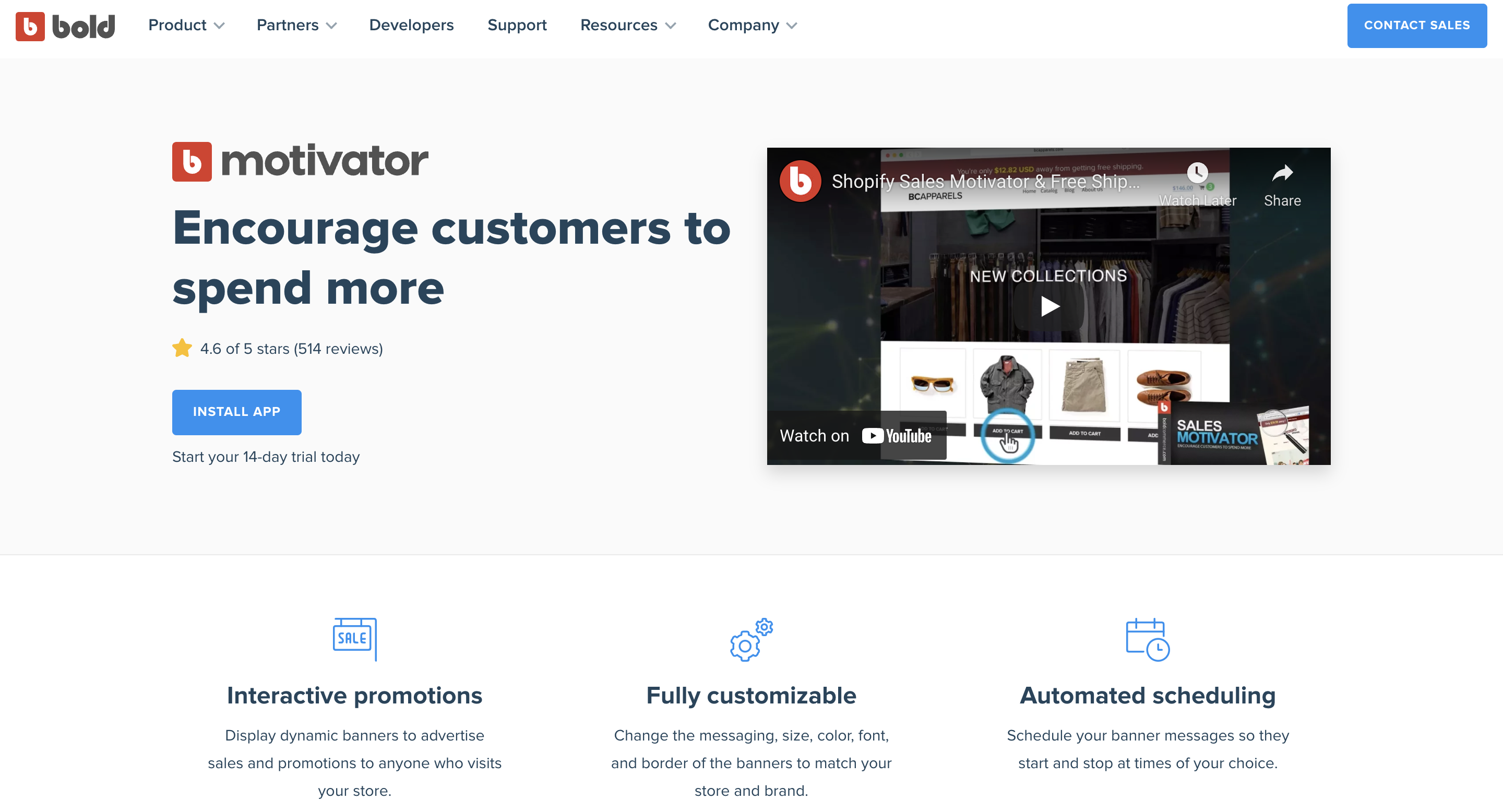 Bold Motivator is a Shopify reward application that increases your repurchases significantly. It comes with features such as interactive promotions, automated scheduling, geotargeting, automated notifications, and stacked offers.
Alongside the above-mentioned features, Bold Motivator enables you to interact with its other applications and build referral and loyalty programs that turn your one-time customers into long-term loyal customers and decrease the cost of acquiring new customers.
You can offer points for purchase to your customers, enable notifications to invite them to buy more, and increase your sales.
Using Bold Motivator, you can build an engaging and easy-to-use loyalty environment designed specifically to enhance the relationship between your brand and your customers.
Pricing: comes with a free trial.
Additional Features
With its customizing options, you can customize the size, color, and font of your notifications.
This application sends motivational messages and notifications to your customers by associating a reward with a certain number of price totals in their carts.
Pros
Easy to track metrics with its ROI tracking.
Extensive third-party integrations.
Cons
Tiered goals are not easy to use.
The motivator banners are not always consistent.
Creating and maintaining a loyalty and reward program that brings value to your brand as well as to your customers is not a task that sounds as easy as it seems.
Nonetheless, with the AAA Loyalty Rewards Program, you can increase repeat purchases and give reasons to your customers to stick around for the long run.
It gives flexibility to your customers concerning reclaiming prizes; some of the options are rate rebate, item free, and cash off. It also offers focus to clients which can be shared with companions.
Your customers' engagement increases as they get points when they participate in different activities; these points are easily redeemable from the wallet and can be used as discount codes, free shipping codes, and various vouchers.
Pricing: comes with a free trial.
Additional Features
It creates various activity rules and allows you to offer points to your customers for account creation, making a purchase, participating in a referral, and sharing on social media.
You can offer points to your customers for participating in social media sharing activities that lead to an increase in the social media presence of your brand.
Pros
Loyalty widget that shows current point status to your customers.
Customers can see their points while checking out from the cart.
Cons
It is relatively more expensive as compared to other reward applications.
Its customer support services are not as efficient as you might want them.
Bold is an excellent Shopify reward application that allows you to create reward programs on your Shopify store. By giving points using this application, you encourage your customers to shop with you repeatedly and leverage the rewarded points in numerous ways.
Your customers can redeem the points by making a purchase, sharing product and store details on social media, joining tiers, referring new customers, and signing up (to begin with).
Also, when your customers conduct any of the above-mentioned activities, the Bold Loyalty Program notifies them by email and reminds them to visit your Shopify store again.
This certainly increases customer retention prominently. With its solid referral program, you can also transform your customers into advocates of your brand and motivate them to invite new visitors.
Pricing: comes with a free plan.
Additional Features
You can use the Bold Loyalty Program's adjustable gadget that gives access to your customers to view their rewards in one place.
Offers a reliability program to your customers that invites them to arrive at remunerations more often than earlier.
Pros
Extraordinarily well support system and customer service.
A wide set of features and integration options.
Cons
Setting up different tiers takes a long time.
Trusted by thousands of eCommerce business owners, LoyaltyLion has been one of the most supportive tools for eCommerce merchants on Shopify. It helps businesses such as yours in enhancing your brand's relationship with your customers.
One of the ways in which it stands apart from its competitors is by allowing you to build an entirely customized loyalty program that helps you reward your customers for certain actions they take on your website.
Such as when your customers provide reviews, engage with your business' social media accounts, refer to your products, and make purchases using your Shopify website.
Besides action, it works on an event basis as well. You can provide birthdays and sale-centric rewards to your customers. Using LoyaltyLion, you can optimize loyalty data and create excellent marketing strategies as well.
Pricing: starts at $399 per month.
Additional Features
LoyaltyLion has one of the most seamless user interfaces which lets you create loyalty programs without having to use specific technological skills.
Besides known features such as reward management and referral tracking, LoyaltyLion also helps you with member portal and activity tracking.
Pros
Reputed as a Shopify reward tool that increases repeat customers.
It allows you to customize your rewards.
Cons
Its time zone settings are immovable.
A limited number of integrations with other applications.
With this list of Shopify reward apps, you have all the tools you require to set up a loyalty-based reward program.
We recommend getting started with Bold or Growave Apps because they are simply the best with tons of features and flexibility.