Asana, Monday, and ClickUp rank among the top project management software products.
All three applications offer intuitive and powerful tracking tools to help companies plan, schedule, and oversee projects remotely.
While you can use any of them for both basic and advanced workflows, choosing the right software for your business can save tons of time and effort.
Below, I have reviewed Asana, Monday, and ClickUp's core functions and pricing to show a feature comparison. The review might provide you with the necessary information to make the right purchase decision.
Let's explore them!
Asana Overview
Asana is a cloud-based project management software. It delivers a centralized platform to manage and track team tasks.
The app is designed with collaboration in mind, allowing managers to oversee all their team's work from one place.
Whether your projects involve core operations, sales, or side functions, you can easily plan and execute your strategies through Asana. It's not only intuitive and mobile-friendly but scalable enough to support a large volume of users.
Asana Key Features
Boards, timelines, and calendars to track operations.
Workflow builder to automate processes.
Reports to monitor activities.
Admin control to manage guests and teams.
Team communication tools.
Third-party integration to streamline workflows.
Asana is best for small and mid-size organizations.
Monday Overview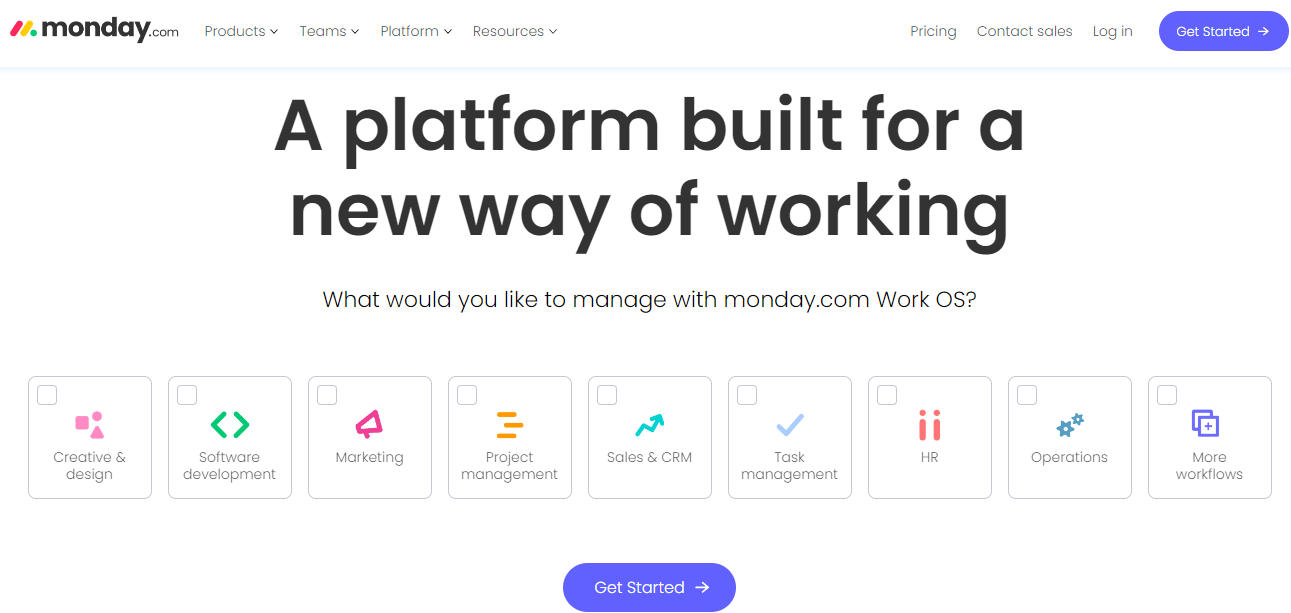 Monday offers a project management platform for established organizations. It provides both user-friendly and developer options to help you build a tailored monitoring system for operations and sales workflows.
The app is easy to navigate and shares separate spaces for planning, execution, and tracking. With its pre-defined templates, add-on functions, and third-party integrations, you can set up a proper work management system and oversee projects online.
Monday Key Features
Boards, Gantt, and Calendar to schedule operations.
Powerful workflow automation.
Dashboard to supervise activities.
Admin control to manage access.
Third-party integrations and add-ons.
Around 186k companies use Monday to manage teams and tasks.
ClickUp Overview
ClickUp, like Asana and Monday, is a popular productivity software. It shares diverse collaboration and project management tools to create workflows and supervise teams.
You can use ClickUp to brainstorm ideas, create and assign tasks, design pipelines, and communicate with team members. Its AI capabilities make planning and execution incredibly fast and efficient.
Overall, ClickUp is well-suited for startups and growing businesses, but companies of all sizes can use it to simplify their work management.
ClickUp Key Features
Mind maps and whiteboards for brainstorming.
Boards, Gantt, and Calendar to schedule operations.
AI-powered tools and automation.
Team collaboration.
Admin control to manage access level.
Third-party integrations.
ClickUp can be downloaded to any device and works well with popular third-party applications.
Feature Comparison
Asana, Monday, and ClickUp are incredibly powerful cloud-based project management software.
They have a user-friendly interface, tons of automation, and enough custom options to let you tailor your workspace as you see fit.
But each has distinct key selling features.
Below, I have compared their core functions to highlight their strengths. Check out the reviews to see what makes them different from each other.
1. Ease of Use
A software interface plays a critical part in determining the feasibility of the product. If the app you purchase isn't easy to navigate or lacks essential elements, it might prove unproductive and challenging in the future.
Below, I have summarized Asana, Monday, and ClickUp's workspaces to review their usability and ease of use.
Asana shares customizable dashboards and multiple project views for task management. You can create to-do lists, build timelines, schedule upcoming projects on a calendar, and track your team's work performance.
For project tracking, you'll get a visual Kanban board.
Using its drag-and-drop functionality, you and your team can add, adjust, and drag task cards and save project briefs and deadlines inside each card. 
Through a search filter, you can easily find tasks, files, team members, and activities. Customization, sharing, and integration options are also visible on the homepage for quick actions.
You can access Asana from your mobile phone and enable auto-actions to reduce your workload.
Monday's user interface is almost similar to Asana. It's easy to set up and offers quick access to integrations and team members.
You can see projects in multiple views, choose from 50+ widgets to customize your page, and share your dashboard with others. From a centralized page, you can monitor projects, check timelines, track your team's activities, and make updates on the spot.
With its digestible charts, you can get an overview of your workspace activities and measure your team's performance.
ClickUp, in comparison, is clean but rich in features.
You can access multiple views and documents from the homepage and switch between personal and shared dashboards with a single click. 
Via the "Everything" tab, you can scroll down and see your entire workspace activities and click individual threads to revisit conversations.
With add-ons, you can customize your dashboard and include extra functions to increase visibility.
ClickUp's collaboration and communication functions are also diverse and user-friendly. Team members can easily reach out to each other, send emails directly from the homepage, and work together in real-time.
Verdict
Asana, Monday, and ClickUp are all easy to use. 
They provide drag-and-drop functionality for editing, several views to track projects, and plenty of widgets to personalize the workspaces.
Their dashboards also offer accessibility to core functions. What's more, multiple team communication options are available in all three applications.
Based on the workspace elements and ease of navigation, ClickUp and Asana are more user-friendly, while Monday has the ability to support complex projects.
2. Work Management Features
Work management is Asana, Monday, and ClickUp's primary function.
They offer some of the best collaborative tools and AI assistants to further improve the user experience.
Below is the summary of Asana, Monday, and ClickUp's core features.
Asana Work Management
Asana project management functions comprise pipeline boards, progress reporting, team communication, and permission levels.
You can build private and public workspaces, create goals and milestones, break down tasks into sub-tasks, and track time and deadlines.
With access control, you can define clear roles for each team member, so everyone is fully aware of their responsibilities and privileges.
You can document everything in one place and monitor all your teams from the dashboard. You can also create a space for yourself to organize daily tasks.
To simplify project tracking, you can add custom rules and automate your processes. The app delivers 70+ rules and an approval workflow to establish an office hierarchy.
If you need help with the processes, Asana's AI assistant offers actionable insights and recommends relevant actions.
Monday Work Management
Monday's key features include visual boards, charts, forms, automation, and work documents.
Here, you can set your company's goals and objectives, design workspaces, manage unlimited projects, and monitor progress. On Workdoc, you can collaborate with team members in real time to discuss agenda, ideas, and strategies.
You'll get access to over 200 workspace templates and a separate space to store documents. 
To keep track of everything, you can create workflows that better fit your operations and set them on autopilot. 
The app's automation is incredibly flexible. You can pick pre-defined rules or generate custom actions and save them as templates for reuse.
Monday has also recently introduced an AI assistant to expand its automation functions. It's still in the beta phase, but it's accessible to paid users.
ClickUp Work Management
ClickUp is extremely rich in features. It not only provides workspaces and multiple views but also delivers other tools like whiteboards, mind maps, and notes to help you collaborate with your team and plan projects with ease.
You can visualize tasks in twelve different views and use pre-defined templates to save time. To work together on joint projects, you can invite your team on whiteboards, documents, and chat channels.
Other notable project management features of ClickUp are; an AI writer, time tracking tools, in-depth reporting, and administration.
Verdict
Asana, Monday, and ClickUp have their pros and cons.
Asana can easily be implemented, but its customization might be limited. Monday delivers flexible work management features, but some functions, like automation, have a monthly cap that might restrict some actions.
ClickUp is built as an all-in-one work management solution for remote operations, which means its functions aren't limited to traditional project management. While it's definitely a plus point, some users may feel overwhelmed.
3. Integrations, API, and Add-ons
Integration and API are bonus functions almost every app offers to allow data synchronization.
Asana, Monday, and ClickUp also provide this facility to help you streamline your workflows.
Below, I have reviewed their system support to share the amount of flexibility and customization they provide.
Asana Integrations
Asana provides 100+ integrations. It works with reputable tech companies like Microsoft and runs a partnership program to continuously update its integration list.
Some of the third-party software products you can connect with Asana are; Slack, Zoom, Adobe, and Dropbox. You will also find several integration options in the security, communication, finance, and sales categories.
For personalization, Asana shares a developer console. Via Asana API, you can build custom workflows and gain more control over your data.
Monday Integrations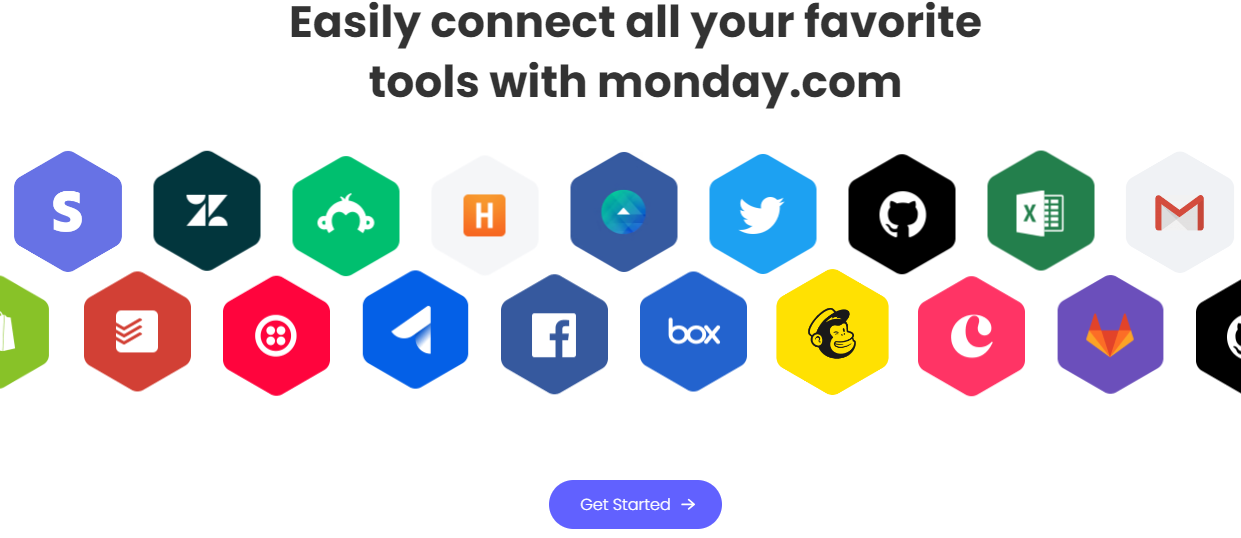 Monday's integration capabilities are almost equal to Asana's.
It gives you access to a vast library of third-party business applications and an API for customization.
Top platforms Monday supports include Slack, Microsoft, Google, LinkedIn, and Stripe. You can connect development tools to use custom functions and add other project management software like Toggl to optimize your workflows.
Besides app integration, Monday also shares a list of free and paid add-ons for those who need tech-friendly solutions. You can use these add-ons to get versatile functions like digital signature and custom reporting.
ClickUp Integrations
ClickUp provides native and Zapier integrations.
You can connect it directly to reputable software products like Slack and Outlook and start assigning and tracking tasks directly from the communication platforms. In addition, you can access its API to build custom integrations and automation.
Through Zapier, you can sync your workspace with 1000+ third-party platforms. There is also a list of ClickUp apps you can use for personalization.
Verdict
All three platforms share powerful integration tools. They support popular third-party apps and provide customization to let you optimize your workspace. 
But to summarize, Asana and Monday, in comparison, share better developer functions while ClickUp delivers more user-friendly options. 
4. Pricing
The pricing structure of Asana, Monday, and ClickUp is similar. They provide free access to basic functions and provide paid subscriptions for premium features.
They also sell enterprise plans to give you the flexibility to increase the plan limit and customize the package.
Below are the prices of Asana, Monday, and ClickUp
Asana Pricing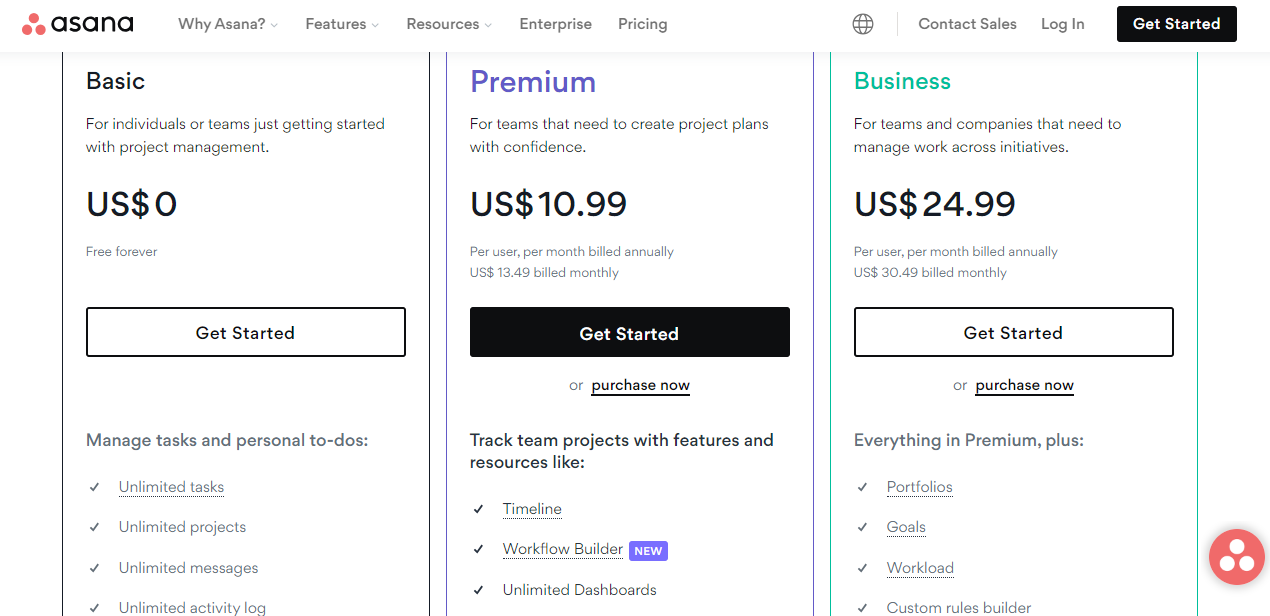 Basic plan is free for up to 15 members.

Premium plan costs $11 per user.

Business plan costs $25 per user.
You may need a team to use the software. It's not designed for individual members.
Asana additionally offers attractive benefits to non-profit organizations and educational institutes. 
Monday Pricing
Basic plan starts at $24 per month.

Standard plan starts at $30 per month.

Pro plan starts at $48 per month.
The minimum team size needed for premium subscriptions is three. You can buy 200 + seats and get a custom quote for high volumes.
There are also discount options for students and non-profit organizations. Explore the links to see eligibility and benefits.
ClickUp Pricing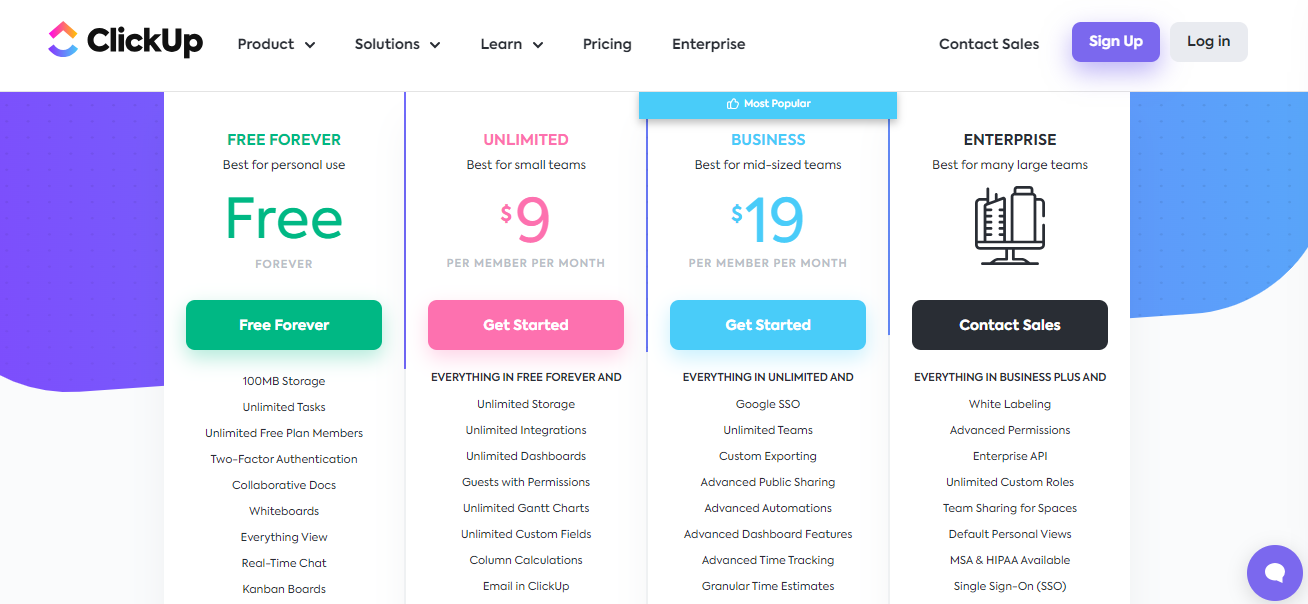 Basic plan is free for personal use.

Unlimited plan costs $9 per user.

Business plan costs $19 per user.

ClickUp AI add-on for $5 per user.
ClickUp provides custom packages for students, non-profit organizations, and startups. Check the links for details. 
Verdict
From the pricing point, ClickUp and Asana share attractive packages for small teams, and Monday provides better rates for large teams.
Asana and ClickUp also have the best free options.
Conclusion
As project management applications, Asana, Monday, and ClickUp offer everything a leader might need to comfortably supervise projects.
But while their core functions are similar, their level of strength is different.
For instance. Asana delivers traditional but user-friendly project management functions.
Monday is best for established organizations, and ClickUp provides modern productivity tools for online businesses.
I have compared a few essential features in this article to highlight their core areas. I recommend exploring their website and taking a demo to get more details before making a purchase decision. Good luck!