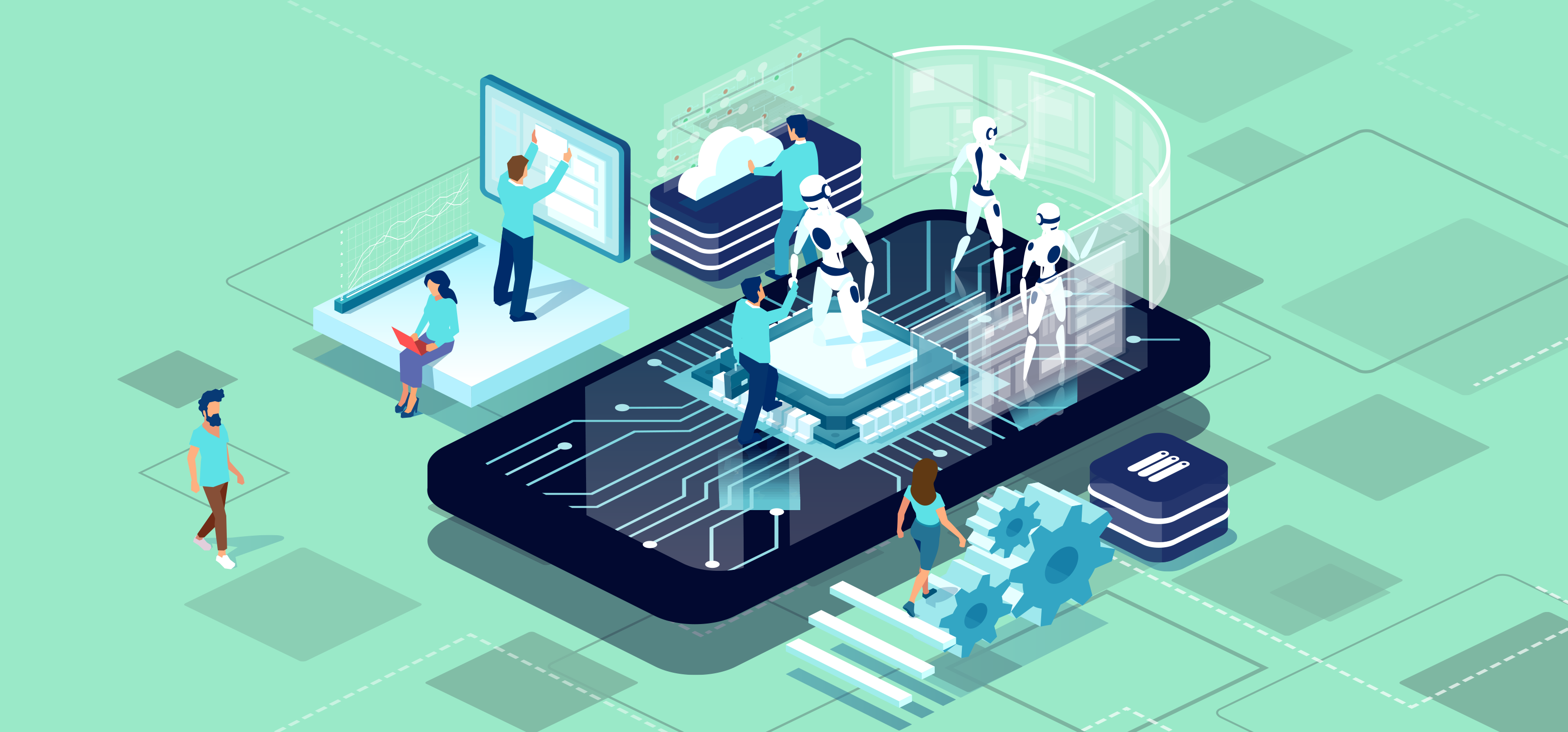 Circa 2010; Old Spice came out with its Old Spice Man campaign which was a little unorthodox, to say the least.
A bald guy riding shirtless on a horse across the beach, telling us that he's "the man your man can smell like"? That's the kind of daring and innovative marketing that we now associate with genius.
Fast forward to 2021 and people will admit that it is one of the most iconic ads ever made.
Proctor & Gamble, the people who make Old Spice, spent about $1 billion on advertising – a massive budget for what is now the gold standard in marketing the world over.
P&G wasn't too concerned, though, the Old Spice man brought a 107% increase in sales.
None of this was a fluke, though; the company spends about $100 million annually to conduct over 10,000 consumer research surveys before making the kind of investments it made in the Old Spice Man campaign.
By the time the campaign hit the markets, we're pretty sure they knew how the story would unfold and exactly what path it would take.
The point we're making is; P&G understands its consumers well enough to know how much money it can generate from its advertising.
That's the whole point of market research; collecting accurate data that can tell you exactly what makes your customers tick and what you can do to get them to buy your products.
But What Does AI Have To Do With Any of This?
See, back in the day, marketing companies had to spend huge sums of money to predict consumer behavior.
Sometimes, their research didn't generate effective results, so they had to start all over after incurring massive losses — a case in point. Netflix's decision to get into a DVD mailing program under the banner of Qwikster (they lost 800,000 members).
But what if there was a way for you to collect consumer data in real-time, to analyze it in a fraction of the time it took a decade ago while minimizing the risk of any errors? That's where AI marketing comes in.
AI marketing tools are used in various capacities in the marketing processes to generate consumer insights and content that is far more likely to deliver high ROAS (Return on Ad Spend) than conventional methods.
What advertisers had to do on their own a few years ago, a computer program can do much better and much faster to make a deeper impact on consumer circles.
While Old Spice managed to hit a gold mine through its immense advertising and market research budgets, AI marketing has made the process much cheaper and incredibly faster.
What Is AI Marketing?
Put simply, AI Marketing involves using artificial intelligence to gather data and process it to produce optimized marketing decisions for greater marketing efficacy.
Modern-day marketing leverages the data processing and content-producing capacities of artificial intelligence to create effective marketing campaigns that save money and generate revenue for higher returns on investment.
According to the latest statistics, AI marketing has introduced the following improvements to marketing campaigns:
41% increase in higher revenues from email marketing
13% improvement in click-through rates
8% improvement in open rates
That's not all.
Using AI for marketing is likely to produce campaign delivery efficiencies by as much as 40% for any given business. Looking at these statistics, is it really that surprising that AI marketing is all the craze right now?
Now that we understand what AI marketing is, at least in a general sense, and how it improves marketing returns; we can look at some specific use cases for the technology. This will give us some perspective on the variety of ways AI can be used in marketing:
1. AI For Web Content Management
Magnolia Market has made quite the name for itself by creating an AR store for app users. This is a highly technical use of artificial intelligence to render life-like images of the products available to eCommerce users who can't come to the physical location.
The company partnered with Shopify to produce a life-like online shopping experience through their customers' phones.
The AI technology used on their app automatically renders AR images for the eCommerce shopper to give them a close-to-reality experience of shopping on-location. The tech creates content that allows the customer to make an informed buying decision and improves brand recognition.
Magnolia automated content creation by allowing their AI to produce these images without requiring excessive human intervention; it's a seamless process that allows Magnolia to generate an estimated $102.2 million a year.
2. AI For Better Copywriting
Magnolia's approach isn't the only way to improve web content production — JPMorgan Chase uses artificial intelligence to get more marketing juice from their copywriting using AI.
The company has used AI technology to help produce humanistic copies for its ad campaigns, which has led to a five-fold increase in customer engagement.
Underlying this success story applies machine learning and artificial intelligence that write increasingly relatable and understandable ad copies.
Their AI uses algorithms to study which copies generate the best results to produce an improved version of those copies — continuously self-learning to produce copies with a higher likelihood of delivering conversions.
3. Predictive Analytics To Automate Content Delivery Optimization
Starbucks has recently made it into the limelight with its novel use of artificial intelligence to pinpoint which customers are the most likely to respond to a specific offering/marketing tactic.
The company integrates its app with artificial intelligence that studies customer behavior and automatically sends them offers that they are likely to respond to.
The AI studies the customer's app usage to figure out exactly which offerings and products are likely to generate a response. It then sends out these offers to increase customer engagement, improve customer loyalty, and generate higher revenue.
Reports indicate that since Starbucks leveraged AI in its app, they've generated 36% of its revenue from the loyalty program; with 29% of those transactions coming from mobile payments.
4. Ali Baba's FashionAI Store
While the previous examples spoke of the applications of AI to eCommerce, Alibaba has implemented artificial intelligence in its physical FashionAI Store. Located in Hong Kong, the FashionAI store has completed an automated shopping experience.
The company attaches RFID tags to the garments that are connected to AI monitors that show size and color variations as well as other product-related information. The AI even makes outfit suggestions based on what your chosen products are to create your look for you.
Once you've made your selection the AI bags the product and sends it to your chosen dressing room automatically.
5. Dell's Automated Email Newsletters
Dell recently experienced a 45% increase in conversions because it implemented artificial intelligence to automate customer engagement processes.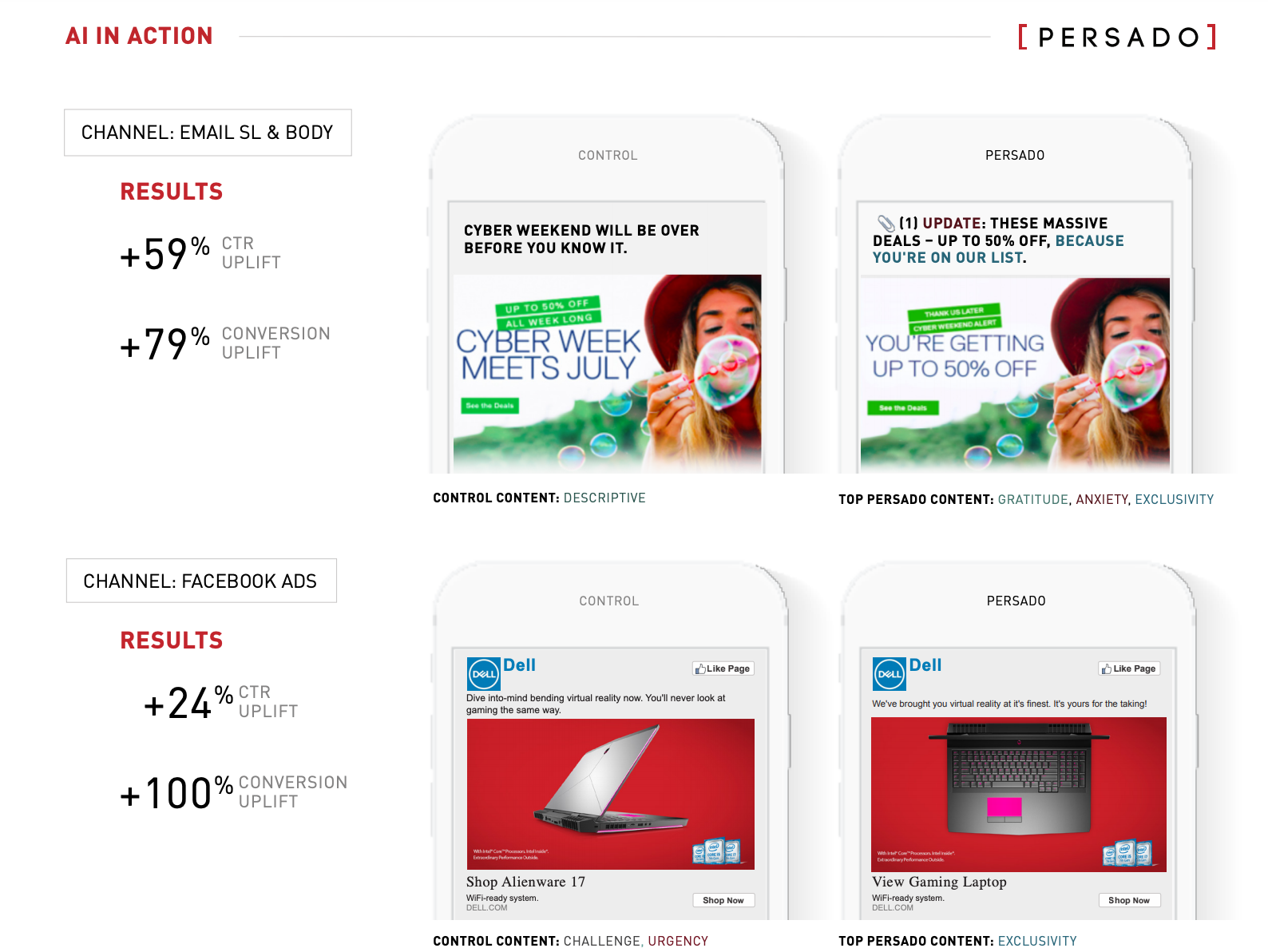 One of the ways they implemented AI is by automating newsletter creation and transmission to their customer base.
This technology produces tag lines, and content, and even improves upon its older designs to get the reader engaged with the company.
6. AI For Customer Segmentation
Sky U.K. Limited is one of the leading broadcasting companies in the world.
They currently have about 11 million users, who are segmented into specific profiles by the company's AI technology.
The technology tracks the customer's viewing history to suggest content packages that would best suit their preferences. Sky also uses this approach to identify what kind of broadcasts different market segments prefer to figure out what kind of content would generate more value for their customers.
7. Sephora's Adoption of Chatbots
Customer engagement is one of the most popular uses of AI in marketing — and no one has done it better than Sephora with its state-of-the-art chatbots. The company currently uses three different kinds of chatbots; makeover reservations, retail assistants, and their Kik-bot.
Each chatbot offers detailed answers to any queries, which includes giving product suggestions, links to how-to videos, and an automated reservation procedure.
Since 2017, when Sephora first adopted these chatbots, the company has seen its consumer base grow significantly to become the leading makeup brand in the world.
8. Unilever, Ben & Jerry's, and Social Listening
Ben & Jerry's was taking massive hits and losing customers left, right, and center until Unilever decided that social media was the place to figure out what was wrong.
The company began using AI-powered social listening tools that could track exactly what people were saying about Ben & Jerry's to take the appropriate steps to fix the problem.
The tool tracked customer conversations pinpointed negative and positive reviews and even helped the company figure out that people would love cereal-flavored ice cream. Ben & Jerry's success is one of the most notable examples of how organizations can leverage AI to preempt and deliver on customer expectations.
9. Customer Churn Predictors
Back in 2014, the Sprint corporation found itself experiencing a customer churn rate of 2.3%; twice as much as its competitors.
The company implemented an AI solution that could identify predictors of churn risks and began screening customers according to these new filters.
If a customer exhibited any of the characteristics of a high-churn risk candidate, they would immediately be prioritized to be given individual priority over other customers. This way, the company managed to reduce its churn rate down to 1.98% in 2019.
Conclusion
It would take too much time and length to give you a breakdown of exactly how AI can be used to improve marketing and business outcomes.
However, these 9 examples of how AI marketing is used can give you some perspective on the potential this technology holds.
With increasing access to AI at more affordable rates, a business can turn around its prospects by becoming a better business provider given the data processing and automation functionalities of your typical AI marketing solution.