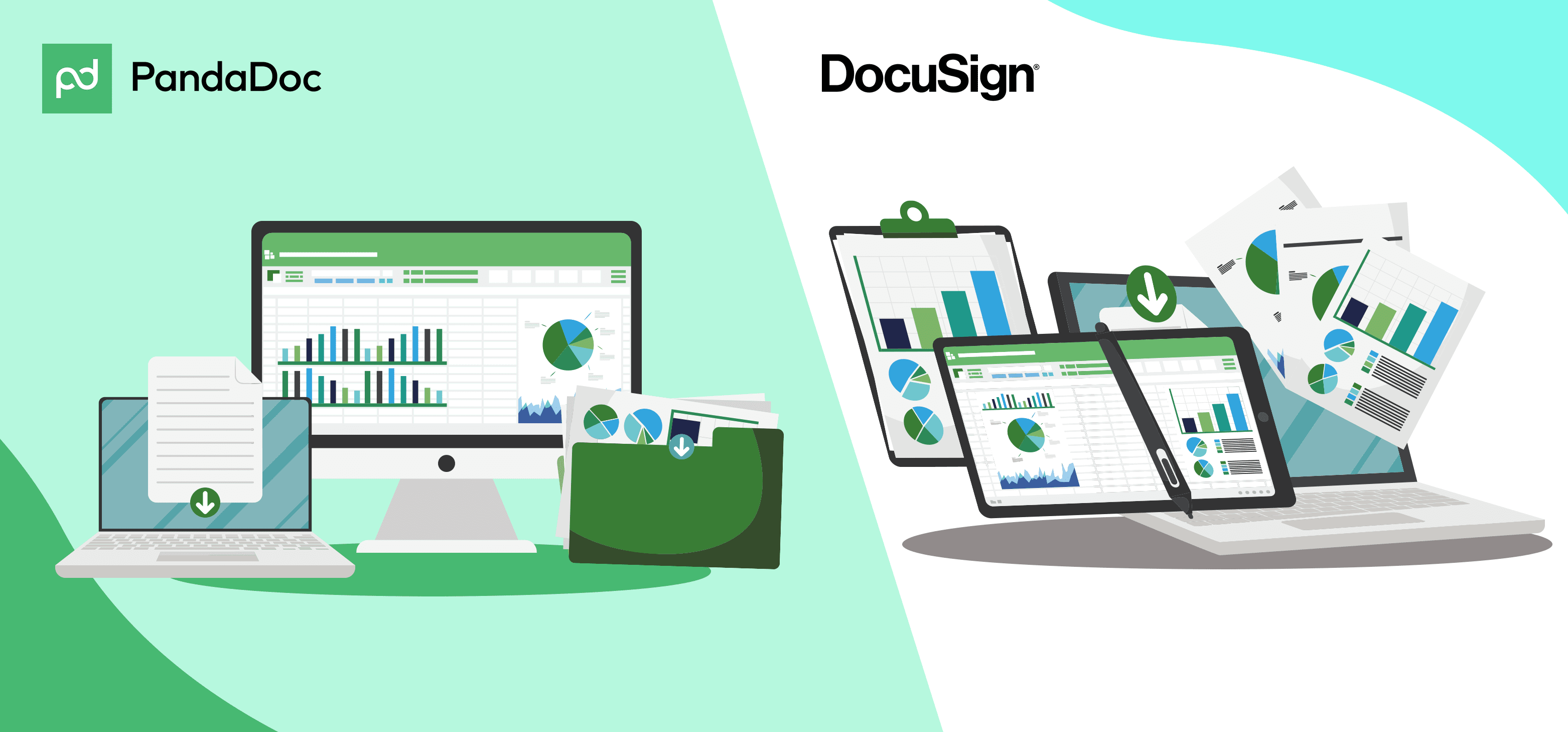 Save time, money, and workforce for your business!
The pandemic hit us hard right?  During the past 3 years, we have seen the largest transition to remote working. And to our surprise, as more and more businesses are going remote, the shift has forced various business operations and functions that were previously conducted in-person including team meetings, contract management, hiring, and contract signing to go online.
From managing and processing the documents to not being able to get the documents signed within the deadline because the remote teams are in different locations, manually going through all the paperwork can take a toll on your business and finances. You would probably end up losing out on sales and revenues. So the idea is to get to know a secure digital environment for a sound document workflow.
Now you don't have to invest your time and workforce because all-in-one document automation software like PandaDoc and DocuSign ensures that the procedures around document creation, distribution, versioning, reviewing, archiving, designing proposals, quotes, and signing contracts are at your fingertips.
These electronic signature software seamlessly boost document workflow, insights, and speed while delivering a more professional, timely, engaging amazing experience for your customers and business partners.
PandaDoc Vs DocuSign; which is a better electronic signature software to flourish your business?
We have sprawled through the internet to bring you an in-depth insight into each of the documentation software, their pricing, key features, benefits, pros, and cons to help you configure which service befits your business.
The era of paper documentation is long gone especially when your team members are working remotely and the deadline is approaching. Electronic Signature software is the new business norm!
What is PandaDoc?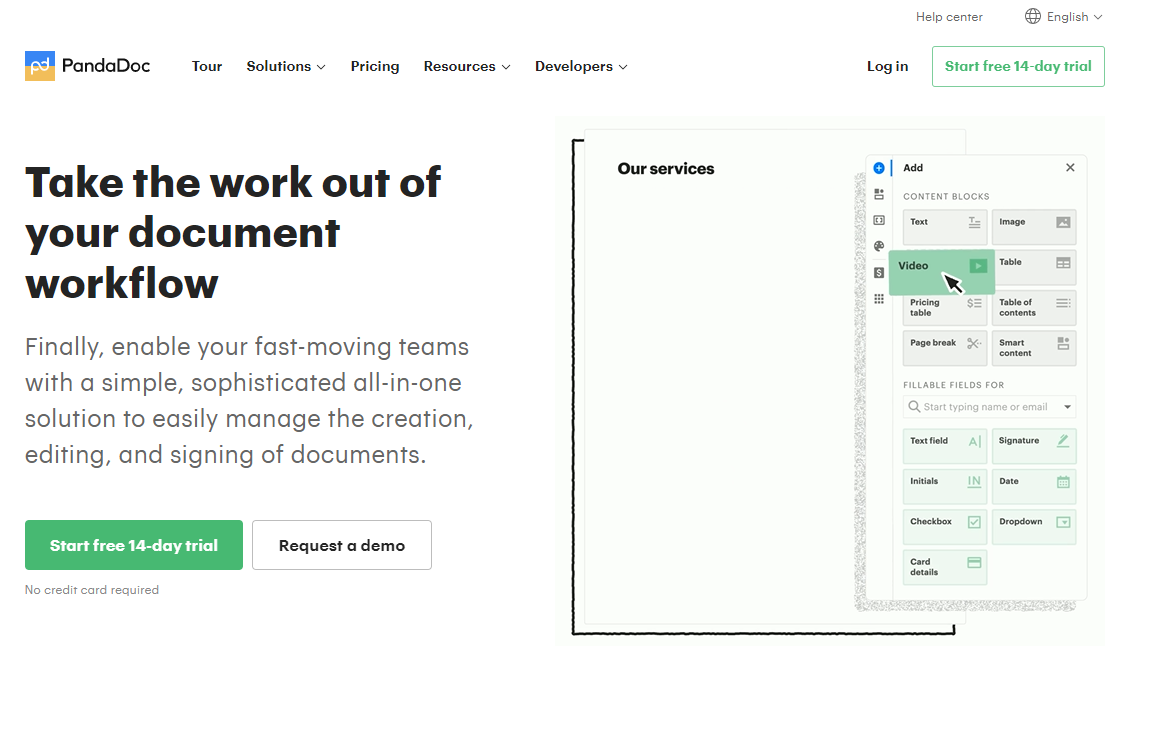 PandaDoc is a cloud-based document management software geared towards facilitating businesses in creating digital documents, proposals, quotes, HR documentation, contracts, and more by streamlining the processes of viewing, editing, and collecting electronic signatures for sales professionals.
The focus is to provide intuitive user-friendly software as a way of encouraging businesses so that they never have to back paper again. It allows you to choose from a plethora of proposal templates, which can be freely downloaded and customized.
Their customized proposals are saved in the cloud database. From there they can be distributed to the customers and can be analyzed and viewed for overall progress from one location. Moreover, PandaDoc products are available in 7 different languages worldwide.
Who is the major client base for PandaDoc?
Neither your sales team should be held back by the proposal sending limitations due to remote working nor you should have to pay extra to send more documents. PandaDoc is mostly used by sales and marketing teams as well as corporate executives who are looking for an effortless connection to customers and clients.
PandaDoc is the legit option for those who prefer:
A free plan that enables you to send unlimited documents for e-signing.
A solution specifically built for sales personnel
Standardized proposal templates and advanced recipient analytics
What is DocuSign?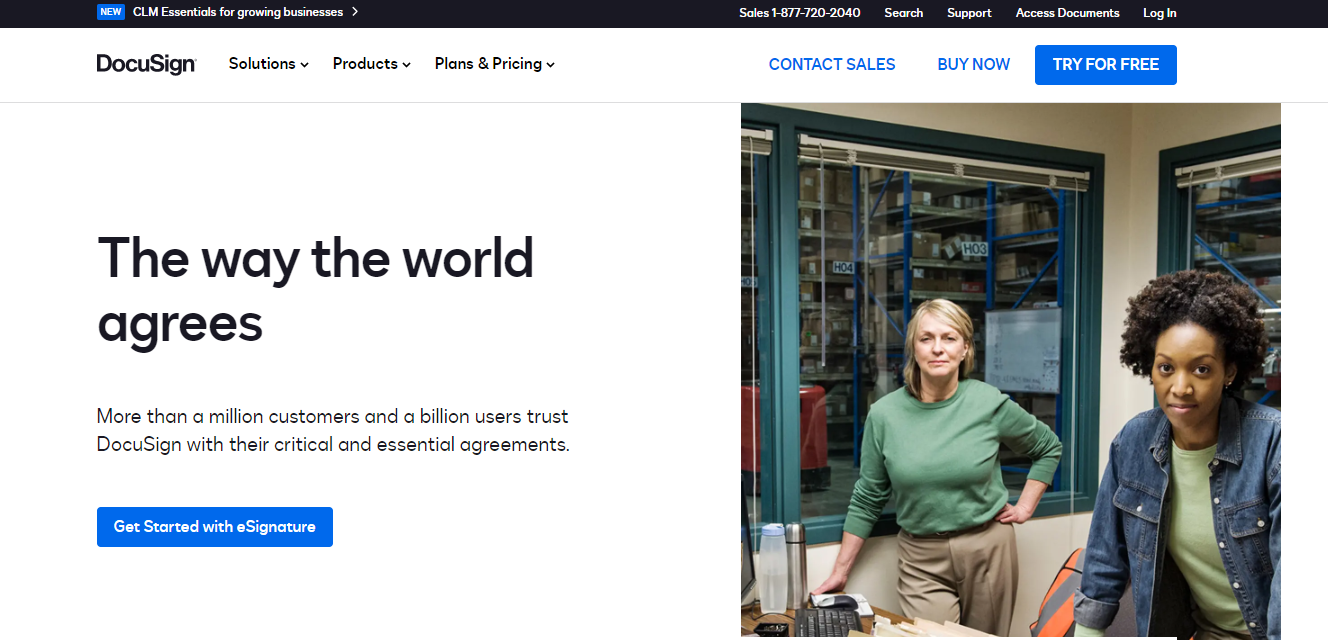 DocuSign is a more generalized document creation platform featuring reliable and robust features that let businesses and professionals create an automated workflow for collecting signatures and tracking documents. Founded in 2003, the advanced software is a cloud-based e-signature tool benefiting companies of different sizes.
From drafting deals to executing, adopting, maintaining, and signing documents, the de facto leader in the e-signature space, DocuSign empowers businesses to do everything from essentially any platform in the world.
The dynamic software is accessible in more than 43 distinct languages worldwide. Moreover, it boasts the ability to get the consent of your customers with just a single click. From using reusable proposal templates to tracking documents' location to using a mobile application and integrated systems, information, and analysis, Docu Sign offers easy usability, safety, and compliance that makes execution easier.
Who is the major client base for DocuSign?
Yet this generalized document generation platform lacks some of the sales-specific features provided in PandaDoc but it offers robust features for established businesses for tracking documentation and collecting signatures from anywhere around the globe.
You will prefer DocuSign If you are looking for:
Extra security features like two-factor authentication
Editing and uploading documents anywhere, anytime using a mobile app
An editor that offers more field property options
Which tool offers the best key features to boost your business?
Each service offers an inexpensive and efficient alternative to manual documentation processes and handwritten signatures. Whether you run a small enterprise or multinational company this review can help you analyze which e-signature service transforms your document workflow for the better.
Apps and Integration
Streamline your processes with 350 plus cloud-based integration!
Enabling over 350 integrations, including DropBox, Oracle, Microsoft Office 365,  Google Drive, Workday, and several others, DocuSign allows you to connect with third-party business productivity solutions and customized API integrations, even in the basic plan. The CRM integration on the hand is only available in the Enterprise Suite.
However, you can also optimize your apps with PandaDoc integrations.
Their powerful native CRM integrations, third-party business solutions, and simple connectors simplify your team's workflow by automated notifications on the latest activities on PandaDoc documents. These 2-way synchronized integrations allow your CRM sales activities to update automatically.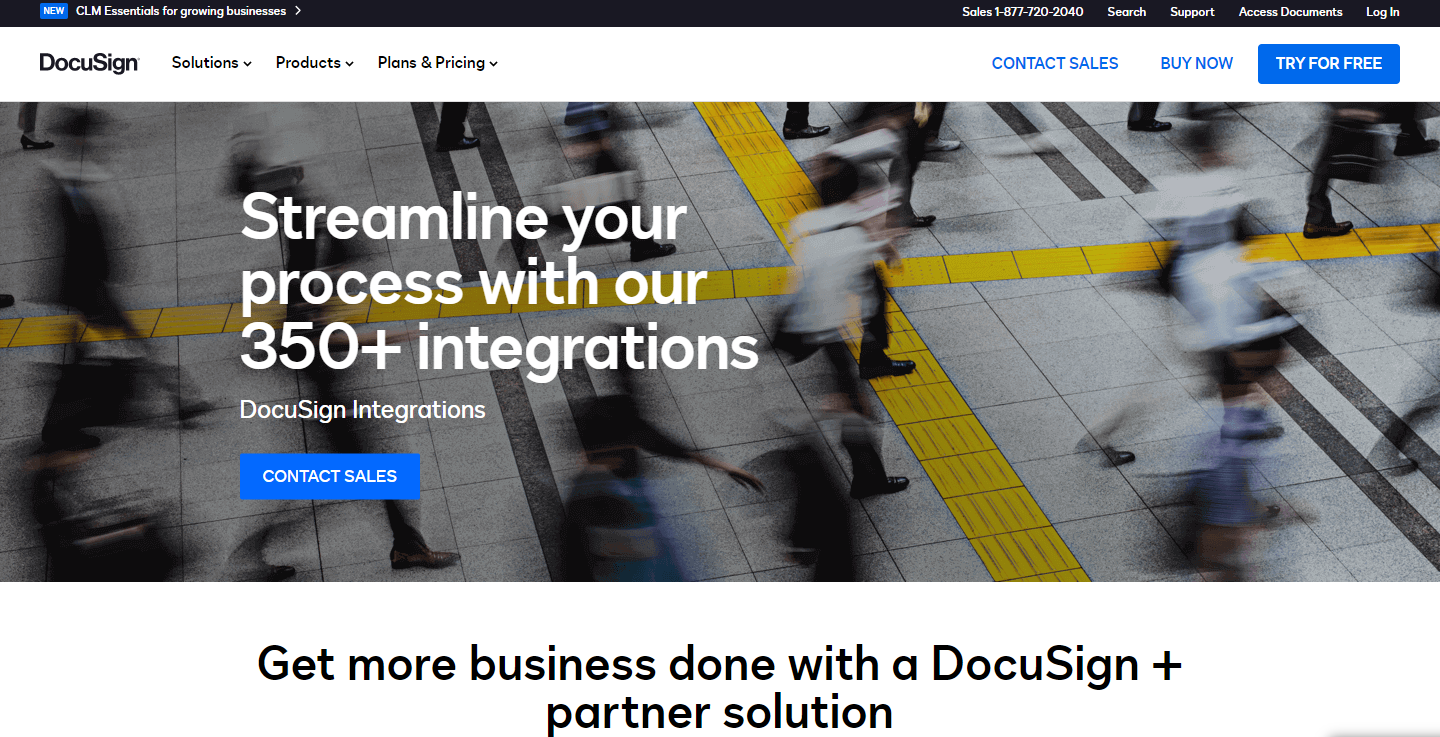 These integrations include:
Pipedrive
Paypal
Soho
Google Drive
Google Sheets
Slack
The PandaDoc API integration also empowers your business solutions to collect and securely store signatures while customizing the proposal documents within the application.
DocuSign offers ample integrations in comparison to PandaDoc, as the latter only offers a limited number of integrations and connectors to its users.
Security
The confidentiality of the information is of supreme importance while signing sensitive documents. Both PandaDoc and DocuSign offer diverse safety protocols to keep your documentation secure.
That being said, Docusign offers one of the most advanced security features offered by any DTM.  Adhering to end-to-end encryption, the most rigorous security protocol is authenticated with ISO 27001 and SSAE 16 certifications. All the information is stored in data centers that are built with the same security excellence.
DocuSign App,
Verifies the intent of the recipient to use an electronic signature.
Links signatures to signers and documents
Uses tamper seals to protect the documents
On the other hand, PandaDoc boasts unparalleled security measures that comply with industry standards. HIPAA-compliant, the PandaDoc is SOC 2 Type II certified, and its services are hosted on the Amazon AWS platform, which provides physical security for the servers.
Its holistic security program utilizes innovative engineering approaches that store customers' data in a different location which is encrypted with AES- 256 and sophisticated coding key management.
Online Document Editor
DocuSign offers dynamic features for the document editing process.
It offers more field options to place the document
You can navigate the documents by pages
It allows you to easily zoom in and out of the page
You can use multiple key shortcuts to edit documents
PandaDoc on the other hand offers a native drag-and-drop document editor that facilitates its consumers to build a detailed document with media embedded right inside your search engine.
Mobile App
If you are using the mobile application, unlike PandaDoc, DocuSign mobile app empowers businesses to work smarter and faster by allowing them to upload, edit and add fields to the documents without switching to the web application.
Both services offer mobile apps that allow you to prepare and send documents for signature while getting instant visibility into your document status directly from your smartphone.
Customer Support
DocuSign enables its consumers to get extensive documentation via its customer support service. It also facilitates its clients by submitting an online request or talking with a representative to solve any queries. Whereas, PandaDoc only offers only 24/7 live chat support.
Pricing Plan
In general, DocuSign and PandaDoc both offer monthly subscriptions. The PandaDoc pricing plan is comparatively more affordable than DocuSign. A key pricing difference between both solutions is that PandaDoc offers a free basic plan that can be used for signing unlimited documents.
PandaDoc Pricing Plan
PandaDoc pricing plan allows you to generate dynamic quotes with interactive fields like multiple choice and editable quantities. The easy pricing structure enables its consumers to avail of 34% off when they purchase an annual subscription vs. a month-to-month subscription. Moreover, it allows you to jump-start your evaluation with a 14-day trial.
The essential plan allows you to create docs with a built-in editor and templates. Furthermore, it allows you to bind signatures and track documents in real-time while costing $19 a month under an annual subscription.
The Business plan allows you to integrate their quoting software with your CRM that automatically fills your pricing tables with detail from your opportunities. This pricing plan will cost only $49/month under an annual subscription featuring:
Content library
Custom branding
Forms
Bulk send CRM and Zapier integration
DocuSign Pricing Plan
A 30-day trial before making a purchase sounds like an intriguing bargain. Likewise, PandaDoc, the DocuSign pricing plan follows a similar pricing structure with three tiers aimed at facilitating different user configurations and needs while offering a discount on annual subscriptions. The personal plan starts at $10 and can be scaled up to the Business Pro Plan, featuring:
Real-time audit trail
Top-rated mobile app
Automated reminders
Shared documents
Reusable templates
PandaDoc Vs DocuSign, which service is more beneficial for you?
Benefits of PandaDoc
The automated software controls workflow in a way that boosts efficiency and reduces hours lost to human-operated redundancy.
You can mobilize business programs by generating a mass of personalized documents in no time. Then you can quickly send the bulk to concerned employees and departments.
You don't have to keep tabs on every document because the auto-reminder notifies the recipients about the incomplete documentation.
The content library allows you to sort and store your frequently used data, images, and even pricing in one place.
You can track team performance at the end of the sales cycle.
You can observe how many times a document has been viewed and how long someone has spent on each page.
Benefits of DocuSign
Receive real-time alerts when your docs are opened, viewed, and completed.
Manage requests in one place via a methodical workflow and easy-to-use interface.
The DocuSign community facilitates you to learn from each other.
The customer support service offers live training in the form of webinars
Pros and Cons
Pros of PandaDoc
It offers powerful activity tracking
Reduces paper costs
Saves time and money by replacing admin work
Cons of PandaDoc
It does not allow you to crop images inside the document
You have to pay a separate subscription for each user
Mobile app features are limited
You cannot edit the document once it is sent
Pros of DocuSign
You can work from almost anywhere
Virtually upload, complete, sign, and return any document.
Outstanding security features
Cons of DocuSign
It is a bit pricey
You have to pay for community-based support
It doesn't offer a lot of room for customization
Final Thoughts
DocuSign and PandaDoc are two coveted electronic signature solutions that empower people to conveniently communicate with customers through personalized documents that can be created using different templates to build meaningful relations and save more time.
When deciding between the two, consider that the customer-centric focus of PandaDoc is more enticing for the sales personnel. Meanwhile, DocuSign seems to be a great option for companies with a larger budget that already have a preferred CRM that they want to integrate with DocuSign.