Get 3 Months Free on Deel (Letsdeel) →
You'll also get a 20% discount when you hire employees via Deel. You don't have to set up a legal entity or worry about any regulations. Their expert team will handle everything for you.
How to Get Access to This Discount on Deel?
This offer is exclusive to all Squeeze Growth readers. We've partnered with Deel to bring this to you.
Follow the steps below to get access to this offer:
Click on the button above or this link and visit Deel.
You'll be taken to our partner page, and you'll notice the offer is immediately activated.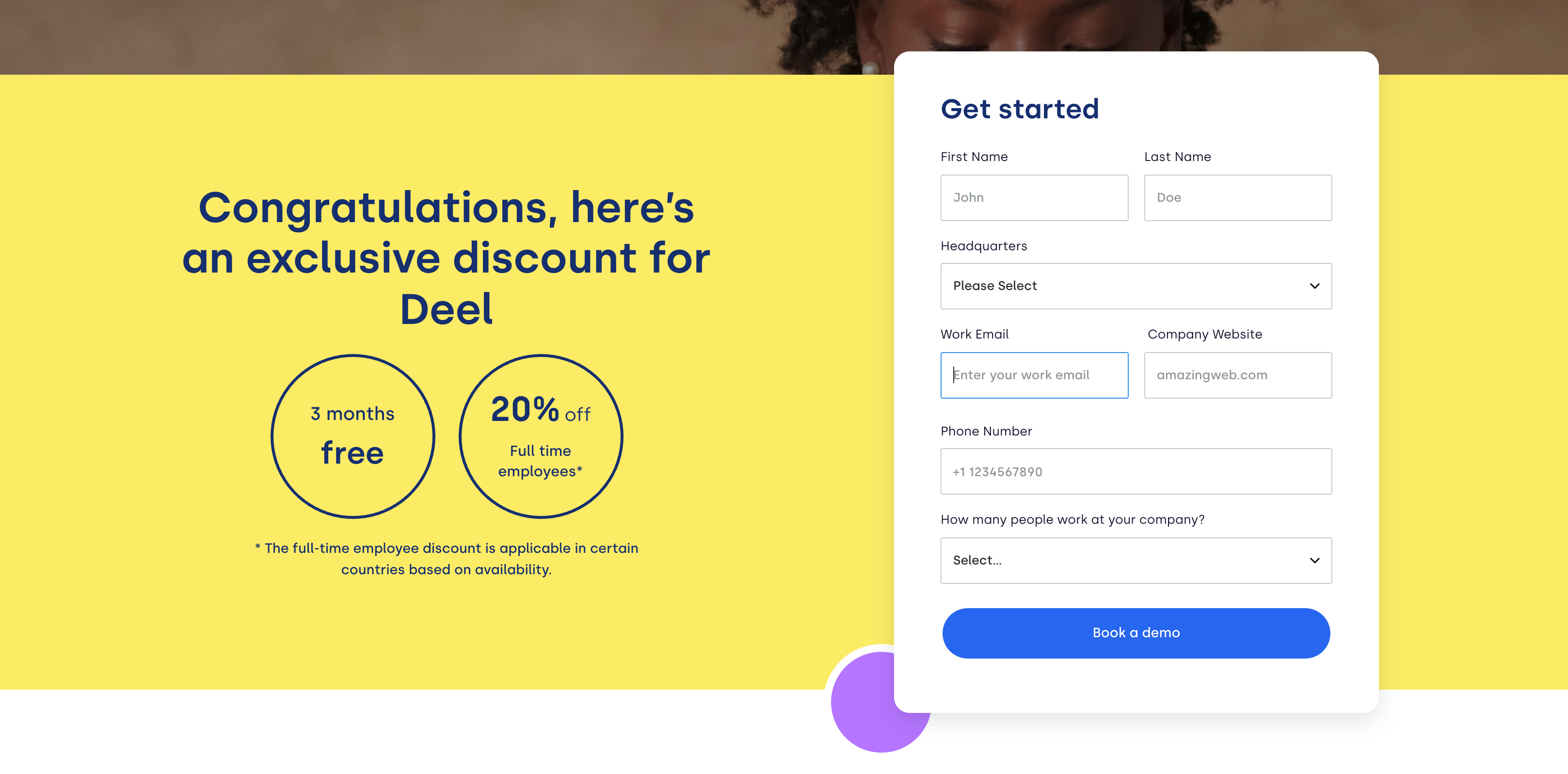 Fill out the "Get Started" form to book a free Demo.
All you have to do is signup via this page to avail the discount.
You don't have to enter any coupon code.
We recommend Deel to all small businesses and contractors who are looking for a simple and robust Payroll and Employee management system. It allows you to focus on your business by handling all the legal requirements and regulations regarding hiring freelancers, employees and managing remote teams.
If you have a remote team of freelancers and would like to manage their payments in a more efficient way, we recommend you take a walkthrough Demo of Deel's contractor management and payroll platform.
You get access to features like:
One-Click Mass Payouts to employees – Globally, wherever they live and work from. (It supports 150+ countries).
Access to local legal experts and storage of compliance documents.
Locally compliant contracts and tax management.
Automated invoices.
Sync with Bookkeeping software like QuickBooks
Take off liability from your hands, Deel is liable when you use their platform to hire employees, not you.
Automate hiring contractors
Your employees will be happier, too! They can choose how they want to withdraw their funds. Directly into their bank account, PayPal or keep it in their employee Wallet. They can also opt for a debit card to use their Deel balance.
Get your exclusive discount on Deel →