An A.I. video generator makes your job incredibly easy.
It automates the challenging part of the editing process, allowing you to create professional videos without investing your time and effort.
In this article, I have shared a basic background on A.I. video makers and reviewed some of the top software products.
Scroll down to learn more about these tools and discover the best apps for video generation.
What is A.I. Video Generator and Why Should You Try It?
A.I. video generators are typically cloud-based platforms that convert text into videos. They use artificial intelligence to process your script and develop editable clips within minutes.
These tools are a worthy investment for entrepreneurs with no tech background and a tight budget. Since they're built to provide publish-ready content, you don't need editing skills to operate them.
Currently, you'll find two types of A.I. video generators trending in the market.
One is a basic editor that pulls royalty-free clips from the stock library based on your script and compiles it into scenes. The second provides virtual avatars as talking heads.
Below are the 12 best tools and software to create A.I. generated videos.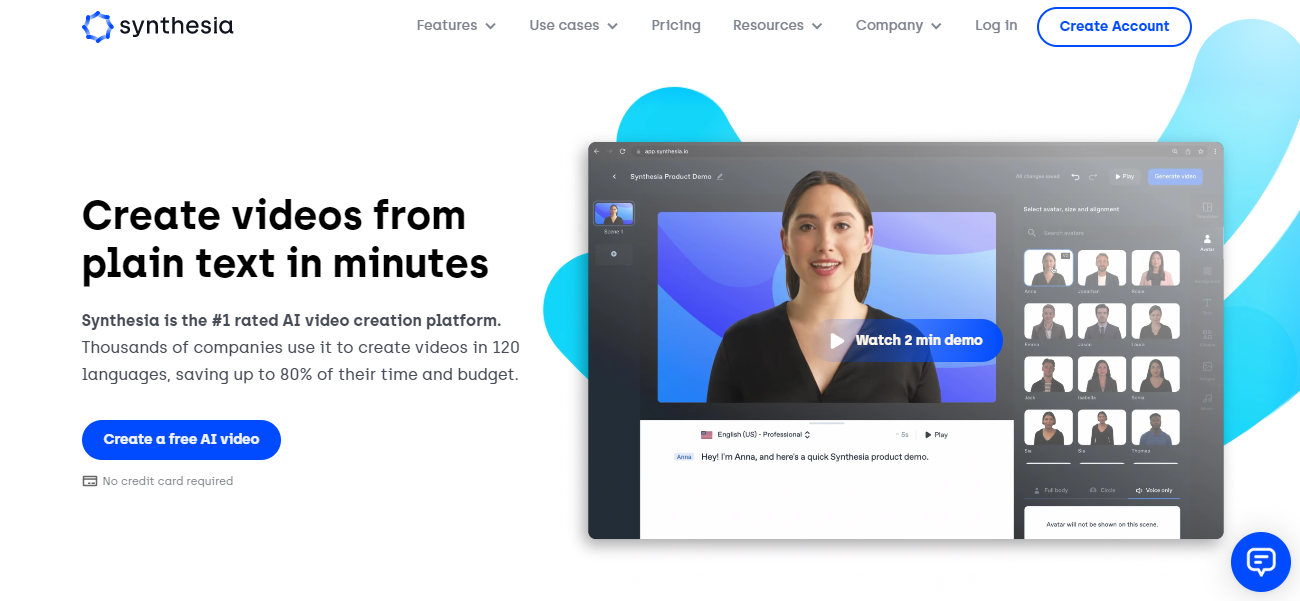 Synthesia is a leading A.I. Video Generating software. It provides user-friendly tools to create videos from any text, or directly convert your PPT slides into professional videos.
The editor is accessible via browser and works the same as any other online builder.
You'll get 55 templates and around 55 avatars with A.I. voices in various accents to publish videos in different languages.
To personalize the content, you can record your screen for the background, add your brand theme, and change the font color.
Once your video is complete, you can either download it as an MP4 file or share it with others.
Core Features
Text and PPT into video.
Avatars and voices.
Over 55 templates.
Audio upload.
Multi-languages.
Customization.
Screen recorder.
File embedding.
White labeling.
Price
Synthesia's personal plan costs $30 per month. For the corporate package, contact customer service.
You can send a request for the free demo.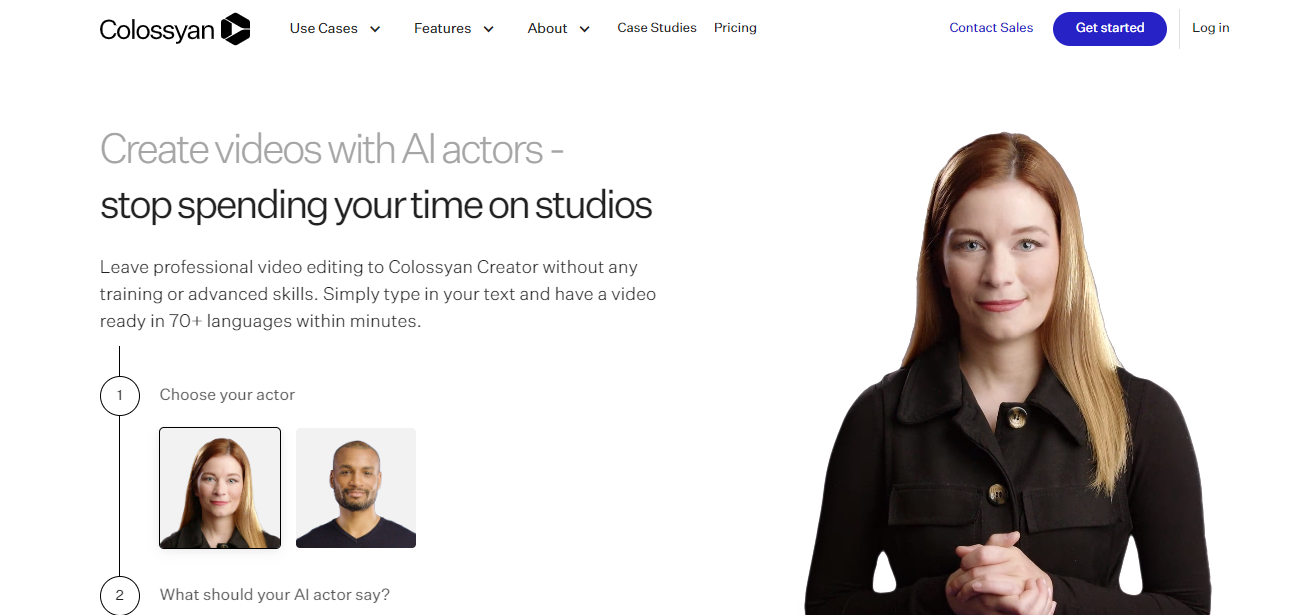 Colossyan is a good option for professional videos.
It provides presentable avatars, natural voices in various accents, ready templates, and a brand kit.
You can convert any text, PDF, and PPT slides into a video and record the screen to be played in the background. The app is incredibly easy to use and works well on all major browsers, including Chrome, Firefox, and explorer.
Colossyan's unique feature is the actor's conversation. You can include up to 4 avatars in your video and develop a conversation script. This is an ideal option for narrative-style videos.
Core Features
PPT-to-video.
Screen recording.
Template and stock library.
30+ Avatars of different ages.
Subtitles and auto-translation.
Over 70 languages.
Brand kit.
Collaboration and analytics tools.
Integrations.
Price
Colossyan charges $30 to $100 per month for up to 40 minutes.
Its basic plan is free of cost.
Fliki works a little differently than other A.I. video generators.
Instead of atomically picking content for you, it produces text slides and lets you select relevant from the media library. The builder shares classic editing tools, so there's hardly any learning curve. You can easily customize the slides to fine-tune your videos.
One of Fliki's unique features is an audio maker. If you run a podcast, you can turn your blog into audio using text and an A.I. voice generator. You'll have over 900 A.I. voices and 75 language options for personalization.
Interestingly, you can use this feature for audiobooks as well. The Standard plan has both video and audio options and allows 180 minutes per month.
Core Features
Text into audio and video.
Media library.

A.I.

voices and native languages.
Special effects and editing tools.
Subtitles.
Voice over.
API.
Price
Fliki's monthly subscriptions cost $8 to $88. You can explore it for free and ask for custom packages.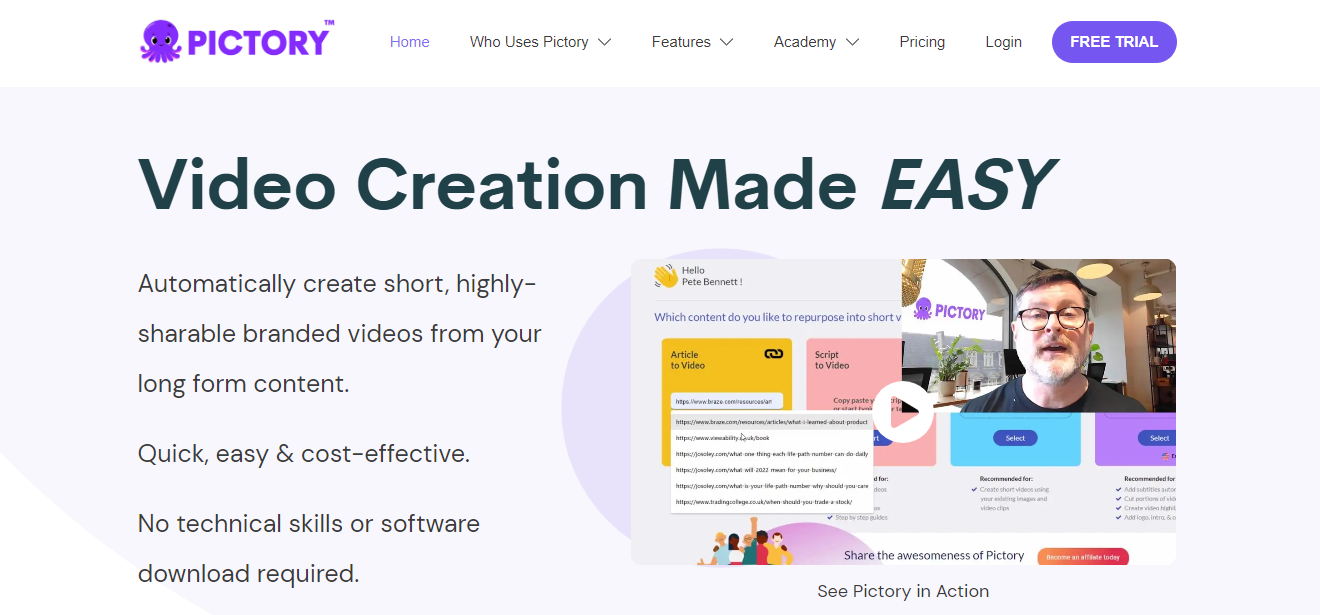 Pictory is ideal for social media and YouTube videos. It turns long-form articles into videos and automatically generates short teasers or highlights for social media.
The platform has around 3 million royalty-free clips, stock images, and music tracks for visual content. If you don't like the current stock, you can upload yours and record the voice over for the audio.
Pictory also lets you edit your existing video through transcriptions. With this method, you can make any change in the clips by simply deleting the sentences from the transcription. It's an added function that can help you make quick alterations.
Core Features
Text-to-video.

A.I.

audio speech and voice over option.
Templates and music library.
Highlight extracts.
Auto-captions.
Transcription-based editing.
Custom branding.
Bulk download.
Hootsuite integration.
Price
Pictory's prices start from $30. You can take a free trial to test the software.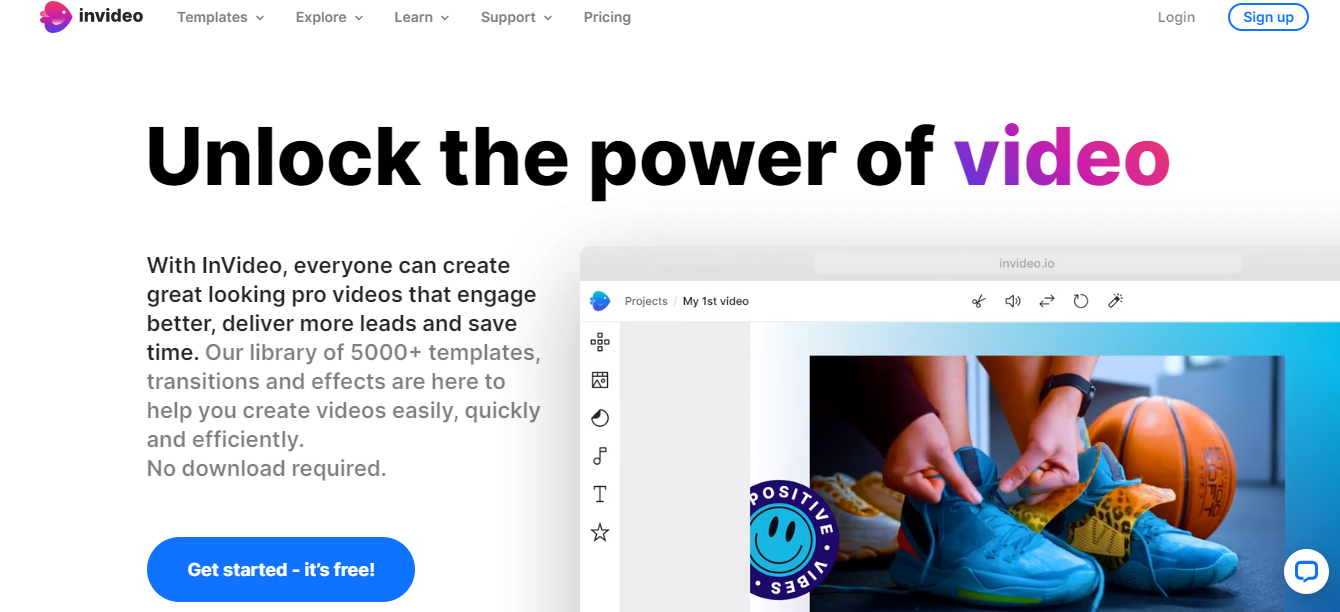 Invideo is an online video maker that delivers AI-powered templates along with classic themes.
The builder is easy to use and shows separate fields for the headline and text body to make editing simple. To create the clips, all you need to do is choose a template, copy/paste your script, and tick mark the auto-clips box. Invideo.io would automatically generate a tailored video in your selected theme.
The platform offers 1080p quality, language translation, and branding options. You'll receive around 70 to 75 ready templates for video generation and an A.I. speech tool for the voice-over.
Core Features
Text-to-Video.
Text-to-speech.
A wide range of templates.
HD quality and 100 GB storage.
Background removing.
Multi-language support.
Branding.
Online editor.
Price
InVideo's starter plan is free, and premium plans range between $15 and $30 per month.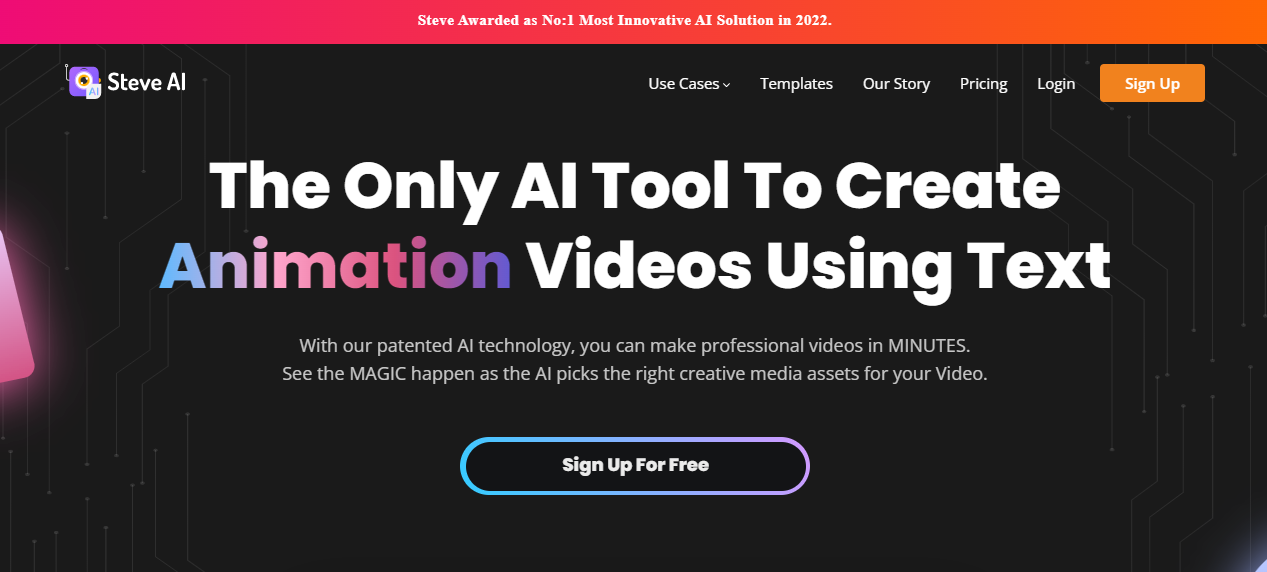 SteveAI develops animated videos from scripts.
It gives you access to over 100 editable templates, several animation characters, and tons of music files for customization.
You can generate visually appealing clips from your blogs, short script, and audio file. For complex projects, you can create a shared library and invite your team to collaborate.
The app's video quality and quantity usually depend on your selected package. If you produce fewer videos per month and don't mind a little low resolution, go for its basic plan. For HD quality and unlimited downloads, pick the enterprise plan.
In general, SteveAI's content quality range between 720p and 4k.
Core Features
Text and audio into video.
Auto-speech.
Animated characters as avatars.
Template library.
720p to 4k quality.
Team collaboration.
Data security.
Brand themes.
Price
SteveAI allows three video downloads for free. To increase the volume, purchase its premium packages. It charges $60 for 15 downloads and $80 for 40 downloads.
To get an enterprise plan, contact sales.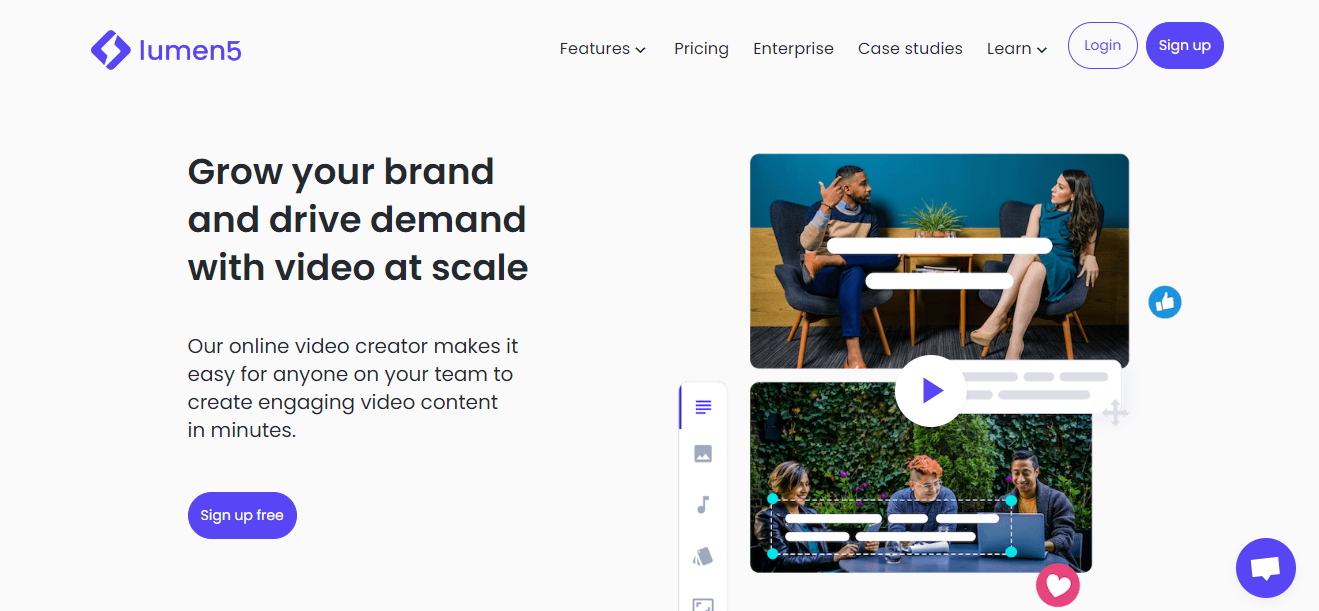 If you're looking for a basic tool, Try Lumen5.
It offers a simple blog-to-video generator, allowing you to repurpose long-form content into short clips for social media.
Some of its notable features include custom templates, a built-in library of royalty-free clips, voice over recording, and a brand kit. You can easily drag and drop slides to edit the content, alter the dimensions to resize the format, and change the theme scheme. You'll also get traditional editing tools and overlays to design engaging videos.
The software provides unlimited downloads, social sharing, and team collaboration.
Core Features
Text-to-video.
Access to clips, images, and audio.
Unlimited downloads.
Template library.
Voice over recording.
Auto-captions.
Talking head overlays.
Brand kit.
Team collaboration.
Price
You can sign up for free and downloads unlimited videos with the Lumen5 watermark. To remove the watermark and increase the resolution, purchase its premium plan. The prices start from $29.
Movio's strength lies in A.I. avatars. It provides both realistic and 3D characters, and even converts images into talking heads.
You can swap faces to customize the existing avatar and create digital characters from images.
For the video, you can choose built-in templates, include your brand theme, play clips in the background, and add audio.
The app delivers a wide range of templates and characters, making it suitable for casual and marketing content.
Core Features
Text-to-video.
Over 100 realistic and 20 3D avatars.
200+

A.I.

voices in 20 languages.
Editable templates.
Background music.
Custom avatar.
Voice over.
Auto-caption.
File sharing.
Branding and API access.
Price
Movio's basic plan is free, and premium plans start from $30.
You can talk to sales about custom packages.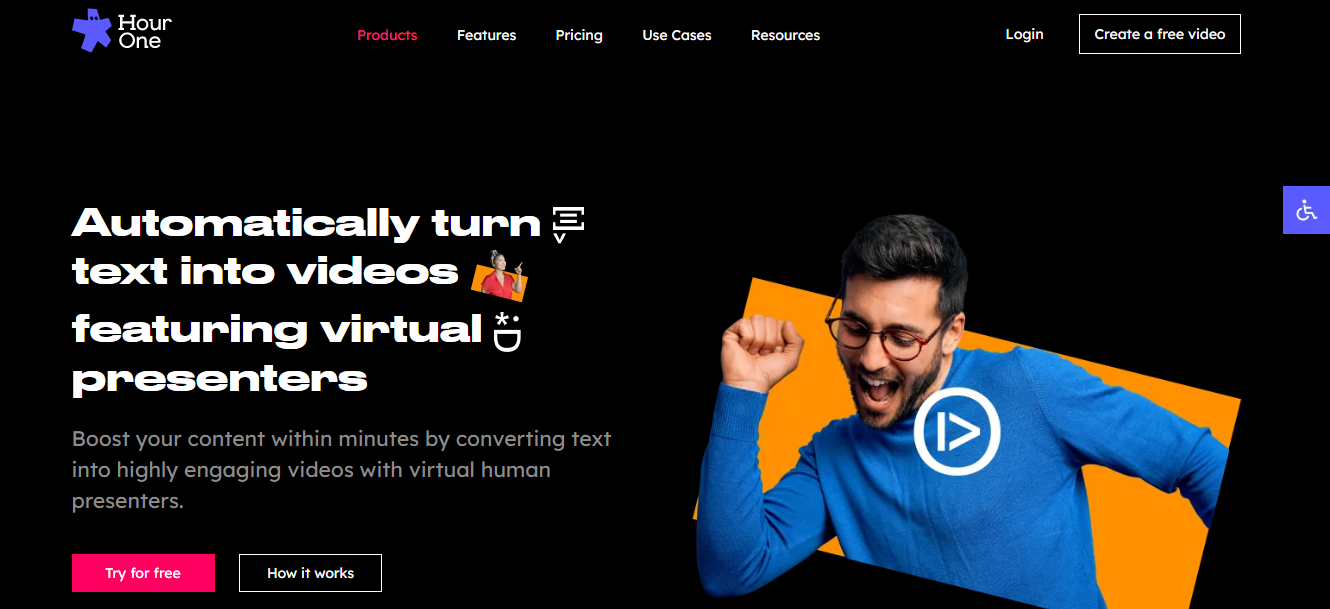 Hour One lets you create A.I. videos with virtual presenters.
You will have access to over 100 characters and A.I. voices for the narration, and tons of stock images to customize the background visuals.
For the layout, you can either choose its built-in templates or upload your own slides. With its collaborative tools, you can connect Hour one with Slack and work with your team on the draft.
You can also request custom templates and use the API to create videos at scale. These features, however, are part of its enterprise plan only.
Core Features
Text-to-video.
Templates and characters.

A.I.

voices in 60 languages.
720p to 4k quality.
Brand kit.
File download and sharing.
Collaboration.
API access.
Price
Hour one's monthly subscriptions range between $30 and $199. For large volumes, go for the enterprise plan.
You can sign up for free without providing your credit card details.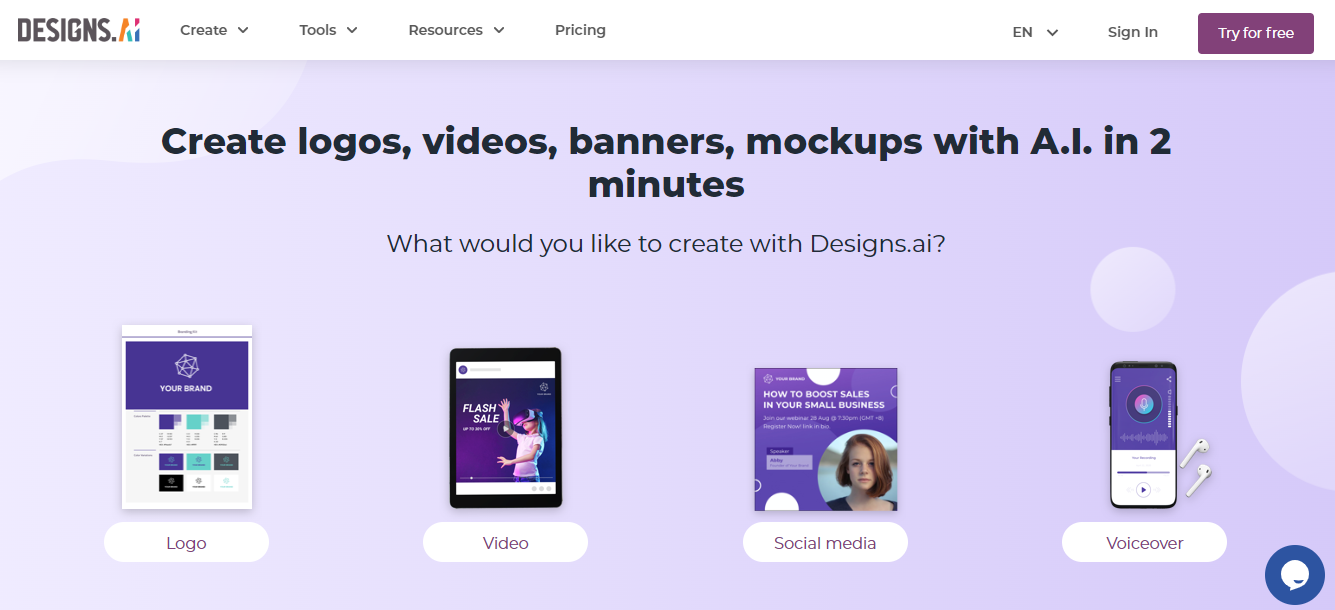 Designs.ai is simple, fast, and rich in graphics. You can create a sample video directly on the website and explore the options to see your editing in real-time.
The monthly package includes around 100 downloads, 20 languages, and multiple formats. In addition, you'll get access to a speech and graphics maker. With these builders, you can convert text into audio for the voice over and design vector images for the background.
You can also use the graphics maker to produce static banners and other posts for social media.
Core Features
Text into audio and video.
Graphics maker.
Special effects and resizing.
Template and stock library.
Multi-languages.
Customization.
Team collaboration.
File sharing.
Price
Design.ai offers the suite package for $29 to $69. If you need the video maker as a standalone product, you can purchase it separately and pay $27 per project.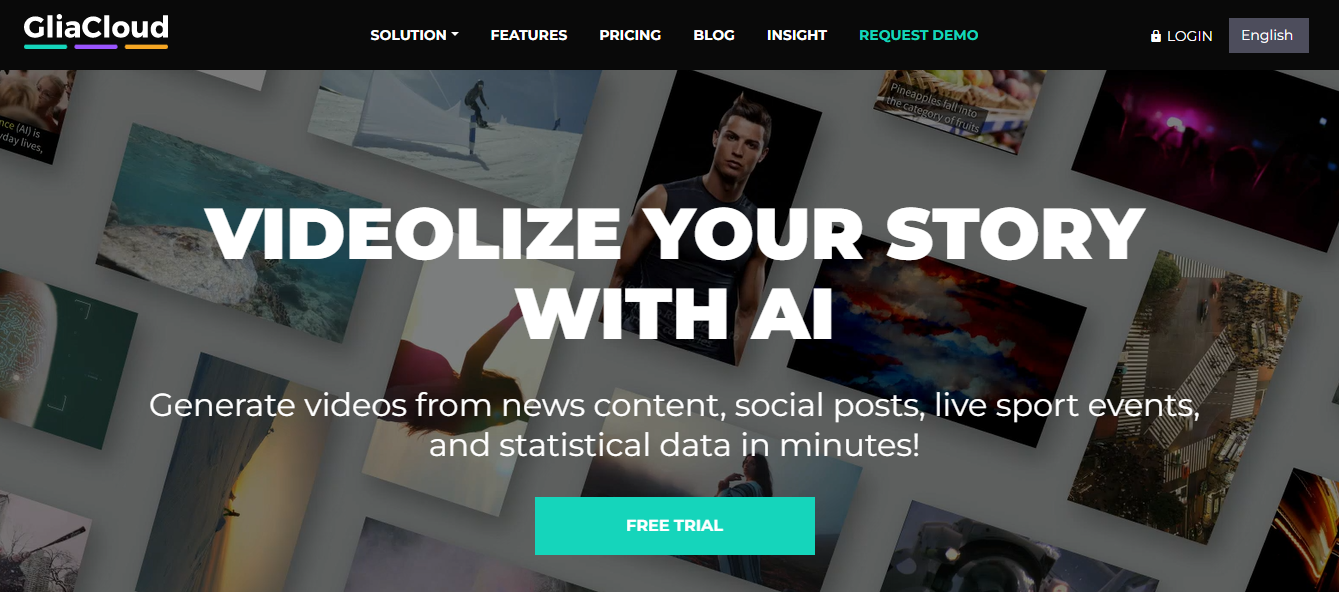 GliaCloud is well-suited for those who produce videos in bulk.
It allows around 50 to 100 downloads per month and provides millions of images, clips, and music files to generate versatile content. If you choose an enterprise plan, you can download unlimited videos and get custom storage for your projects.
You can use GliaCloud to automatically summarize articles into HD videos and customize them for several social networks. The builder has advanced editing options and custom branding to personalize the themes.
Core Features
Text into image and video.
Manual and auto voice over.
Classic editing tools.
Media library.
Custom themes.
White labeling.
720 to 1080 quality.
Over 60 GB space.
Price
GliaCloud delivers three monthly plans. You may have to contact sales to get the quotes.
You can ask for a 14-day free trial as well.
Yepic enables you to generate presenter-led videos.
You can pick a pre-built avatar as an actor or convert your photo into a talking head and incorporate it into the clips. The platform delivers a vast library of A.I. voices, giving you tons of choices for the voice over.
Yepic's custom avatar is one of its best features. To generate your own character, all you're required to do is record a 10-minute clip of yourself or any other actor. Yepic will turn it into a digital character.
This is an amazing feature that would allow you to design personalized marketing videos without hiring presenters repeatedly.
Core Features
Pre-built and custom avatars.
Photos into talking heads.
50 languages.
450+ voices.
Stock images, clips, and music.
Voice over.
Customization.
CRM integration.
Price
Yepic's monthly package range between £29 and £299.
You can take a 14-day trial and get a free plan afterward to continue using the tool.
Final Word
A.I. video generators are built to save you time and money. They remove the need for a professional editor and help you develop presentable videos with little effort.
I recommend trying some of the above apps to make an informed decision. Most of them offer free trials to test the software.