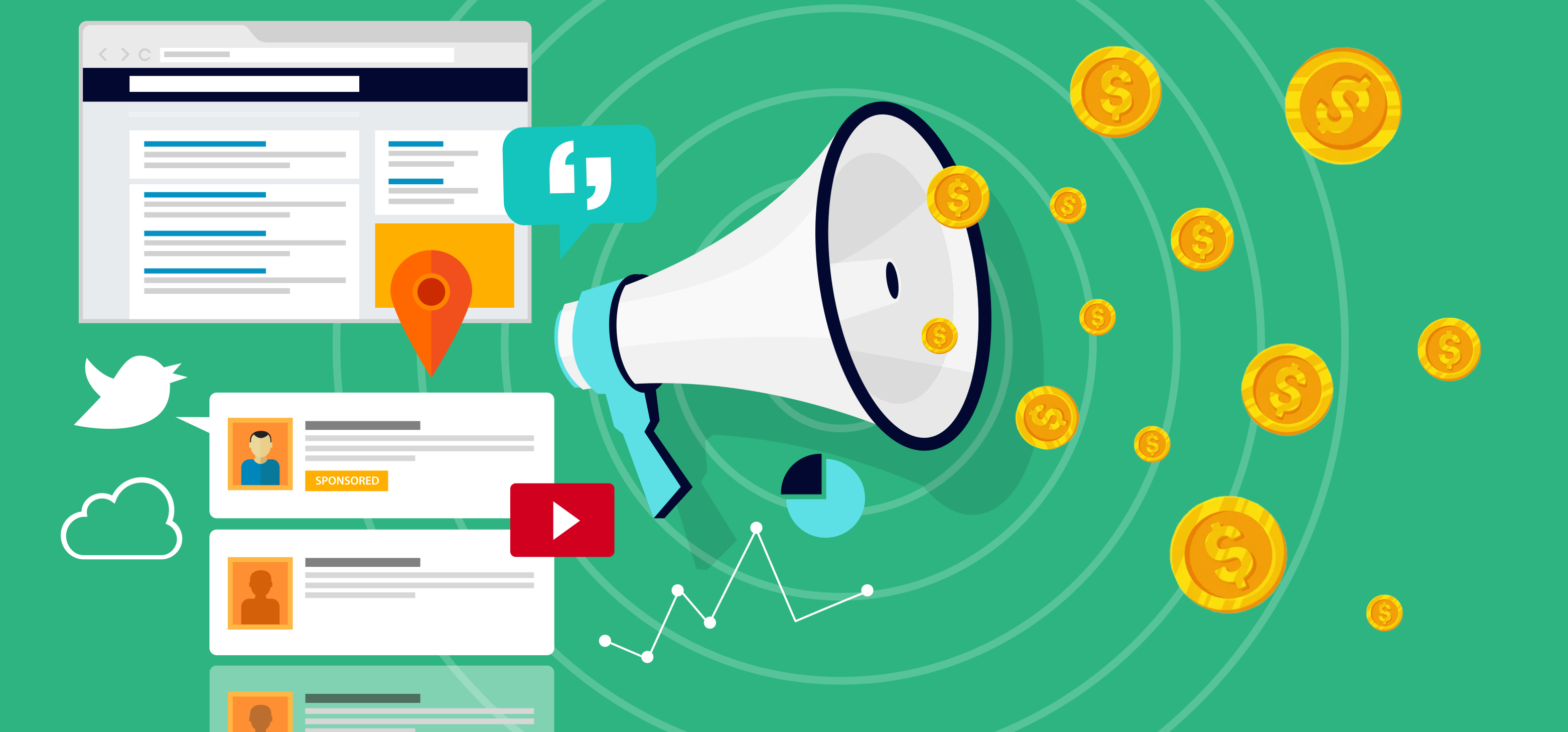 An ad network, also known as an online advertising network, refers to those companies in particular that connect advertisers with websites that want to run advertisements.
The primary goal of such companies is to combine and aggregate unsold ad inventory from publishers and then offer and match it with advertiser demand.
Basically, they make money by taking a portion of advertising revenue and occasionally marking up inventory before selling it.
So, if you want to earn some money from your blog, consider monetizing your website with the help of ad networks.
Below are listed 21 of the best ad networks for you to monetize your website or blog: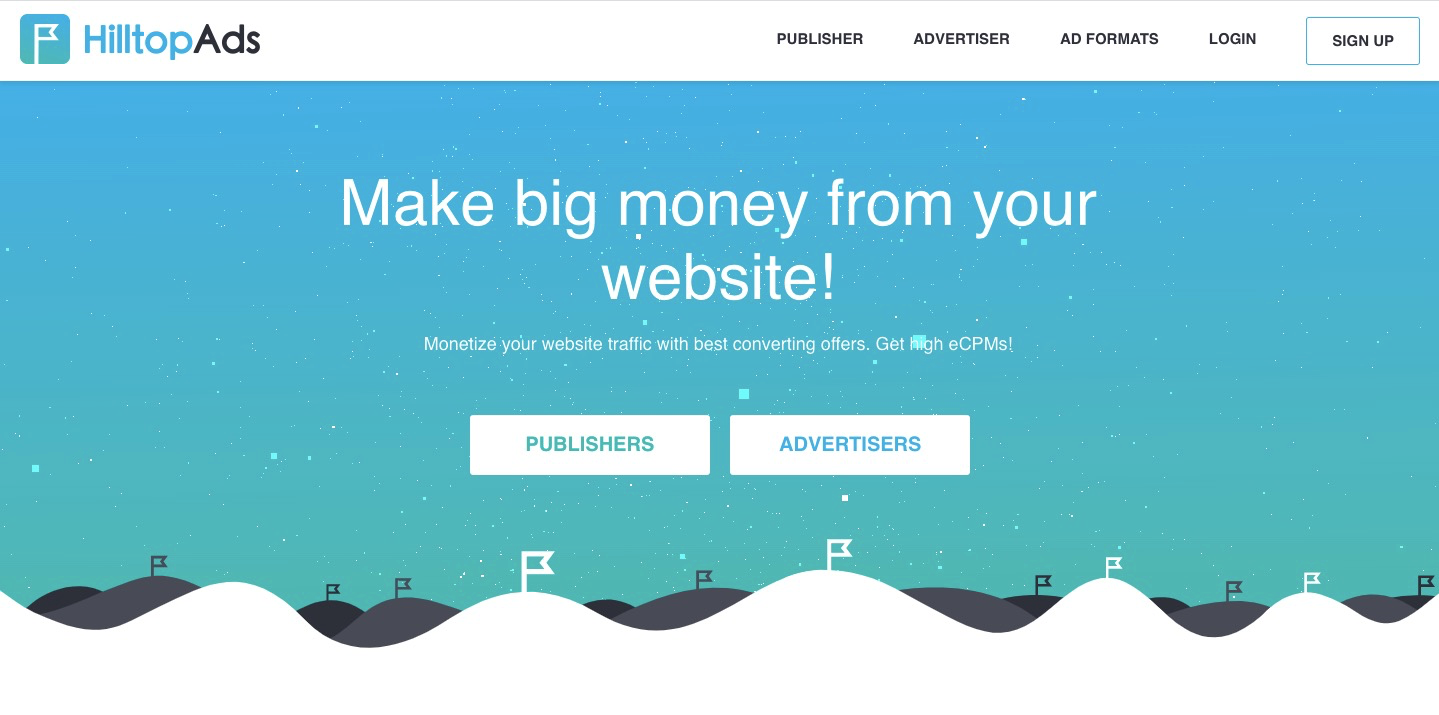 HillTopAds is a low-cost advertising network for publishers running moderate-to-high traffic websites.
They are well-known for their anti-ad blocker technique, which assists publishers in recouping revenue lost as a result of user-installed ad blockers.
It has advanced targeting capabilities such as keyword targeting and retargeting. The chosen genuine expert managers will assist in the setup of campaigns and answer any doubts or questions.
Both beginners and professional marketers can use this straightforward, easy-to-use  interface. Furthermore, the ad network allows publishers to monetize several websites.
Pros
It's simple to use.
No transaction cost.
No need for a learning curve.
CPM rates are good, particularly on mobiles.
International 24/7 customer support service is offered via email, phone, and Skype.
There are a variety of payment choices available, as well as a payment schedule for every week.
Cons
Lack of a self-service panel, so every change made to a campaign needs the manager's approval.
Users dislike pop-under ads for interrupting their experience.
It is unable to integrate with ad networks such as Google AdSense.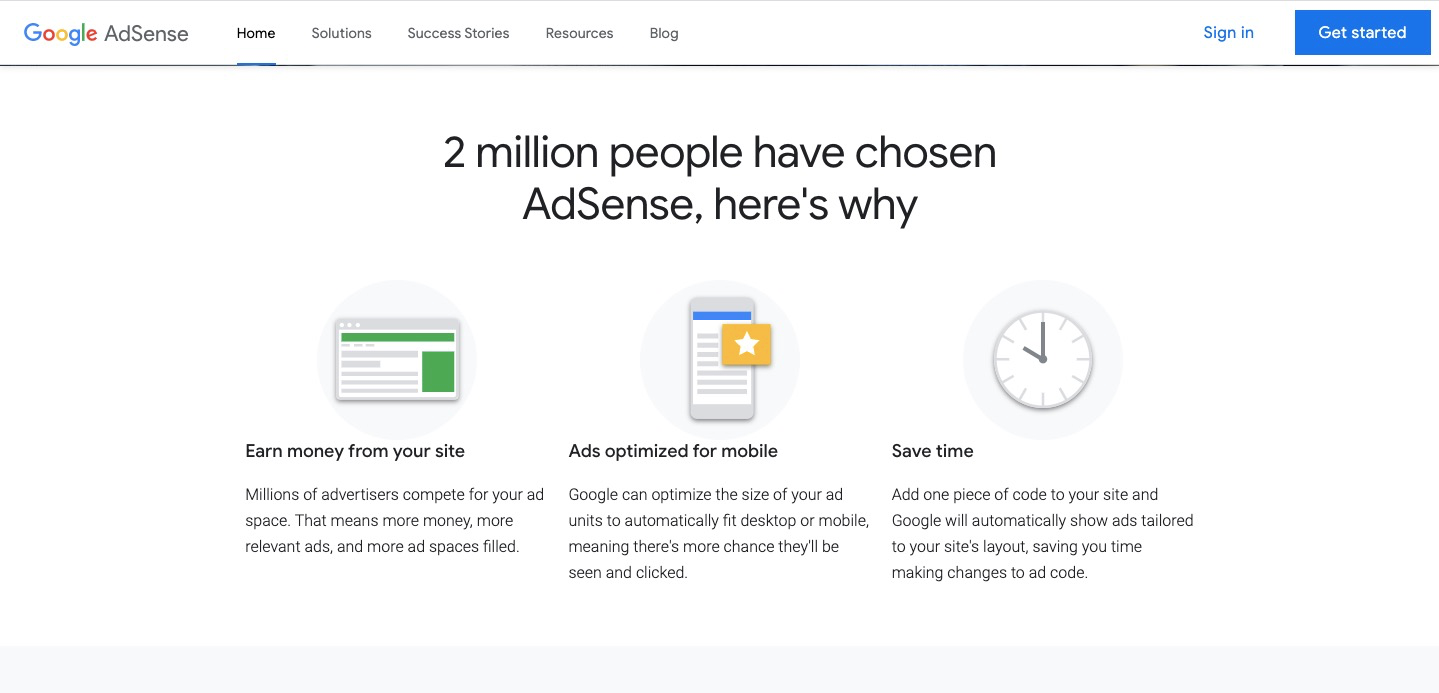 AdSense is a well-known online paid advertising program operated by Google that helps you make money online by displaying advertisements on your website or blog.
Google serves these ads depending on the people who visit your site's browsing history.
As a result, when one individual visits your site, they will see different advertisements than someone else.
For instance, ads from B2B companies would appear if you were running a business website, while operating a travel blog could offer adverts for booking sites.
Pros
Relevant and effective content advertisements are optimized using a clever algorithm.
It aids in the improvement of your websites.
The advertisement's format and content are both excellent.
Excellent analytics and follow-up.
Follow the plagiarism bloggers who steal your content to protect your specific ads.
Bloggers that are truthful about their content can earn a lot of money.
Cons
Only by combining ad response data from competitors and/or similar industry players can optimization be achieved.
It does not happen in real-time always.
MediaVine is yet another popular ad network and management company specializing in lifestyle content creators in sectors such as food, fashion, cuisine, home, travel, parenting, and do-it-yourself (DIY) projects.
It is totally adjustable, ready to expand, future-proof, and fully serviced.
They work directly with the top ad exchanges and advertisers to make sure that their ad inventory generates the maximum possible profit. As a result, load times are faster, user experiences are better, and more traffic is generated.
Pros
High-earning opportunities
Chances for publishers to get sponsored.
A cooperative and supportive community.
The loading speed of pages has been greatly improved thanks to a faster ad delivery strategy.
Improvements to your website's technical aspects like ad placement, speed efficiency, etc.
Customer service and support are excellent.
Cons
At least 50K monthly sessions are required.
For publishers, there are some quite strict admission criteria.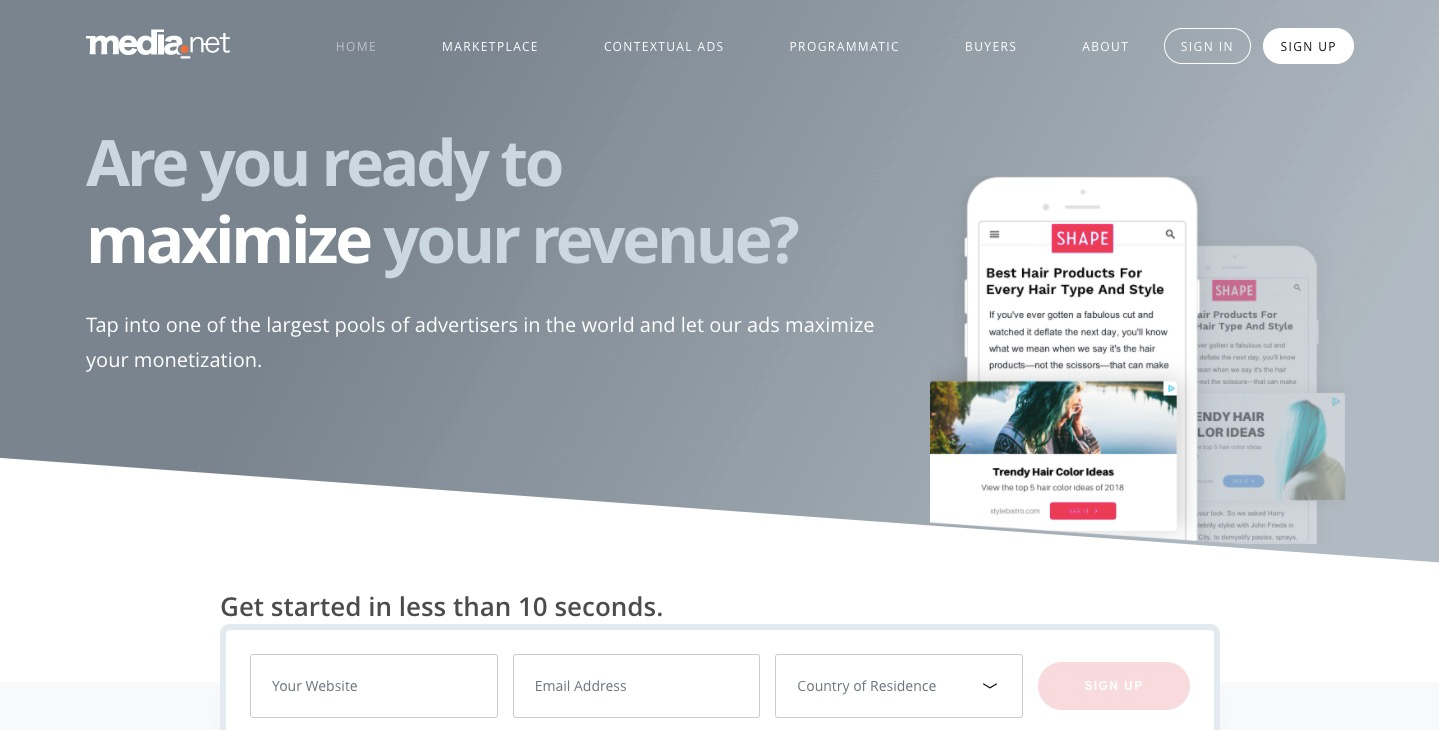 When it comes to search, display, native, mobile, and video advertising, Media.net is another worldwide ad network with a diverse advertising technology portfolio.
It delivers ads from the Yahoo! Bing contextual ad network, including numerous local and national advertisers, and guarantees a complete fill rate across ad formats and verticals.
The company's publishers include Elle, Esquire, Forbes, Reuters, CNN, Cosmopolitan, and other publications.
They also offer high-quality tools like the Media.Net Video Player and Create, which help improve not only ad performance but also the general quality of blogs.
Pros
Increased revenue from blog traffic outside the United States.
The dashboard for publishers is simple to use.
The world's largest advertiser network.
Enhancements to your website's technical aspects, i.e., ad placements and speed.
Both the RPM and revenue are excellent, even far superior to AdSense.
Cons
The style and design of the ad units are a little old.
In comparison to other ad networks, revenue is relatively minimal.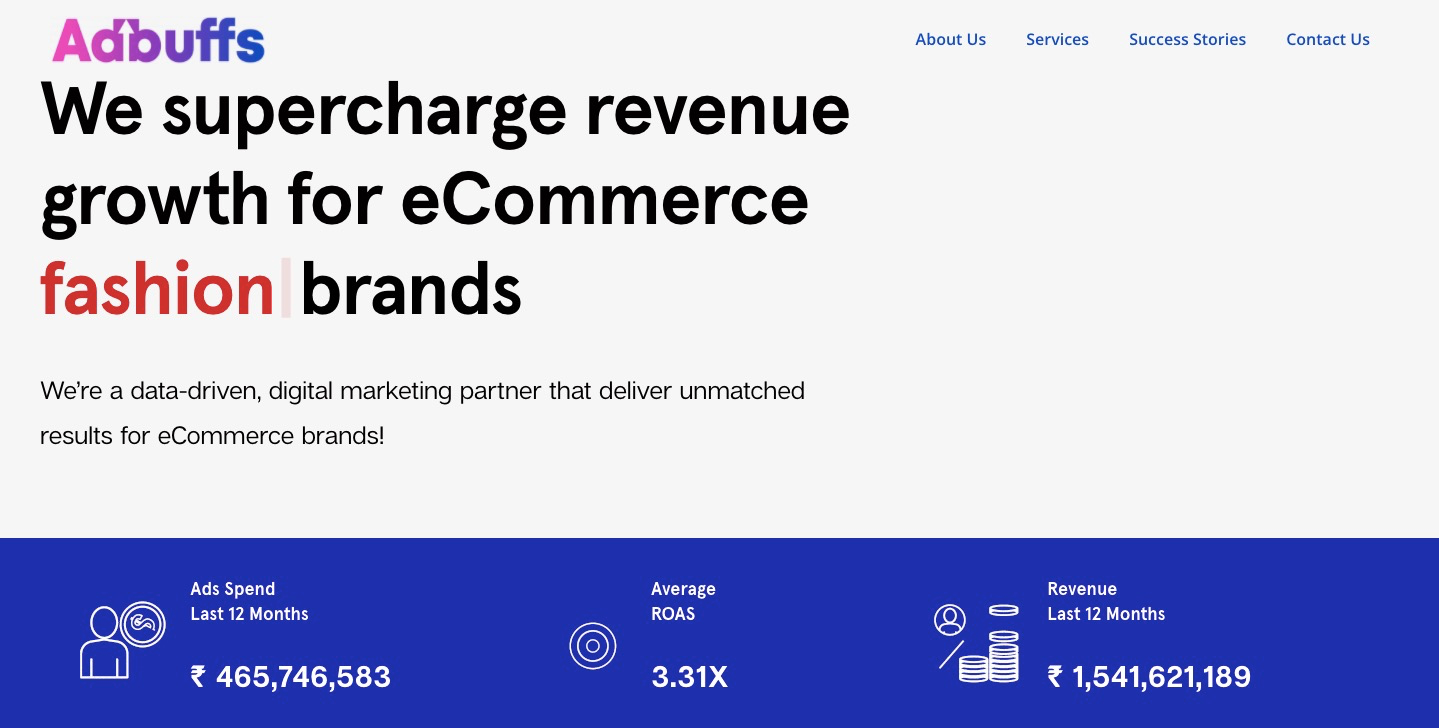 Adbuffs is a CPC and CPM ad network that is linked to all of the major ad exchanges.
It is well-suited to mobile and web platforms, and it offers businesses a variety of unique and new features, capabilities, and knowledge.
It allows a large number of advertisers to place their bids on inventory, thereby letting them enhance their sales easily.
Pros
Payments are made on time.
Offers bonuses every week.
Revenue sharing is very high.
The 24/7 support desk is quite helpful.
Tracking that is both reliable and efficient.
It has a real-time dashboard that makes reports in time.
Every publisher is assigned a personal account manager.
Publishers can benefit from the network's substantial CPM prices.
The rates are sometimes significantly higher than those offered by Adsense.
Cons
The minimum daily traffic requirement is 2K unique visitors.
Other ad networks have a lower minimum compensation level than it does.
Only English-language websites are permitted, with the bulk of visitors hailing from the United Kingdom, the United States, Canada, and Australia.
Propeller Ads is a large, rapidly expanding ad network platform that is recognized for its specialization in pop-under ads that load behind the current browser window and appear after it has been closed.
However, it also offers banner ads, on-click ads, sliders, sponsored links, video ads in-banner, and other ad types.
The platform offers both new and existing blog sites to monetize with several options.
Pros
Statistics in real-time
The lowest payout is only $5.
Simple and quick login procedure.
24/7 Live Chat and Customer Service.
A wide variety of cross-platform ad formats are available.
A large number of ad units are available for both desktop and mobile.
Advertiser coverage on a global scale monetizes all traffic and not just US traffic.
Cons
This ad network does not support PayPal.
For viewers or readers, pop-under advertising can be annoying.
Several cheap-quality advertisements are just not appropriate for some websites.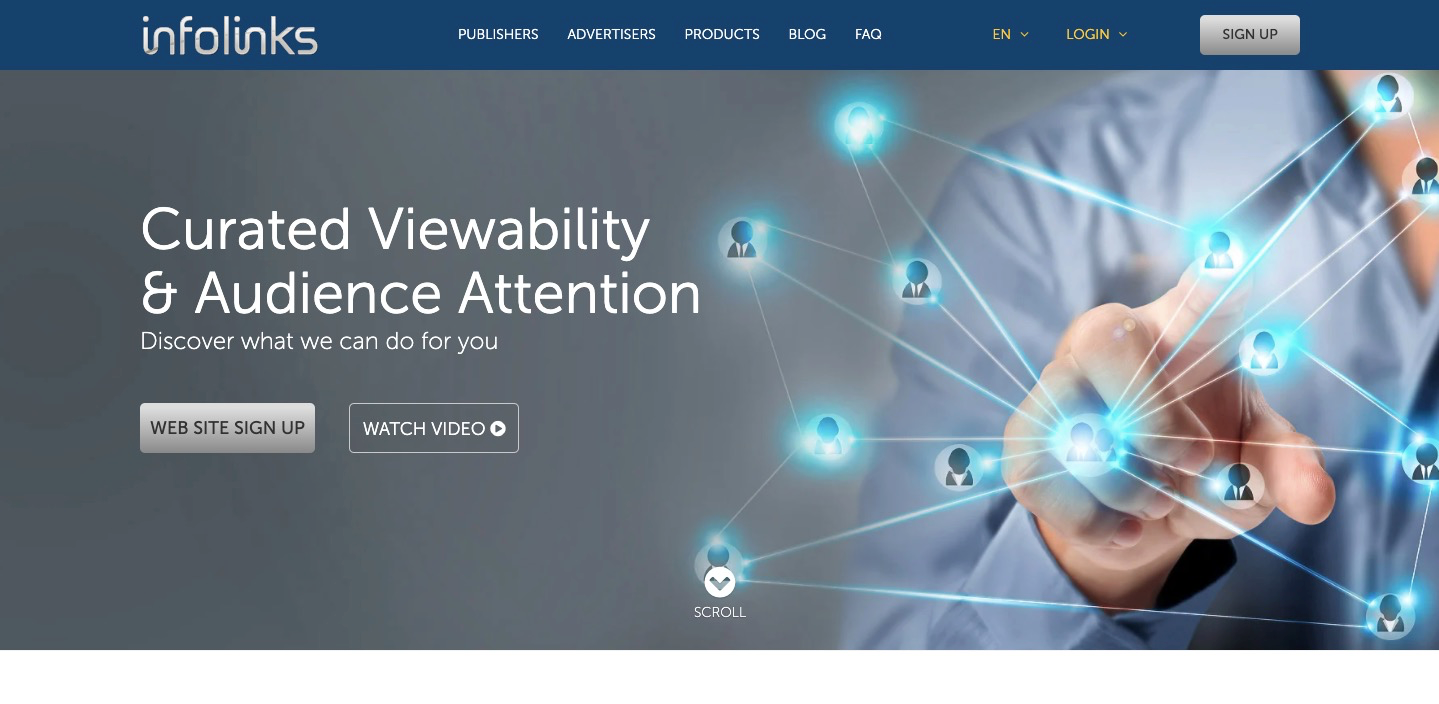 Infolinks is an exclusive global advertising marketplace network of relevant ads that allows advertisers to tailor advertisements based on their contextual intent and increase viewability across premium publisher inventory.
It mainly assists you in monetizing your website by displaying contextual advertising in conjunction with specified keywords in your content.
Instead of creating fresh content, it simply matches advertisements to keywords already present in your content. Every time a visitor hovers over a highlighted keyword, the ads will appear.
Pros
Great tool for AdSense publishers as they do not conflict with their ad units, and the two operate together to create the most profit.
It looks for advertisers based on the webpage niche to show them relevant ads without needing the user's cookie data, assuring the security of user data entering the webpage.
Fast approval process and therefore gets approved in as little as 48 hours.
Advertisements are entirely customizable and simple to put up.
Cons
Profits are not as significant as Google AdSense.
eCPM is less in Asian countries than in Western countries.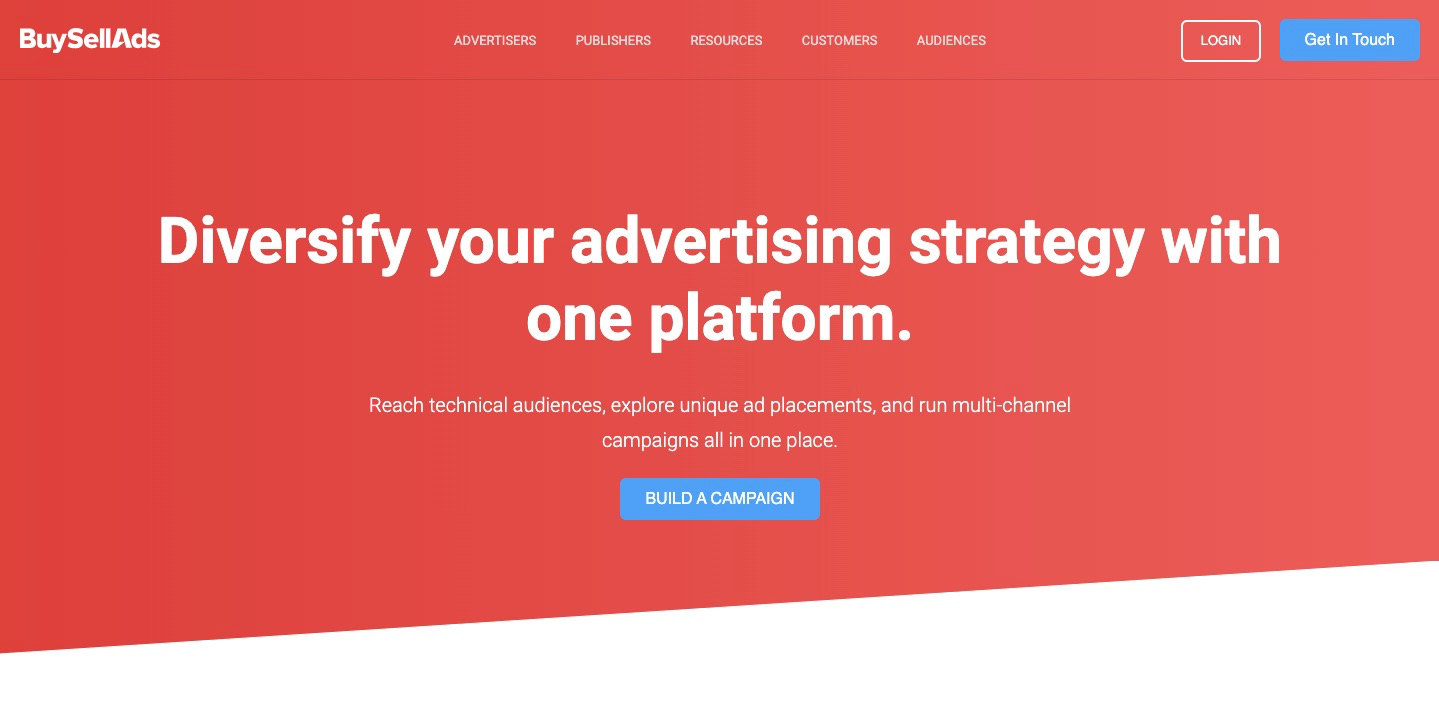 BuySellAds is a good choice for newbies because there are no minimum traffic requirements so that page owners can begin anytime soon.
Publishers can use the ad network to partner with advertisers directly, and it also allows them to profit from traffic that is blocked by ad blockers.
Instead of placing irrelevant, irritating ads, BuySellAds delivers soft, polite, brand-specific spots through advertising channels such as display, native performance, sponsored content, and emails.
You can monetize each and every impression by showing ads to their community of highly competent audiences.
Pros
The signup method is simple, easy, and free.
Advertisers can contact you directly through a publisher list.
It allows smaller blogs and websites to connect to larger sponsors.
Advertisements that are displayed on a publisher's website or blog are under their authority.
Cons
For some publishers, the network's revenue can be quite high.
A publisher's website can be disregarded if the niche is crowded.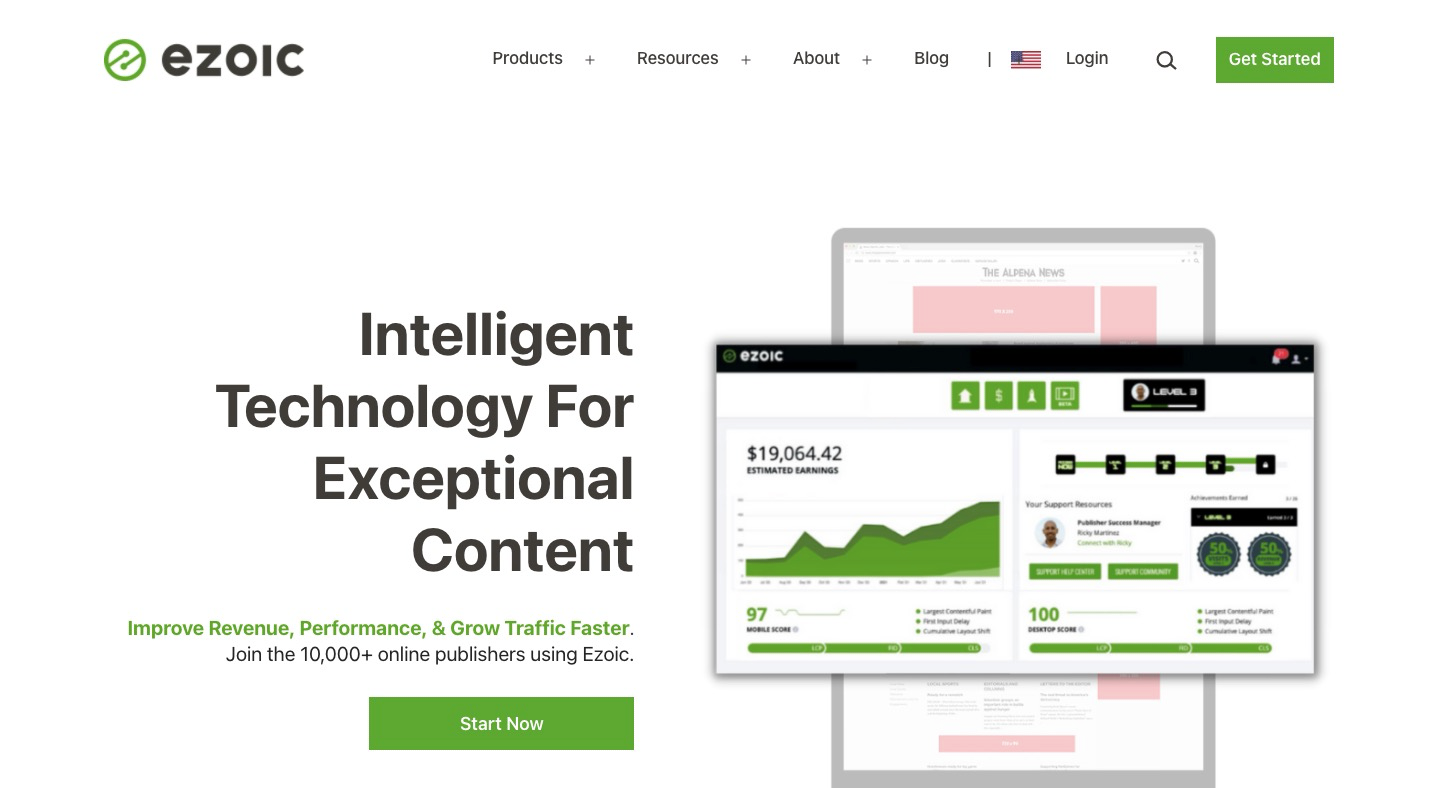 Ezoic is a Google-approved publishing partner that gives publishers access to hundreds of ad  networks, exchanges, and ad partners, as well as ad technology.
Its monetization solutions also make it easier for publishers to access and operate sophisticated and premium ad operations.
This top-level ad network produces more money for you with the same amount of traffic since they thoroughly test the optimal contextual ads for your site, have optimization software that will improve your page speed if your site is routed through their servers.
It is accessible to anybody, and there is no need for coding or technical knowledge.
Pros
Advertiser network that extends across the globe.
Dashboard for publishers that is simple to use.
Compatible with any CMS, host, or website setup.
Extra revenue from blog traffic outside the United States.
Enhancements to your website's technical aspects like ad placements and speed.
Cons
10K monthly visits are the minimum traffic requirement.
The optimization platform faces a lot of errors.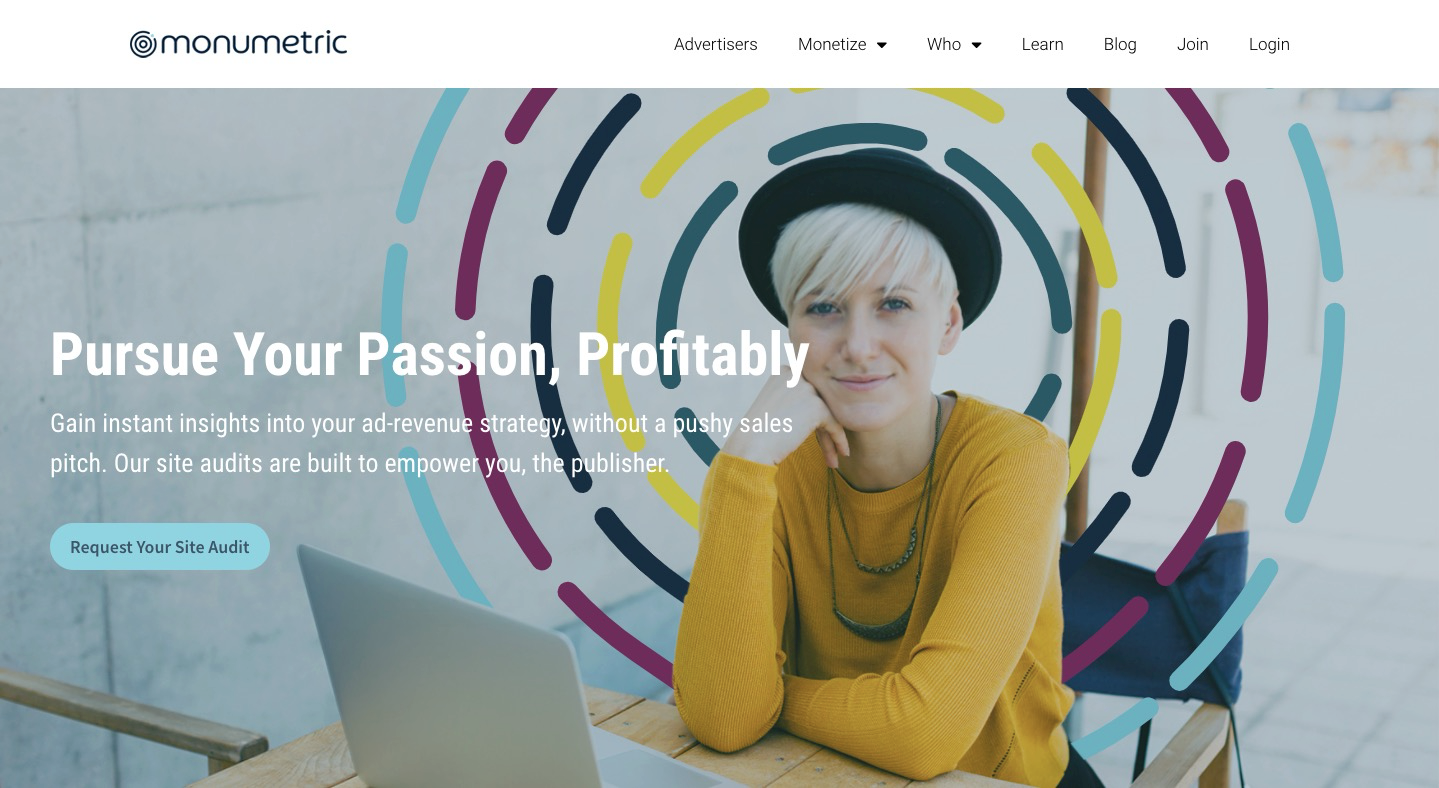 Monumentric employs a method that differs from that of the other ad display networks  discussed earlier.
They will offer dynamic advertising centered on your content and the preferences of your visitors.
Even if the reader stays on the same page, the ad units in this ad  network will update and show fresh adverts. You will get more clicks, ad impressions, and  money as a result.
This publisher-friendly ad network allows you to monetize your site while maintaining a positive user experience. Once you sign up and publish your ad inventory,  it will help you in filling it with the highest CPM offers available.
Pros
Personal assistance and aid with the initial setup.
Advertisers from a diverse range.
High-earning potential.
Cons
Payouts are made slowly, with a net 60-day period.
10K site views in 30 days is the lowest traffic needed.
There is a $99 startup fee for sites with fewer than 80K monthly page views.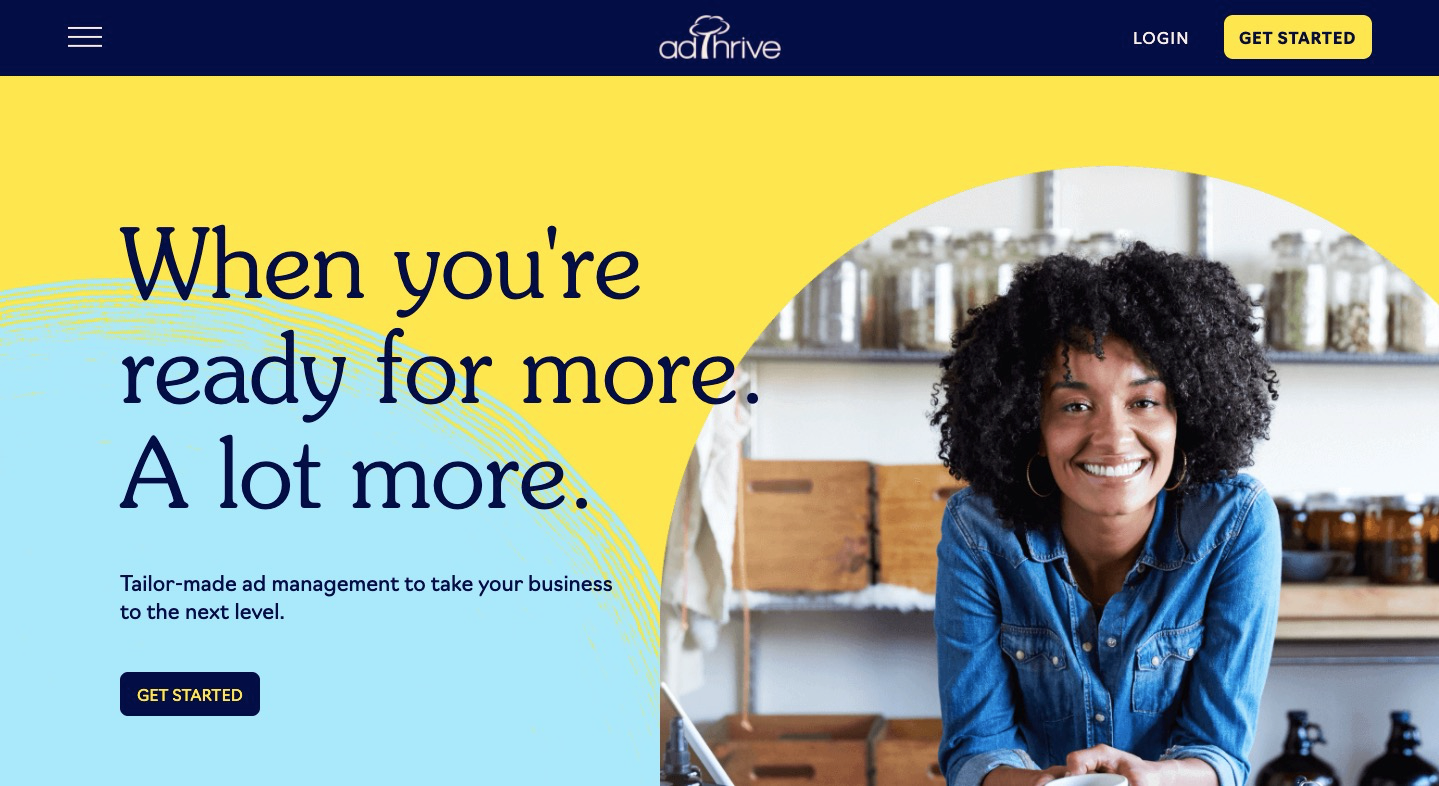 AdThrive is another well-known ad network that targets publishers and bloggers in several  lifestyle-related niches.
Such niches include DIY (do-it-yourself), housing, tourism,  gastronomy, parenting, etc. It is a great support system for its publishers and is largely regarded as the greatest CPM-based blogger ad network.
Other than that, AdThrive provides every one of the major display ad sizes and even assures payouts, so even if AdThrive doesn't get paid by an advertiser, you will still get paid.
Their team is knowledgeable in publisher advertising, and they have always gone out of  their way to answer users' questions.
They also provide classes to help you increase your RPM and generate even more passive revenue from your site.
Pros
A Certified Google AdWords Partner.
For practical tips, there is an active and friendly forum.
As soon as you join, you will have the most earning potential.
There is staff available to answer your questions and concerns.
Cons
A minimum of 100K monthly site views is required.
Acknowledgment takes a long time.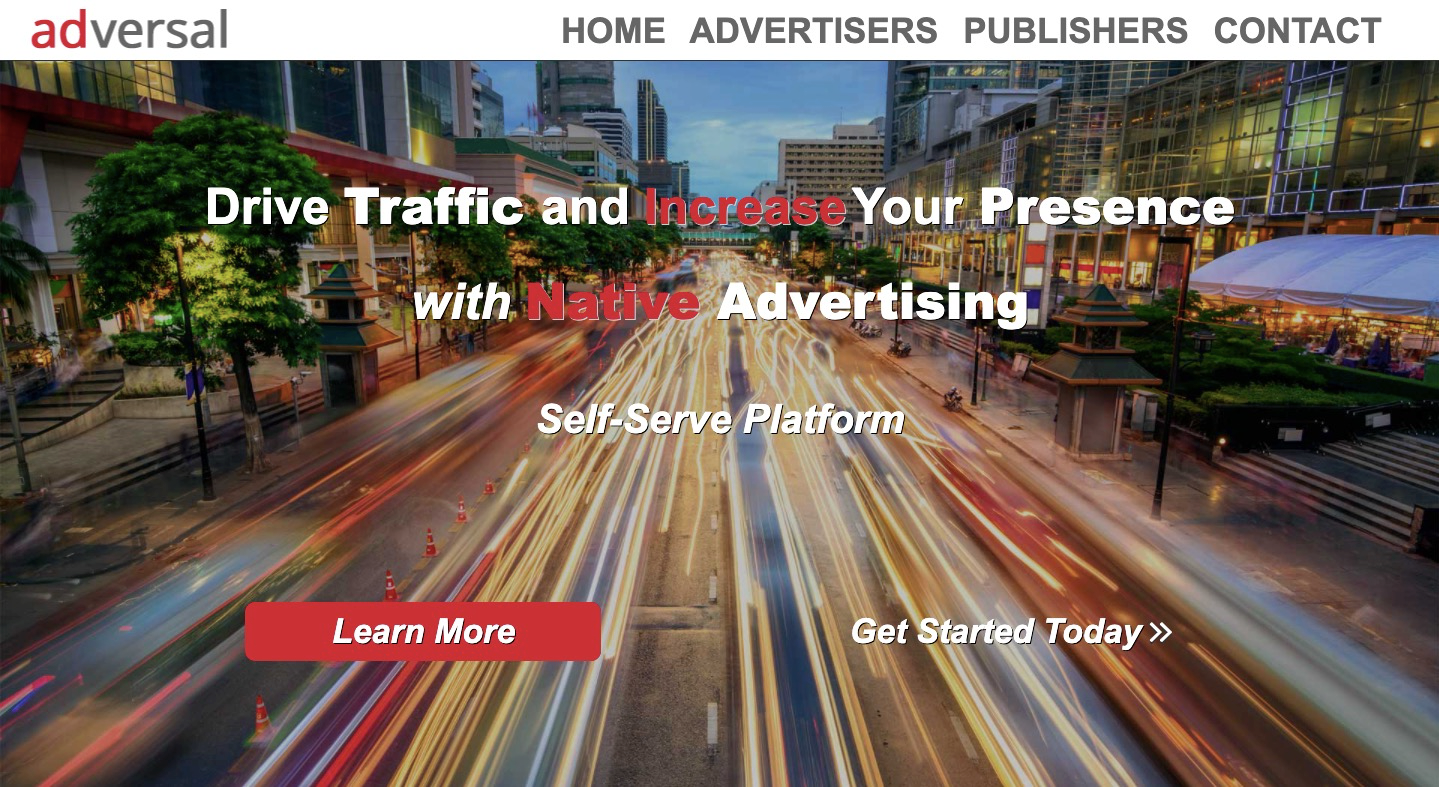 Adversal is an ad platform that allows you to put up your ads in a couple of moments.
Other than native ads, they also offer video and display ads on your blog or website.
Its user-friendly design interface is so simple and logical, so you can easily let it work once you finish setting up everything. It will intuitively start, stop, and pause campaigns.
Their objective is to make the process easier for you and quickly get your ads up and running.
Adversal also has inbuilt tag management that helps filter out advertisements and protect them against various frauds.
The self-service platforms provide you with complete control over ad content and placement, which is ideal for people who want more control over advertising on their websites.
Pros
Various ad formats are available.
A platform that is simple to use and navigate.
Starting at $0.05 per click, you can get a good deal.
When posting ads on your page, you can change the color scheme.
Cons
Older version of the interphase.
Since you must have a minimum monthly 50K visits to participate, it is not suitable for newbies.
Yet another major ad network used by advertisers and publishers is Sovrn.
The platform instantly enables you to establish links to your eCommerce product sites, Amazon products, and other popular affiliate programs.
It also gives its ad tech partners the ability to create custom visual experiences, build custom  integrations, and gain access to new assets.
Publishers and advertisers can use the dashboard to keep track of performance data and adjust their monetization schedule carefully.
Pros
There are a variety of payment options available, including wire and PayPal transfers.
Desktop and tablet versions are available in a variety of formats.
$25 is the reasonable minimum threshold.
Many advertisers are available to promote it.
Cons
Global traffic has cheap eCPM rates starting at $0.3.
This network is only accessible to those who have been invited.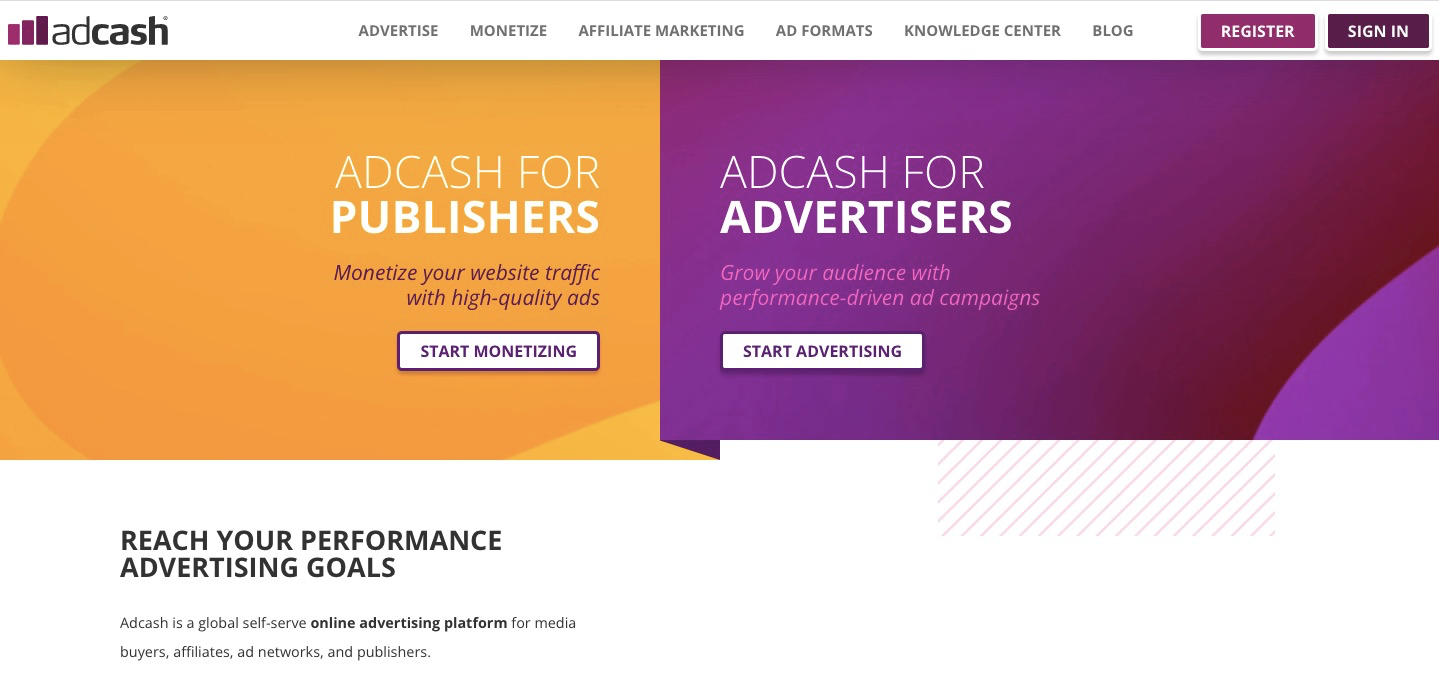 Another popular ad-serving platform is AdCash, which serves around 200 million active users in boosting conversions and app installs.
The platform serves ad networks, marketing agencies, affiliate marketers, and publishers all around the world.
AdCash provides your organization with advertising or promotional tools that produce the desired results based on decades of sophisticated in-house refining, technological expertise, and branding experience.
The AdCash platform allows publishers to monetize online traffic while also helping marketers in connecting to a worldwide audience with relatively little fuss.
Pros
The assistance mechanism is pretty efficient.
You can try out different regions, CPM, and CPC.
The user interface is simple and straightforward to use.
It is not a problem to show advertisements in various countries.
Cons
The rules are somewhat stringent.
There are no adult-oriented web pages.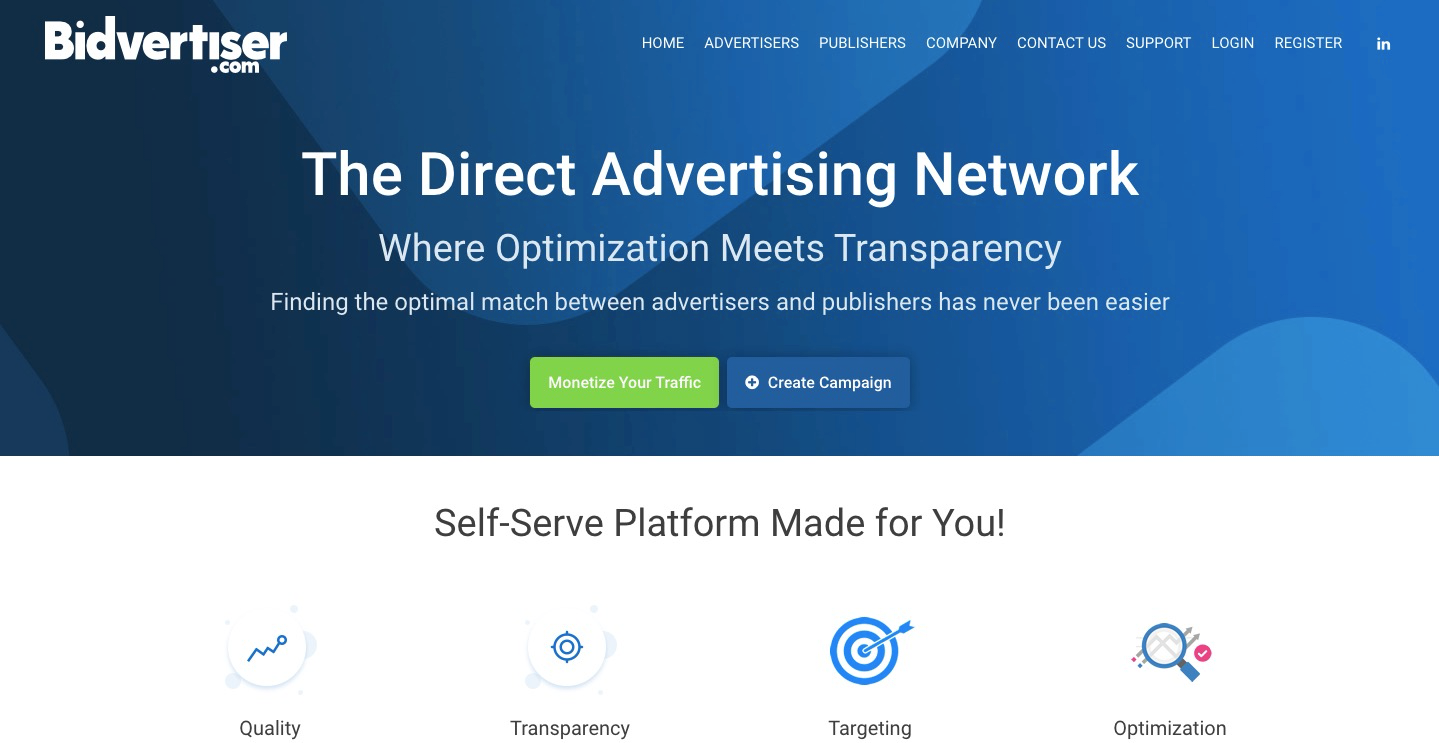 BidVertiser is a simple-to-use ad platform with a referral program that rewards both publishers and advertisers.
The platform connects publishers and marketers and helps businesses get the most out  of their ads by using pre-screened, conversion-focused traffic sources.
Most of the traffic is categorized in depth to aid in managing and organizing your targeted advertising.
Pros
With a fill rate of 100%, there is no need to worry about ads not showing up on your website.
It offers better compensation than the bulk of similar networks.
Across the same user action, you might gain several commissions.
It's among the most established PPC ad networks.
CPM rates for mobile traffic are higher than typical.
It has a very minimal payment requirement.
The network receives automatic approval.
Cons
It is not the best network for publishers who rely only on PPC for ad revenue.
The amount of money you earn daily will vary substantially.
This makes it difficult to predict your long-term revenue reliably.
The entire quality of the advertisements is deplorable.
Ads on poor-quality pages will cost less.
CPC is less than AdSense.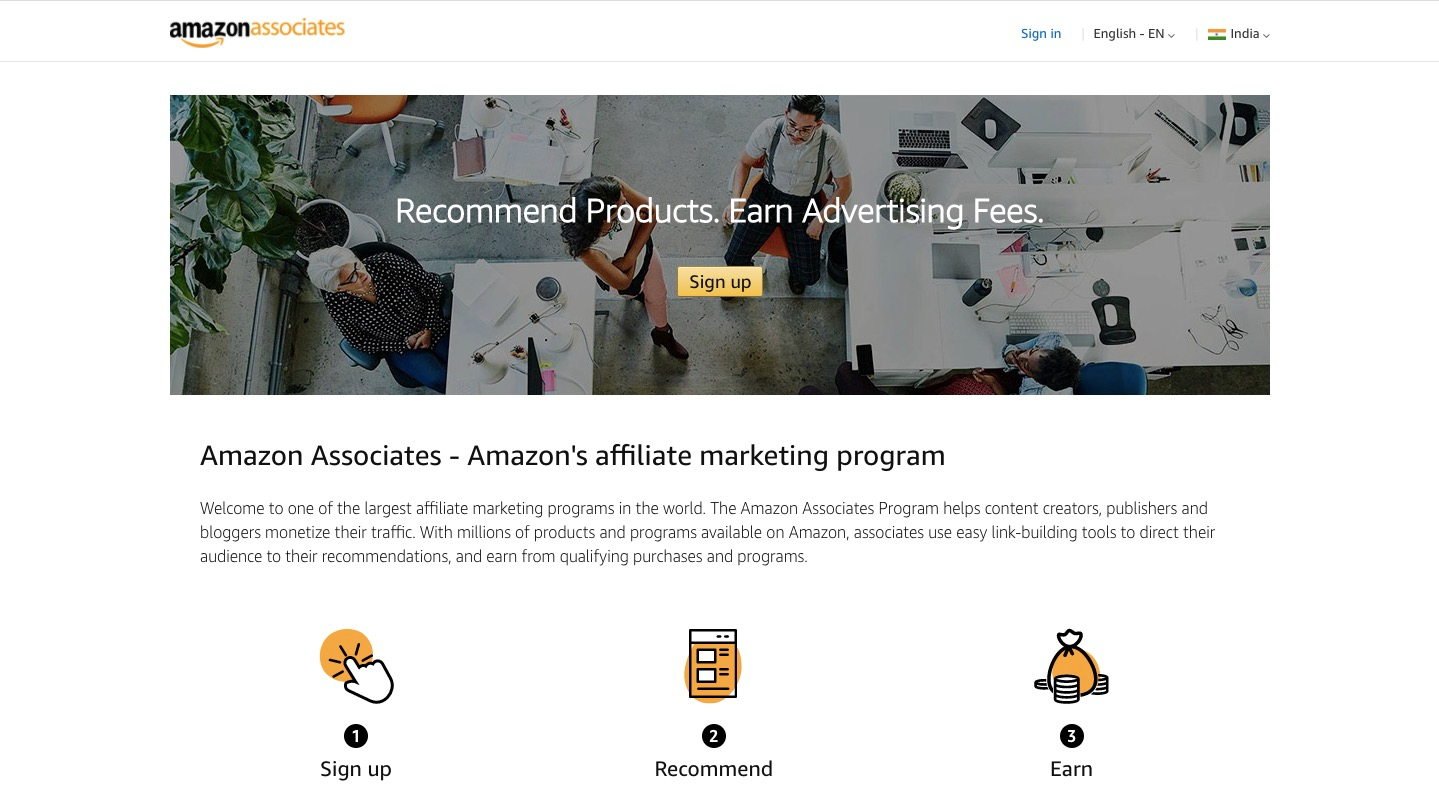 The Amazon Associates Program is among the world's biggest affiliate networks for bloggers, publishers, and content creators to monetize their traffic.
Associates use simple link-building solutions to guide their viewers to their suggestions and gain from eligible purchases and promotions on Amazon, which has millions of products and services.
Pros
Since it's a global cookie, you will gain points for just about everything consumers buy during the cookie's lifespan.
Amazon is by far the most well-known brand in the world of online shopping.
A large number of goods are available.
The payout limit is as low as $10.
Cons
The global cookie has a 24-hour lifespan.
You must register in each country separately.
Video games, for example, have extremely minimal 1% charges.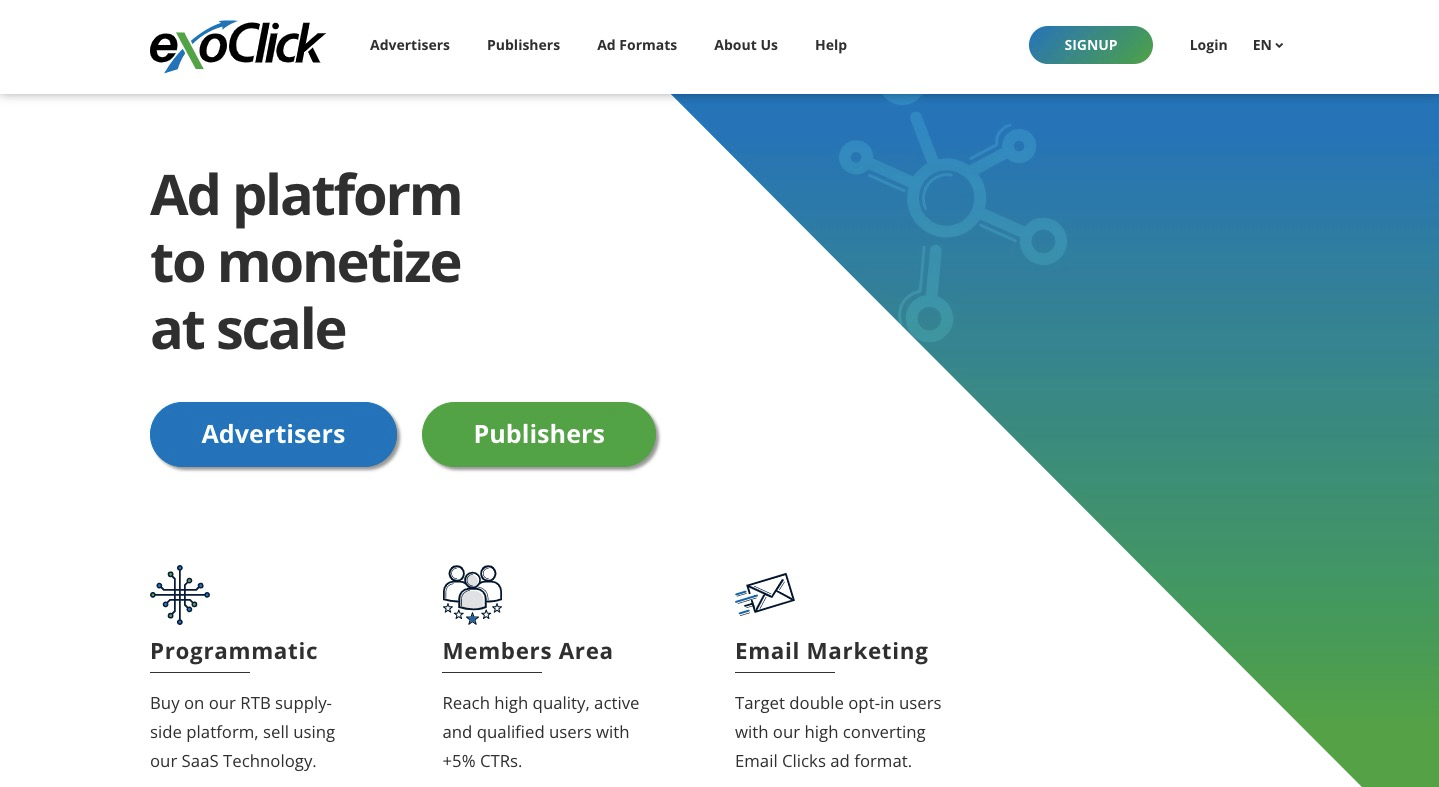 ExoClick is yet another of the largest ad networks globally with a cutting-edge advertising firm.
It is a well-known affiliate marketing company and the go-to spot when it comes to adult traffic, aside from the mainstream traffic in entertainment and lifestyle.
Manga, anime, entertainment, lifestyle, and adult topics are all acceptable topics for your page.
Pros
For the adult market, there is a large publisher and advertiser inventory.
It is among the most lucrative ad networks.
They are prepared to pay out once a week.
CPM rates that are consistent and robust.
There's a lot of adult traffic, so there's a lot of stock.
Advertisements that are quite clean, without any sort of virus or malware.
The fee is paid on a net 7 basis.
Excellent Assistance.
Cons
It focuses primarily on adult pages.
CPM rates for Asian countries are extremely low.
Certain advertisements send visitors to the ad page.
Only email is used for technical help.
RevenueHits is a recent ad network company that is getting popular as a trustworthy monetization platform.
It boasts an innovative advertisement optimization engine that adapts or analyses your ad performance and recommends the ideal places for advertisements on  your webpage.
RevenueHits shows your viewers the most relevant advertisements, which in turn increases conversion rates and allows you to profit more from your advertisements.
It uses its vast, cutting-edge digital platform and optimization technologies to produce the greatest deals in the sector.
Pros
With a high earning potential of approximately $50 per activity, you can make a lot of money.
There is no criterion for minimal visitor traffic.
Cons
You need to have blog traffic that converts and responds to your calls to action.
It doesn't matter if you get a lot of clicks or impressions.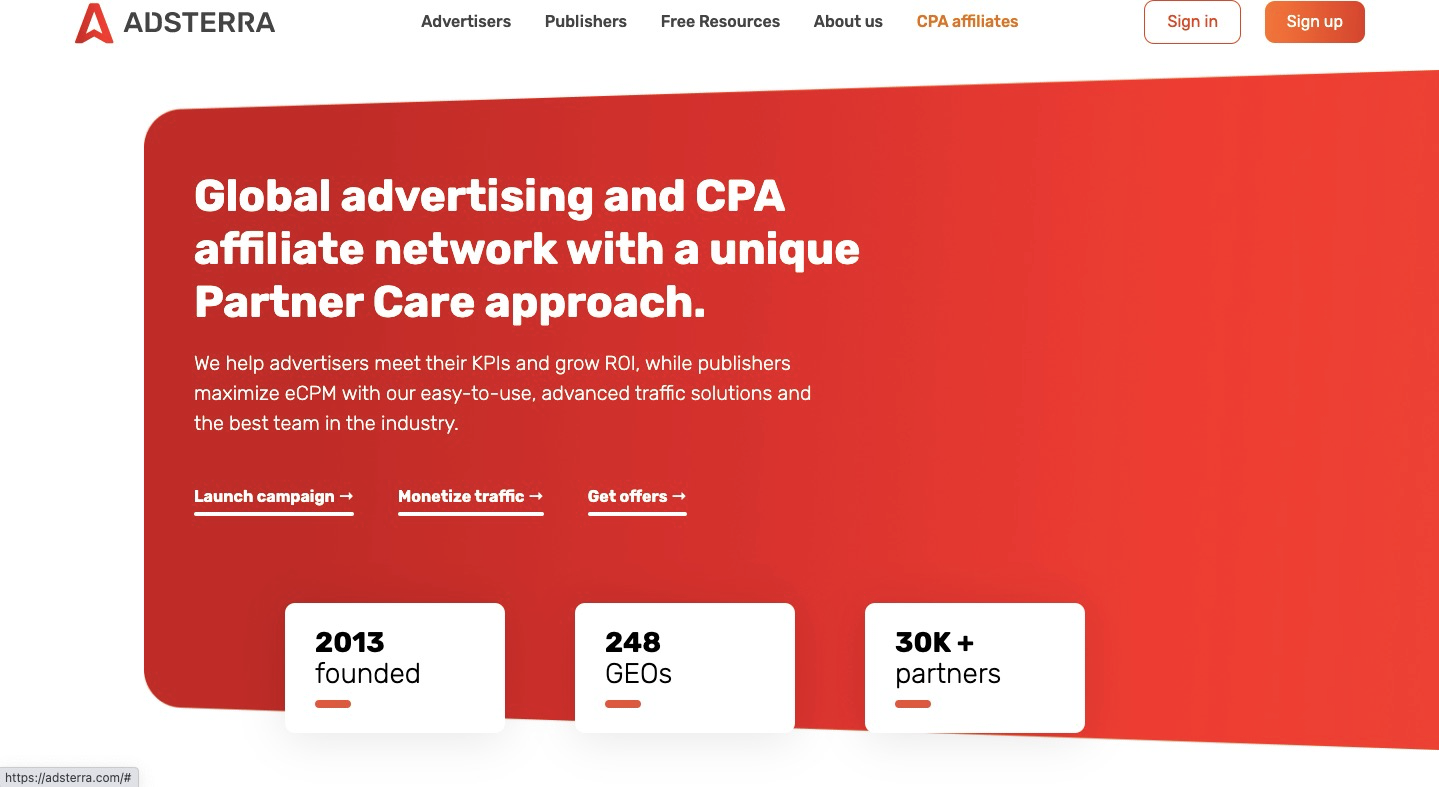 Adsterra is an ad network for innovative technology publishers that unites publishers and advertisers all over the globe, allowing them to increase their capital, enhance their capabilities, and grow as long-term programmatic experts.
Furthermore, the ad network guarantees the maximum CPMs as well as security against malicious or malware-infected ads thanks to its detection and protection technologies.
It provides efficient Web-and mobile-based ad types for a website or mobile app inventory, such as popup advertisements, display advertising, direct links, and so on.
Pros
24/7 customer service is available.
For mainstream traffic, CPM rates are very high.
Publishers can get statistical data reports in real-time.
Advertisement formats such as in-video and banner advertising are supported.
Cons
Offensive advertisements have been detected.
If you don't transmit traffic for a time, the webpage code will also become inactive.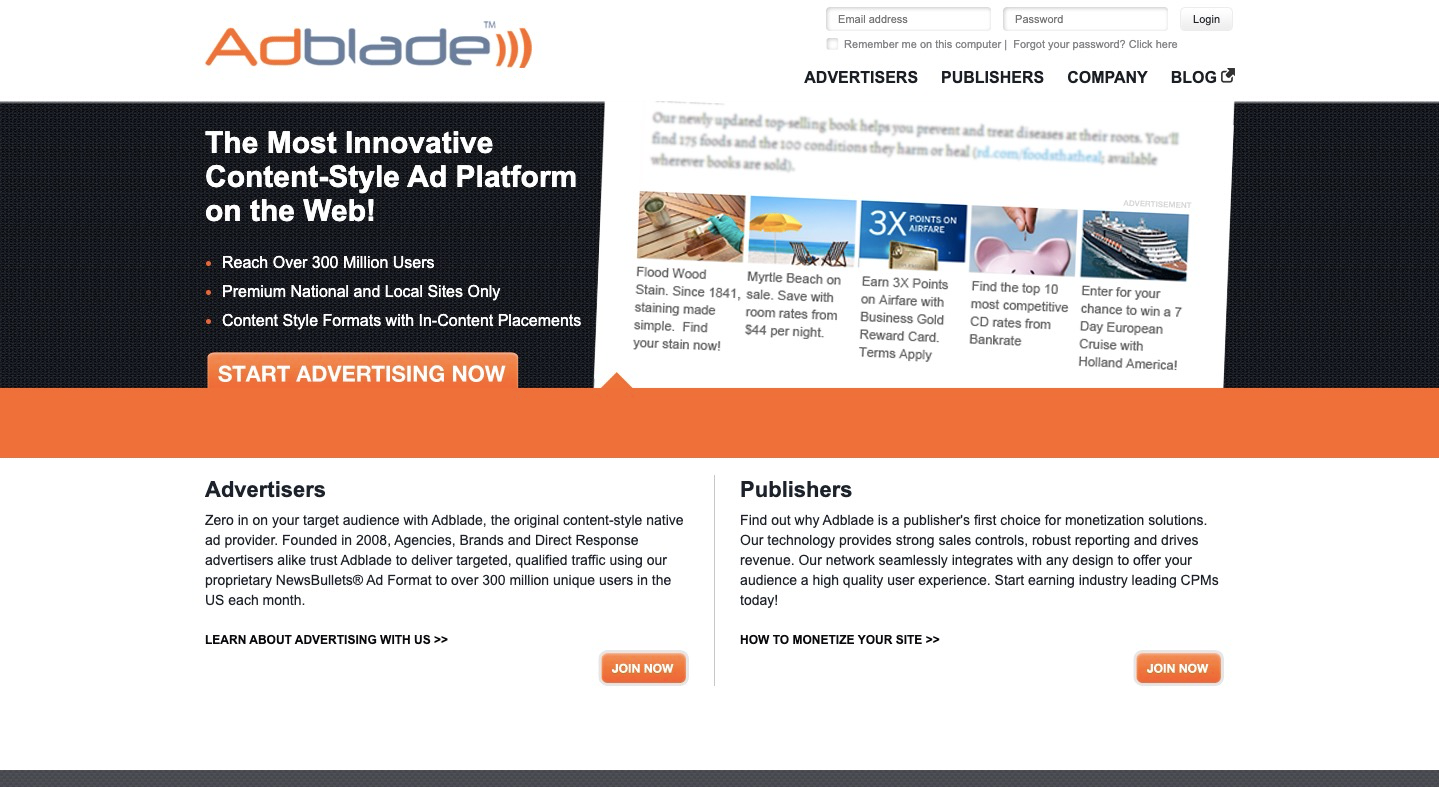 Among the ad networks that prioritize quality above quantity, AdBlade offers a comprehensive set of monetization tools to help publishers boost profits by attracting top advertisers and monetizing content that isn't effectively paying any.
In addition, 1K companies, including Yahoo!, ABC, and Fox News, make up this advertising network.
AdBlade supports both regular IAB units and unique NewsBullets units, which provide effective performance.
Pros
AdBlade advertising can be used in conjunction with Adsense.
It is among the most reputable and trustworthy online ad networks.
It gives a real-time, quick, and simple ad tracking interface within days.
Cons
Have fewer CPMs or CPCs.
The acceptance rate is low.
The minimum payment accepted is $100.
Conclusion
Ad networks are crucial to the prosperity of the mobile advertising environment as they serve as a commercial and technical intermediary between advertisers and publishers.
If there were no ad network solutions to attract demand, publishers would have to negotiate with each specific advertiser.
Other than that, Ad networks profit by selling goods at a higher price than they paid for them, and they usually take a cut of each transaction. Advertisers use ad networks to grow their ad spend and target audience.
You will be able to make money online with your website by fully using either of these online advertising networks. So, try one out today and see how much ad revenue you can generate.