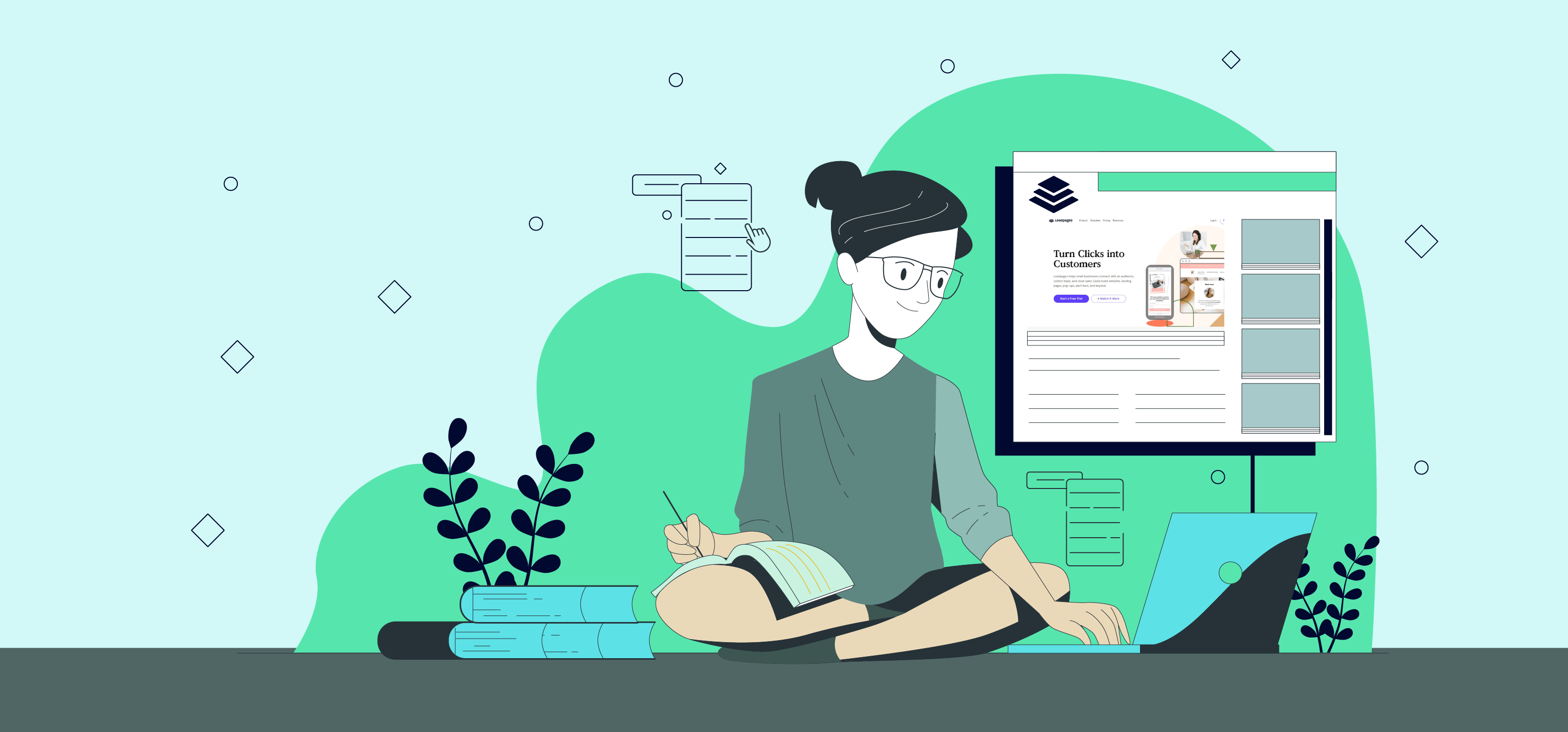 Creating, hosting, and publishing your landing pages has never been easier. Thanks to Leadpages.
You can add these landing pages to your WordPress website or even build the entire website for your latest project with Leadpages using a Web Presence.
The process of creating your landing page and hosting it for your site is pretty straightforward and does not require any technical knowledge.
In this tutorial, we will explore how to use Leadpages. Before we go any further, let us look at the features offered by Leadpages and what is in it for you.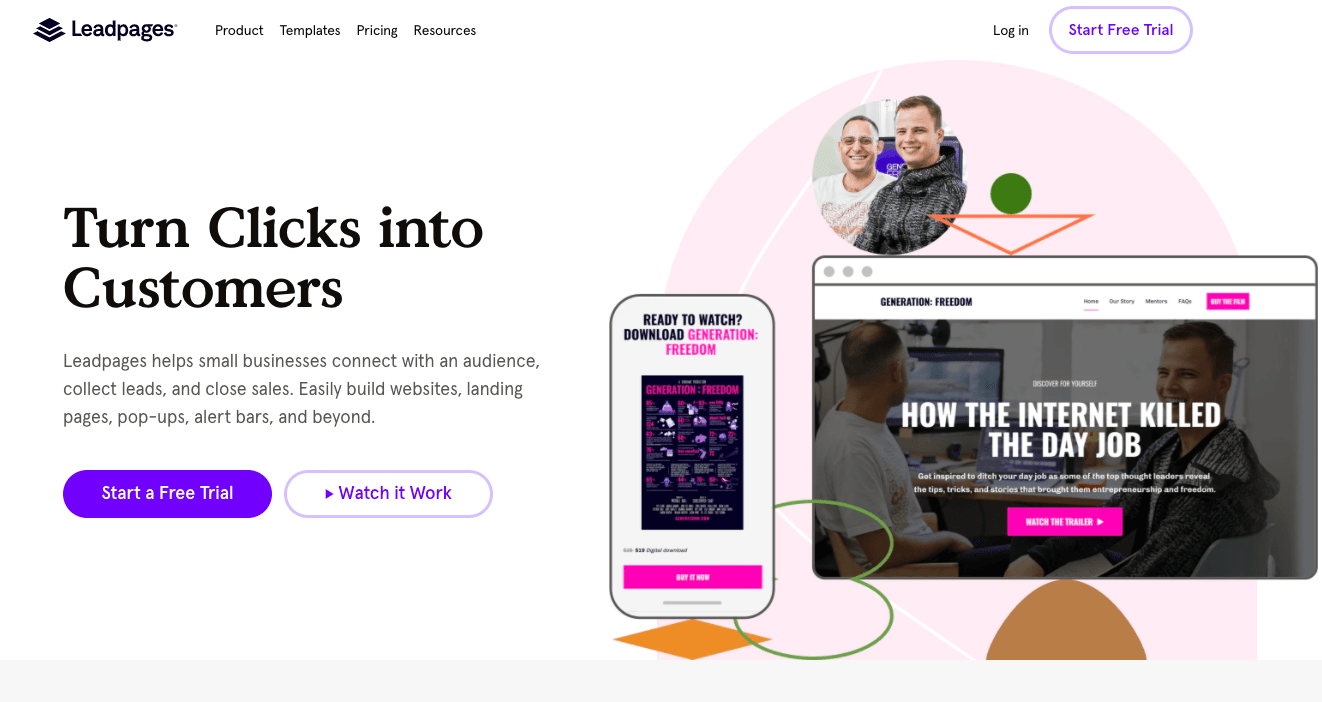 A notable and robust library of customizable templates 
Leadpages offers you a magnificent library of editable templates. These templates can be fully customized and help you to create landing pages and other content.
Along with creating landing pages, you can also create pop-ups and alert boxes, to add them to your website to generate more leads.
The drag and drop feature helps you in customizing your landing pages according to your preference. Whether you want to start from scratch or use one of the templates and customize, the process is simple and easy.
Create a testing design and verify the response you get from your audience. Quit guessing and work according to trends to effectively generate leads and target a larger audience.
Numerous Integration options 
Leadpages has partnered with many third-party services. These include email marketing tools, payment processors and social media advertising platforms, etc., to avail you of the best possible options.
No matter what you are aiming for, be it growing your email list, generating registrations for an event, selling products, or encouraging your audience to act, Leadpages has you covered. With Leadpages and its amazing features, any task is attainable.
Leadpages, however, come with certain drawbacks, which we will discuss in the review ahead.
Pros
Leadpages has a variety of high-end editable templates that you can use for different projects.
It has a user-friendly and hassle-free landing page editor.
You do not require an existing (WordPress) website.
Leadpages comes with an in-built split testing tool and conversion reporting.
The optimization tool in Leadmeter offers you real-time feedback on your page designs.
The Checkouts feature allows you to sell your products directly from your page.
Unlike tools like Instapage, Leadpages does not charge fees for what percentage of visitors or leads your page generates.
It is a cheaper option when compared with other available in the market, which includes Instapage and Unbounce.
Leadpages comes with a 14-day free trial. This trial gives you enough time to use the features offered and see if they deliver the required results.
Cons
The builder restricts your creative freedom when compared with similar competitor Instapage.
The Leadmeter does not function on all the available templates.
It is pricier than most of the simplest plugins offered by WordPress.
Features are available according to the plan you choose.
How to make the best use of Leadpages templates?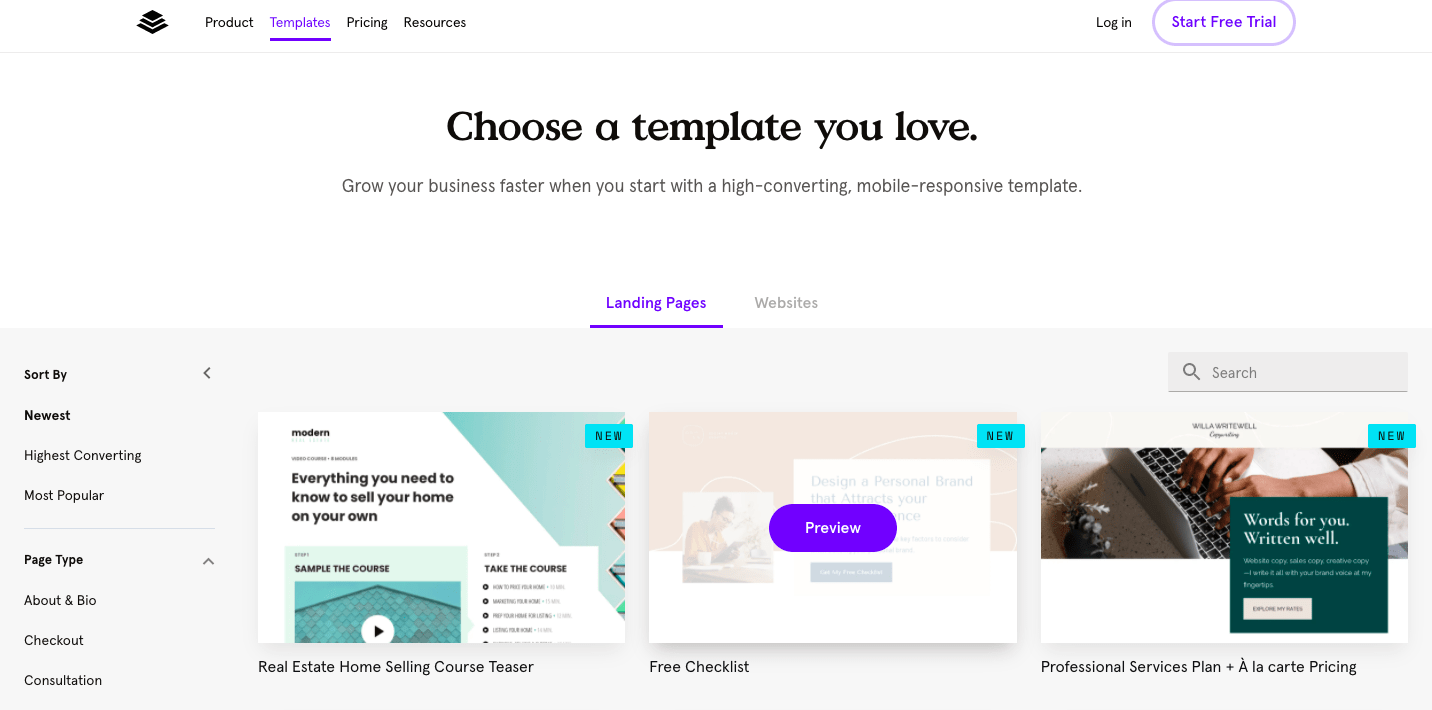 The templates offered by Leadpages are one of the most convenient and easy-to-use templates in the industry.
They provide a wide range of 150+ templates meticulously designed by skilled designers considering each purpose and encompassing all industries.
Are you looking for a landing page for a product listing and pricing, or maybe a free guide page for your tech firm or startup?
Well! You are in luck.
Leadpages has already done it for you.
You only need to click, edit according to your style, add your details and you are good to build a highly convertible landing page according to your needs.
Leadpages offers their templates in two options:
The quality templates usually have very few customizations available. Templates come in handy and save you a lot of time. However, you need to understand the downside of using them.
How to get started with Leadpages? 
Easily accessible and high-quality templates come in handy when you want to get leads and sales for your business.
However, it does have its pitfall. To select an option best suited for you, you need to go through this wide variety of template collections.
This might waste a significant amount of your time unnecessarily.
To overcome this issue, you are given a questionnaire after signing up for Leadpages. This questionnaire helps in recommending to you the best templates available according to the answers you filled in. Thus, this saves a lot of time.
Questions asked are as simple as the aim of your landing page, or website, etc… narrowing down the available options. This process helps in seeking the best available template for your purpose.
The quick start wizard offers you relevant templates.
Having limited and best-suited options increases your efficiency and speeds up the decision-making process.
If you wish to look at the complete collection of templates, all you need to do is click on the "Browse all templates" link.
Once you decide on the template of your choice, you are redirected to the content editor.
Here, you can start the customization process.
Steps to build a landing page using Leadpages
Firstly, visit Leadpages to get started.
Upon landing on the home page, you will be given two options to choose from:
Option 1: You can simply log in
If you have already signed up for your free trial, or have an account registered with Leadpages, click on "Log in," located at the top right corner of the page.
Fill in your credentials with which you have registered and proceed to log in.
Option 2: You can go with the 'Start Free Trial' option.
If you would like to try out Leadpages, click on the "Start Free Trial" button.
Proceed to select your package based on a monthly and annual basis.
Enter your contact details and fill out all other information.
You will have to fill in your card details to get started with your free trial. However, you will not be charged during these 14 days of the free trial. You need to cancel your plan within those 14 days if you do not wish to continue or incur a charge.
Once you are through the login process, you can get started with the process of building high-end convertible landing pages.
Head towards the "Create New Landing Page" button located in the right corner.
Once you click on the option, you need to select a template according to your preferences. The pre-built sections in these templates, like a navigation bar, footer, placeholder widgets, can be edited and customized.
Give your page a name and click "Continue."

Click on the "Page Types" button in the top left corner of the page. Here you will see various categories based on types and industries for templates. These categories make navigating easier. If, for example, you need to build a landing page for your consultancy, you only need to search "consultation" and choose from the available options under it.

To preview the template before finalizing it, click on the "View" button on the template. It helps you in understanding how a template looks when viewed from a customer's perspective.

Once you choose the template of your choice, you can proceed to the editing part. The template I have selected is for reference purposes.
Now that you have decided upon the template you wish to use, click on "Use This Template" in the top right corner of the page. Continue to edit and customize your template.

Name the page you are building. This will help you identify all the pages that you will create. Click on "Continue."
Your template will be displayed on your screen, as shown below.

You can now edit the template of your choice. Before proceeding, let us understand some of the features that come in handy for editing. If at any point, you need help from Leadpages, there is a button in the right corner of the page with an issue mark.

Upon selecting the help option, you will get different options to connect the support team of Leadpages. You may talk with a representative, open a ticket, find your solution in the FAQ section, and there are a few other options as well.
 You will see a button with a symbol of two arrows on the extreme right corner in the extreme right corner. It is used to undo or redo your last performed action. The work you do is saved automatically, and you do not need to keep it manually each time.
In the extreme left corner, there is a dashboard that reads "Layout." This option helps in customizing the settings for all sections. You may change the width and height of rows, columns, change pictures, adjust the layout, and rename the sections.

Each template design has unique sections. The headers, footers, text style, columns, rows, and titles differ with every template. Once you select the "Layout" option, you will see the sections used in that particular template. If you wish to rename a section, click on the pencil icon. You will find it next to the name of the section. These names will not appear on your website in real-time. It helps in identifying the pages you created and editing them.

Upon renaming the section, click on, "Save." I have renamed all the sections of the landing page in the example shown above. I have created the basic copywriting structure, which starts with the headline, sub-headline, chapters, FAQs, call to action, and a footer.
If you do not need a section in the given template, simply delete it by clicking on the trash icon next to it.
To rearrange the sections for ease of use, click on the six dots symbol. Drag and Drop wherever you wish to have that section.

You can add as many sections as you like. Click on the "Add a section" option available at the bottom of the page. You can add up to 6 columns in each row.

The key to attract your audience is simplicity. Do not overwhelm your potential customers by creating too many sections. Keep the landing page simple and avoid using too many sections.
As soon as you are done customizing and editing your landing page, all you have to do is click on the 'preview' button to view how your page will look like.

Now, when you have viewed your page, simply hit 'publish' to get your page live.

Your job doesn't end here. Add your domain and slug your page URL to publish it.

How to use Leadpages to curate your entire website? 
Similar to services offered by Wix and Squarespace, you can create an entire website using Leadpages instead of the usual lead-magnet landing pages.
One benefit of this feature for both WordPress users and non-users is that you can build a conversion-focused website within minutes and check its feasibility.
Once your website gets a good response, you can build a full-featured WordPress website. As soon as you manage to generate leads or sell a product, you may want to expand or add to your existing concept.
On the other hand, if the response is not that great, you can try fixing and rebuilding your WordPress website. Thus, you will not waste a lot of time and energy.
The Leadpages Site Builder is a feature worth having because of the wide variety of templates for individuals that have stellar business ideas.
Even if you need a basic website without many options, Leadpages is a good option. Check out the best templates given here to build your whole site using Leadpages.
We won't go that much deeper into discussing how to create your website using Leadpages. The process is pretty much similar to that of creating a landing page with Leadpages. The only difference is now you will get to see a new menu of sitewide settings, basically your navigation menus.
Conversion Tool by Leadpages
Along with using the page builder option to make landing pages, you can also use the conversion tools offered by Leadpages. Pop-ups, alert boxes, option texts, and trigger links are a few elements available.
These conversion tools are often an add-on to your existing WordPress website. Instead of investing in a tool like Thrive Leads or OptinMonster, you may use Leadpages as a robust email opt-in form builder.
How to create a Leadbox with Leadpages 
Most likely, by now, you will have already come across a Leadpages pop-up, also called a Leadbox. They are present everywhere. They are compact and up-to-the-mark pop-ups that help you in generating more leads.
Within a few minutes, you can create these Lead boxes using the automatic settings. These Leadboxes will enhance your lead generation and skyrocket your visitor's interest.
Leadboxes do great work at forcibly catching the eyesight of your visitors.  It improves the engagement of a user with the website.
You can set your pop-ups to appear in the following ways:
When a user clicks a button or link
On a timer
You may also choose to connect with your email service provider so that new subscribers are added to your mailing list.
To create a leadbox, you can easily use the drag and drop builder. Now you can see a few changes in the widgets and navigation options, as seen below.
When you publish any leadbox in Leadpages, you can now choose how it will be triggered:
Here are the available options:
Plain text link
Button link
Image link
Timed popup
Exit-intent popup
What makes these options more beneficial is that you can easily integrate a leadbox generated through it into any content which isn't a Leadpages landing page.
Here is a Pro Tip for you: Always Enable Leadbox Tracking.
Leadbox may prove highly useful as it allows you to track every visitor's interaction with the pop-up you set. Moreover, you can use Google Analytics to evaluate the performance of your Leadbox. In this way, you can analyze how your pop-up is affecting engagement and evaluate it accordingly.
How to create alert bars with Leadpages?
Have you stumbled upon the little bars at the top of your screen that provide a free product or announce a sale/giveaway?
Those are the alert bars. Leadpages scores them a good 9 on 10 in their department.
They might seem trivial. However, they are essential for the success of your website. With Leadpages, you can create subtle and non-intrusive alert bars that demand the attention of your audience.
Designing these alert bars is super easy. Leadpages has a step-by-step instructional guide that helps you with the process from the basics.
To create alert bars, you can simply choose a premade template layout and customize the text as and when required.
Once you complete selecting a template, you can publish your alert bar on any landing page or site created with Leadpages or any other tool.
You can additionally integrate your alert bar with any Leadpages integrations and also track your performance with analytics, as discussed above.
What do you have to do with Leadlinks and Leaddigits?
Lead links or Email trigger links are an amazing feature that allows your prospects to check the promotions in just a click.
With Lead links, you only need to enter the link in the Email, and when your audience clicks on it, they are automatically signed up without the need for any additional info.
Just a click and they are registered. It is an excellent way for you and your affiliate to target more audiences.
Leaddigits by Leadpages is another cool feature that helps reach the audience that spends most of their time on their mobile phones.
Most people prefer texts instead of emails. Thus, Leaddigits allows you to collect the phone numbers of your prospects. You can then obtain signups, send coupons or promote your business via texts.
Leadpages Integrations
Leadpages Integrations is again one of the handiest functionality offered by Leadpages. Usually, not many landing page editors integrate with many social media, payment gateways, CRM, and video programs.
With Leadpages Integration, you can connect your landing page with any email service provider, webinar platform, payment tools, analytics tool, social media, which is a big win.
A/B testing
Neo, a primary visitor, was the first to take an A/B test. 
Only theoretical knowledge is of no use in this business. It gets you nowhere. You cannot just create a landing page and hope to generate leads immediately. It is not that simple. You need to check and test the pages you build. You can control the page, replicate it and tweak it from there.
You can even control the traffic using Leadpages. It allows you to control the proportion of traffic that goes into every variation. This is one of the Leadpages advanced features.
Customer Service offered by Leadpages
Unlike other companies that offer chatbots to provide support, Leadpages has live help available behind the avatars. These representatives have an enormous library of resources and knowledge base to solve your issues. The customer service is highly prompt, and I have had a good experience with it.
This might not be a crucial feature to drive your decision. However, if you ever find yourself stuck, you will get immediate help.
Pricing Plans offered by Leadpages 
You have the option to try out Leadpages for 14 days free of any charges.
However, once you decide to avail it for a longer time, you need to select an appropriate pricing plan.
The standard plan only supports a single site. It is priced at $25/month and billed annually. You can even opt for the monthly usage option, which will cost you $37 per month.
The Pro-Plan supports up to three sites and charges you $48 per month when billed annually. It costs $79 if you decide to opt for it monthly.
The Advanced plan supports a maximum of 50 sites. It costs $199 a month when billed annually. The monthly charges are $321.
A low-priced yet modern plan is also available for $15 a month for anyone who wants to use it to make a website. However, it does not offer all of the Leadpages features.
The features offered by Leadpages make it a definite worth-it service!
Get Started with LeadPages for Free →
Final words
You can choose from a diverse range of templates, customize using the drag and drop feature, steer clear of conversion-optimized traps, and generate leads effectively.
All this at an affordable price!
For anyone looking to make landing pages and websites efficiently and use advanced features like integrations, A/B testing, Leadpages has your back.
All these features offered by Leadpages make it a definite worth-it service.