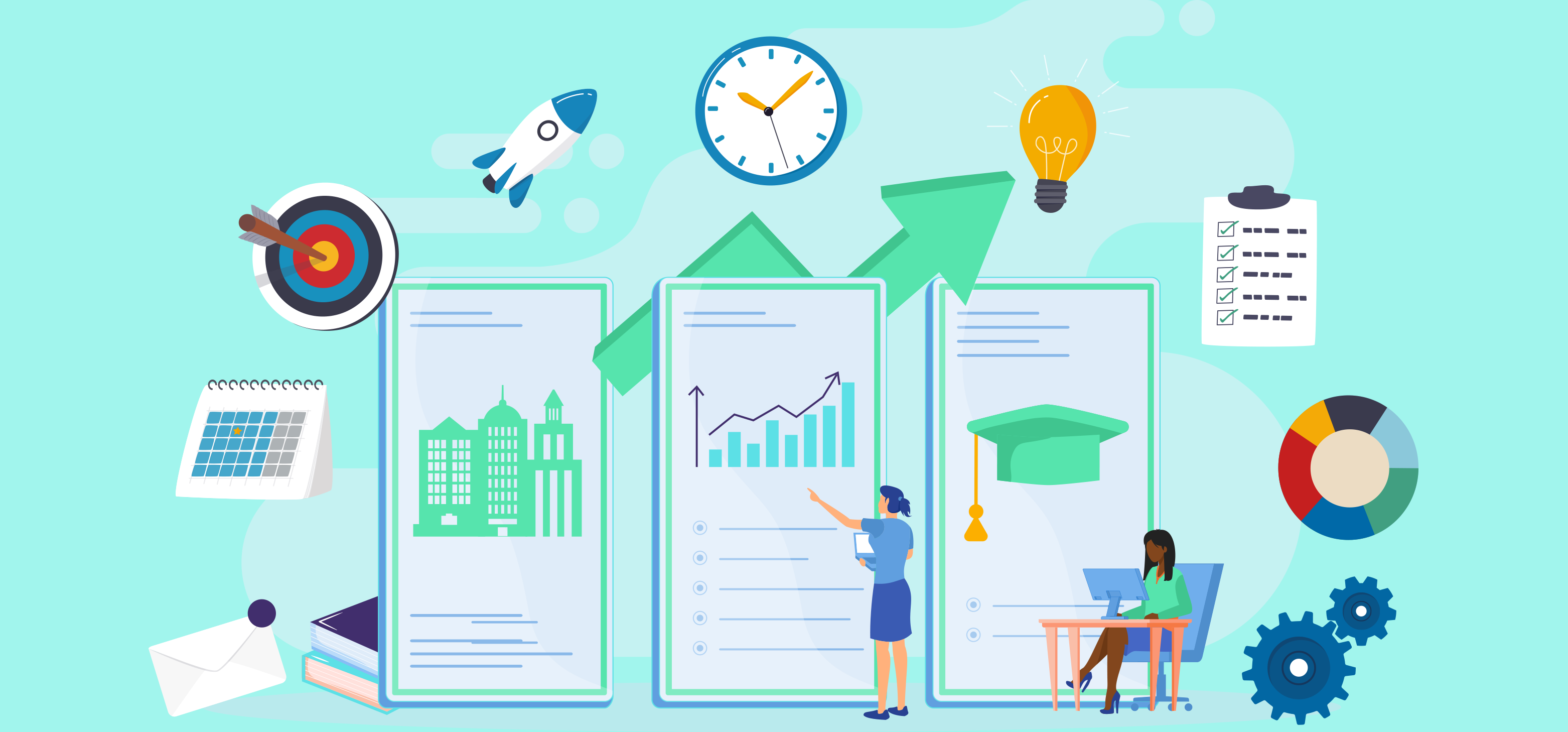 As a school leader, teacher, or staff member, you know the challenges and responsibilities that come with managing a school. 
From managing class schedules and student/teacher records to communicating with parents and other important stakeholders, the workload can be overwhelming.
Without the right tools, it's easy to miss significant tasks and create confusion and problems. 
But it doesn't have to be this way. 
With the right school management software, you can streamline your responsibilities and ensure that everything runs smoothly.
From automating class schedules to simplifying communication with parents, it can help you manage your school more efficiently and effectively. 
Don't let the burden of paperwork and administrative tasks weigh you down – choose the best school management system for your needs and watch your school thrive!
What is school management software, and why is it important?
School management software is a type of educational tool that helps schools manage different administrative and academic tasks that can be tedious if done manually. 
It can help schools keep track of student progress, attendance, and grades, and provide valuable insights and data for decision-making and strategic planning.
School management software can help schools run more smoothly, improve the educational experience for students, and allow school staff to focus on their primary responsibilities of teaching and learning.
SchoolStatus is the school management software for teachers and administrators who want to stay on top of student data, communication, and compliance. 
With SchoolStatus, you can easily access student data from various sources, such as state assessments, attendance, and grades, and view it in a simple, visual format. 
SchoolStatus also provides direct communication tools for teachers and administrators to connect with student families via call, text, and email. 
Plus, you can also use SchoolStatus to send forms directly to parents' phones, send mass text messages, build great-looking on-brand emails, track & record compliance data, query data on teacher attendance, and student discipline, and more.
School Status also enables you to identify at-risk students and help them before it gets too late, and get parents on video calls with one link sent via text. This, broadly speaking, is a very helpful feature.
Key Features of SchoolStatus
Compliance Tracking & Recording
Learning Loss Identification
Mass Messaging
Newsletters
Teacher Observations
Video Chat
Pricing 
School Status offers a demo. You can reach out to them to get the exact pricing on the software based on your requirements.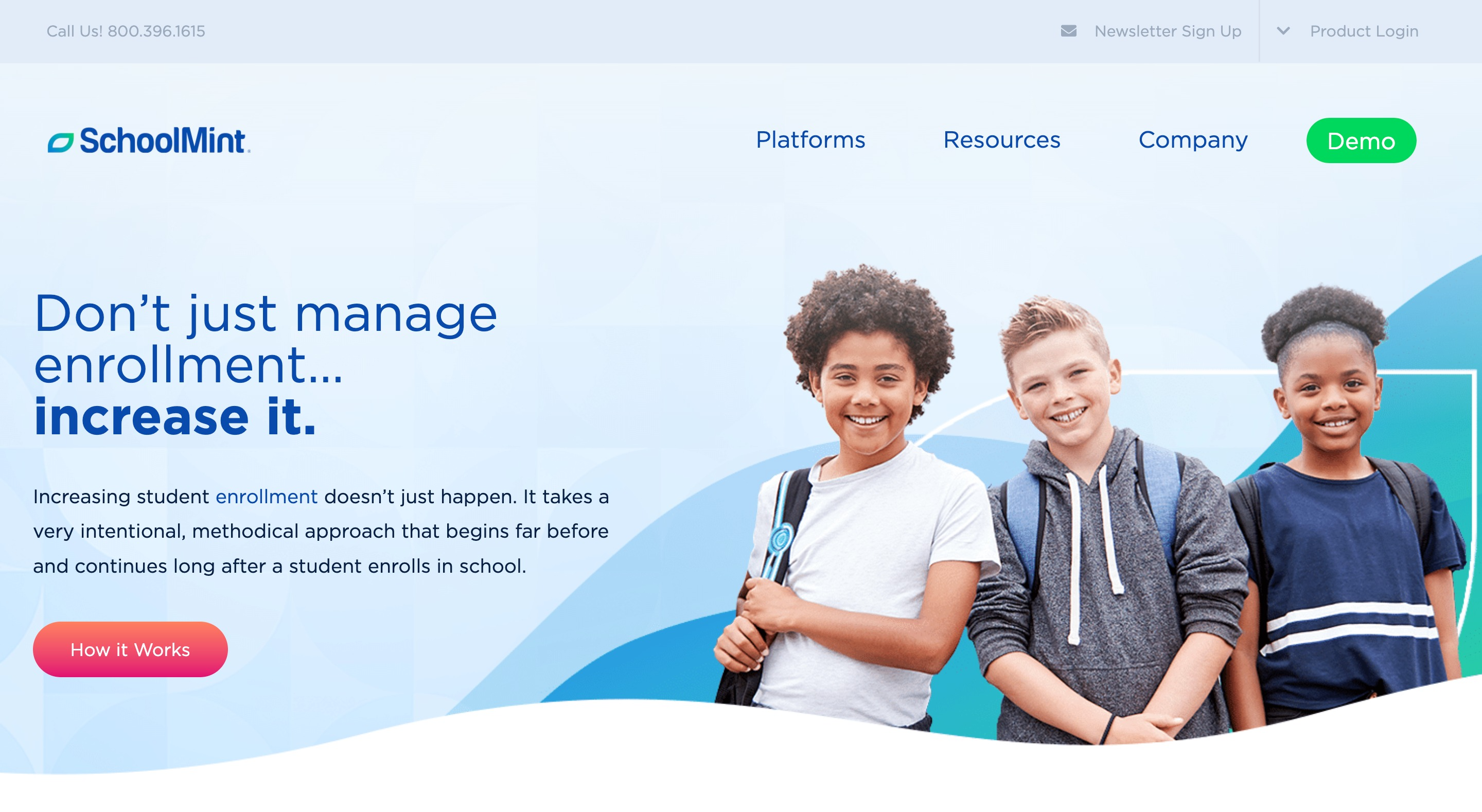 SchoolMint offers a complete suite of school management system solutions.
For instance, one of their products is SchoolMint Thrive. It is the perfect solution for schools looking to provide mental health training and support for their teachers.
SchoolMint Grow is another SchoolMint solution for schools looking to provide instructional coaching and professional development for their teachers. 
What's more?
With the SchoolMint Hero, teachers can identify and manage student behavior more effectively.
Finally, Schoolrunner is a student data management system that helps teachers keep track of student data and performance. 
It includes features such as real-time data dashboards, custom reporting, and automated email notifications, making it easier for teachers to stay on top of student performance.
Key Features of SchoolMint
Identify and manage mental health needs 
Instructional coaching and professional development 
The suite of digital tools to monitor student behavior 
Real-time data dashboards 
Custom reporting 
Pricing
SchoolMint allows you to access the solutions by requesting the demo. You can then get the exact price for the tool based on your needs in terms of features.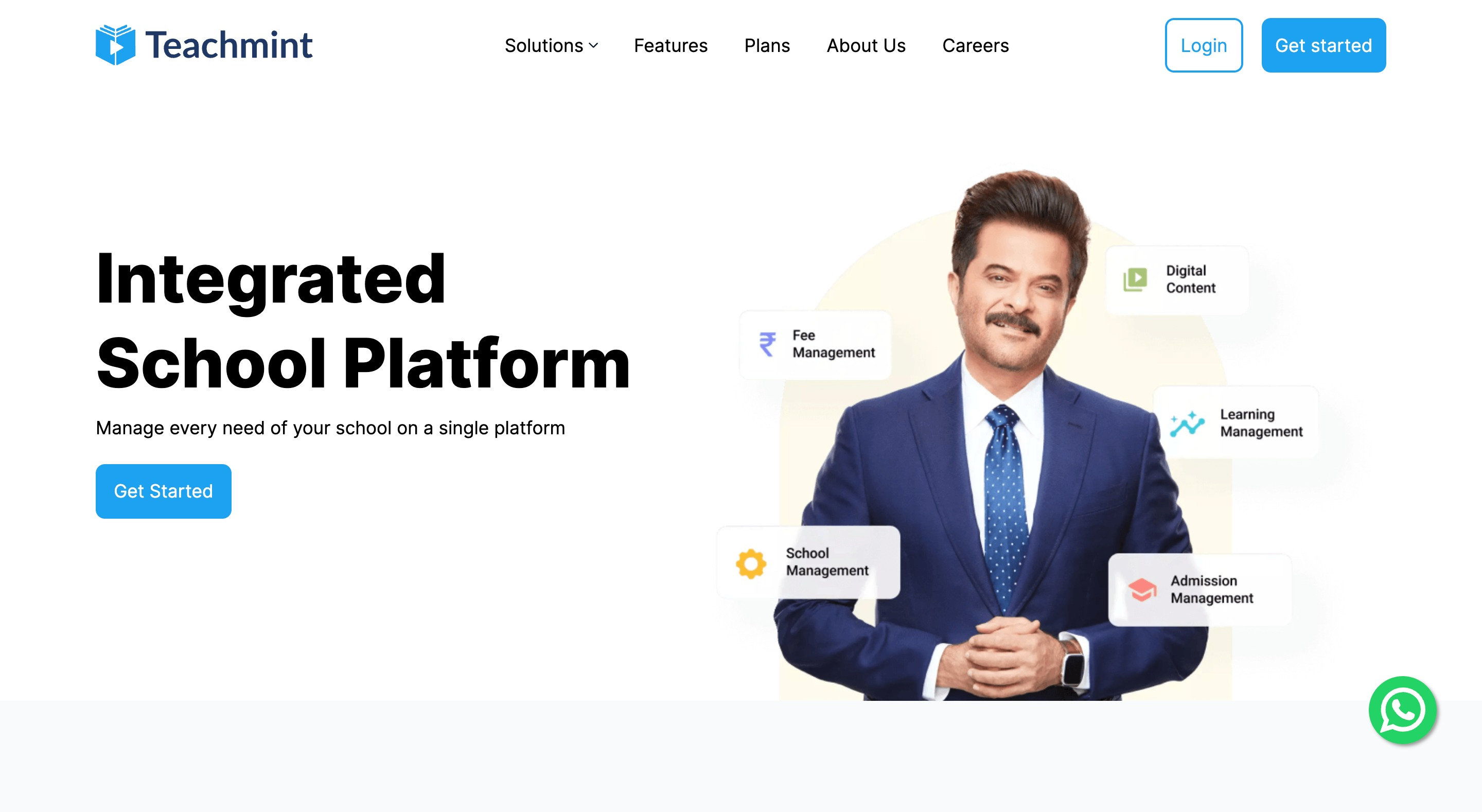 Teachmint is a comprehensive school management software that helps administrators manage their schools effectively without any hiccups along the way.
The Fee Management feature helps you to easily send automated reminders, customize your fee receipts, and offer installment options. 
The Admission Management system helps streamline the traditional admission processes and offers convenience to parents, students, and other stakeholders.  
You can also manage multiple admins, get quick access to information, ensure transparency in work, and more with the User Management feature.
The Attendance Management feature helps keep track of your students like never before. With the Exam Planner, you can set up exam schedules, generate automated rank boards, create subject-wise exam plans, and more. 
And Performance Management helps get a detailed report of students' performance and helps in their holistic development. 
You can leverage instant evaluation, quick solutions, sharable question links, E-books, and more with a wide range of practice questions as well.
Key Features of Teachmint
Fee Management
Admission Management
School Yearly Calendar Planner
Attendance Management
Website Builder
Create Tests Within Seconds
Homework & Student Engagement
Pricing
Teachmint's Basic plan is completely free to use. They offer two paid plan options:
Advanced
Pro
They haven't disclosed the pricing on the website.
Vidyalaya is a comprehensive school management software designed to make school administration easier.
It helps streamline processes, enhance collaboration and communication, and improve decision-making. 
Its School ERP provides a single platform for managing the entire school's operations, including admissions, student management, attendance, fees, HR, payroll, assessment, resources, accounting, transport, inventory, and library management.
Moreover, it offers a range of benefits to schools. 
It helps automate daily school activities, eliminates the need for manual paperwork, and makes it easier to access data and monitor activities. 
Vidyalaya also has a user-friendly interface that allows teachers, administrators, and other staff to quickly access and update information. 
Lastly, it is highly secure and compliant with GDPR and other privacy regulations. 
Key Features of Vidyalaya
Admission Management
Student Management
Attendance Management
Fees Management
Student Assessment
Library Management
Pricing
Vidyalaya offers a live demo of its product and custom pricing plans.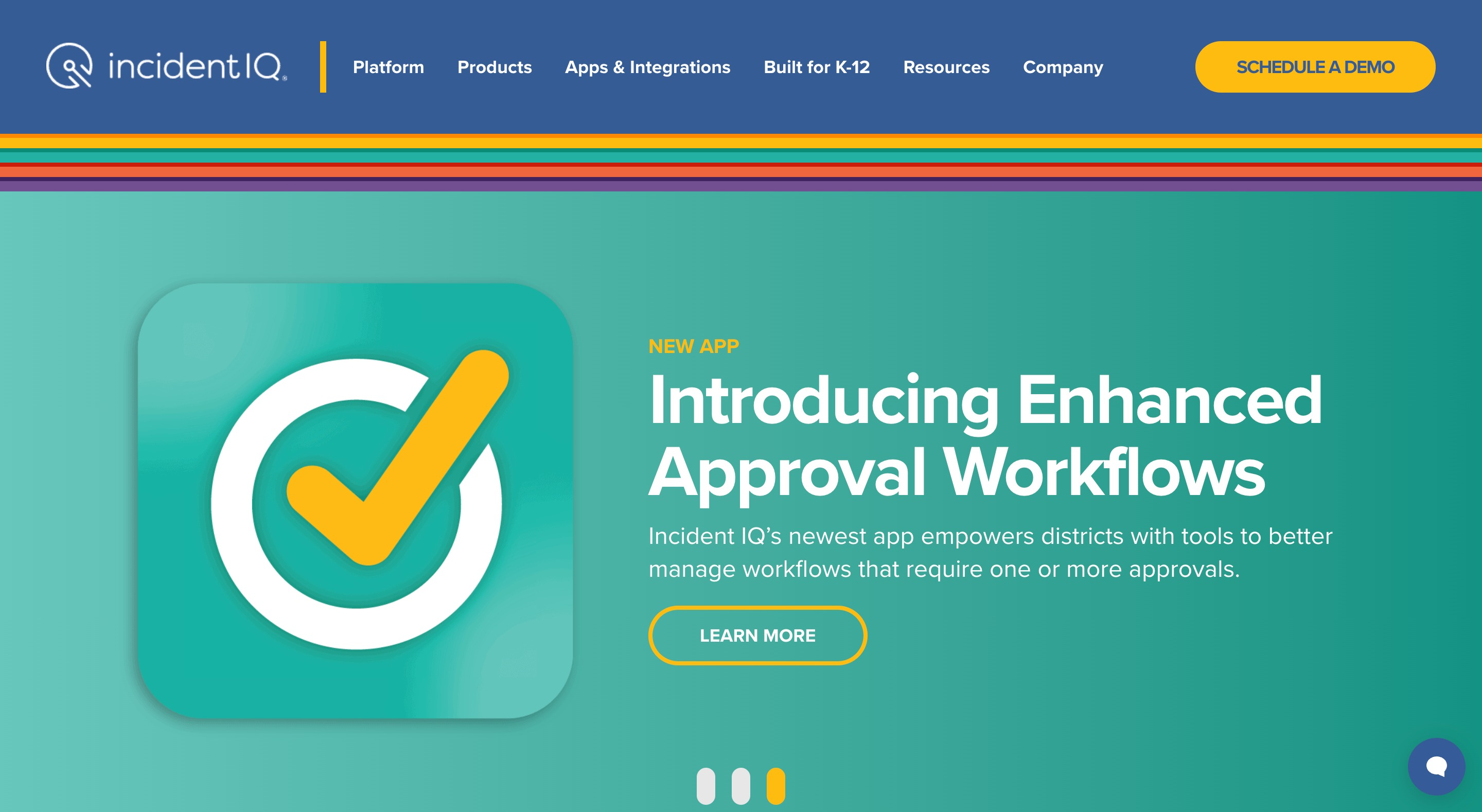 Incident IQ is software designed to help K-12 schools manage and support their IT operations.

It provides a range of tools and features to make it easier for schools to keep track of their technology assets and provide efficient support to students and teachers.
Ticketing and case management assists schools to track and resolve IT issues more efficiently, with automated routing, prioritization, and notifications to help keep things organized.
Reporting tools like user-friendly dashboards, time tracking, and surveys make it easy to track and measure the performance of your IT support operations.
Additionally, students and teachers can access Incident IQ from their mobile devices or through a self-service portal, making it easier to get help whenever and wherever they need it.
You also get a central dashboard that allows schools to track and manage their hardware assets, ensuring that all learning devices are secure and up-to-date.
Key Features of Incident IQ
Dashboards
Ticketing and case management (solve IT issues quickly)
Reporting tools
School hardware management
Mobile access
Pricing
To try the product demo, you can reach out to the team at Incident IQ.
Alma is a cloud-based, comprehensive K-12 student information system that helps educators and administrators save time and better manage student performance, attendance, and more. 
With Alma's easy setup and modern design, teachers and administrators can quickly access data and insights into student learning, enabling them to make informed decisions on how to best support students. 
Alma's integrated communication tools help to foster active engagement between teachers, students, and families, while the student and parent portals provide a convenient way for families to stay informed. 
The curriculum tools are based on a backward design model, allowing teachers to define learning targets, create units and lesson plans, and automatically map lesson plans against the school calendar. 
The flexible grade book and custom report cards give teachers and administrators the control and flexibility to teach and grade the way they choose. 
All of this, combined with Alma's emergency notification system, makes Alma a considerable option for schools looking to improve operations and student outcomes.
Key Features of Alma
Easy setup and modern design
Better insight into student learning
Student and parent portals
Curriculum and assignment tools
Customizable report cards
Pricing
You can schedule a live online product tour and get more information on the pricing.
Veracross is the perfect system for private K-12 schools looking for a single, unified solution to manage every aspect of student life. 
Be it academics, student life, and admissions, or development, business, tuition management, and health, Veracross offers a comprehensive suite of integrated tools to keep your school running smoothly. 
With Veracross, you'll have a single database that manages all your school's data, from student and faculty information to course catalogs and grades, simplifying data entry and reporting and giving you more time to focus on the success of your students. 
The intuitive user interface makes it easy for staff and students to use, and the powerful search and reporting functions allow you to quickly find the data you need. 
Key Features of Veracross
Single database for all your data 
Intuitive user interface 
Powerful search and reporting functions 
School accounting management
Integrated with over 150 third-party tools
Pricing
Depending on the size of your school and your specific needs, Veracross offers custom-tailored pricing plans. Contact their customer support for more details.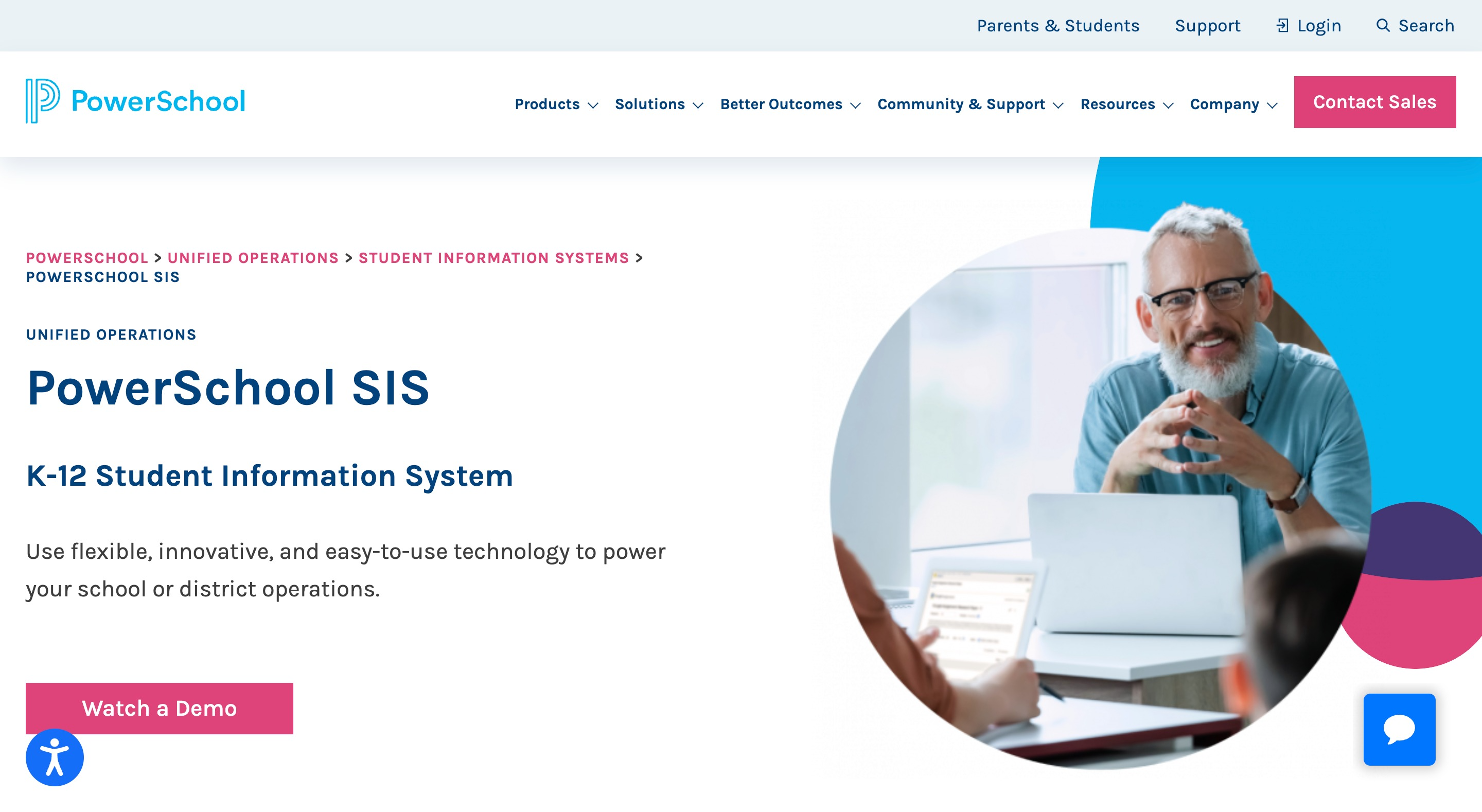 PowerSchool SIS is an extended student information system that makes it easy for schools to manage and track student information, including but not limited to attendance, grades, health records, and more.
PowerSchool SIS offers a variety of features designed to increase efficiency and productivity, such as address and boundary verification, advanced grading calculations, asset tracking, attendance, and other helpful functionalities. 
They also provide a customizable database, a customizable interface, data import and export tools, data integrity and security measures, and more.
In addition to that, it offers a mobile app for convenient access to grades, progress, and responsibilities for both parents and students.
Also, the course recommendations and graduation progress tracking are great for increasing student engagement.
Key Features of PowerSchool SIS
Increase Real-Time Engagement
Peace of Mind with Secure Data
Advanced Grading Calculations
Course Recommendations
Customizable Interface
Graduation Progress Tracking 
Pricing
To get a demo and know more about the pricing plans, you can talk to their sales team.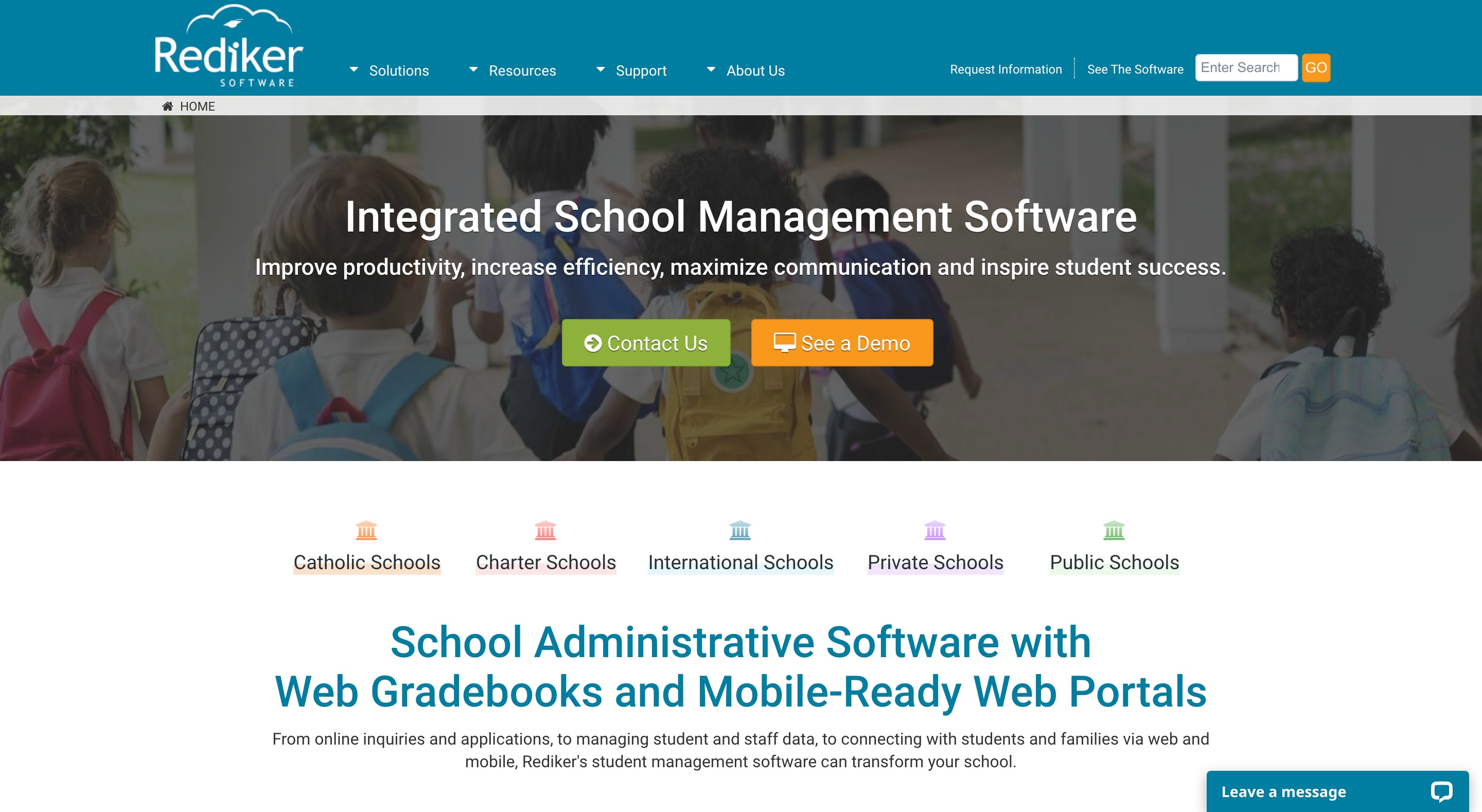 Rediker is an excellent school management software designed to help improve productivity, increase efficiency, maximize communication, and inspire success for students. 
Some of its best features include online inquiries and applications, student and staff data management, web portals for teachers, students, and parents, and mobile-ready web grade books with IEPs and Google Classroom integration. 
There is also a powerful master schedule builder that can help you create the perfect school schedule, and its mobile apps allow you to manage student data on phones and tablets. 
Rediker also aids you in managing your entire admissions process, from online applications to enrollment, and it has a virtual enrollment and re-enrollment feature for public schools, charter schools, and districts.
Lastly, you can use Rediker to manage student billing and complete fund accounting for your school, as well as to build an impressive, affordable, and responsive website for your school community. 
Key Features of Rediker
Student and staff data management
Google Classroom integration
Mobile apps for managing student data
Complete admissions process management
Student billing and fund accounting
Pricing
Head over to their support page for a product demo and pricing details.
Eduwonka is a smart, simple, and effective software for educators. It offers a fully integrated suite of tools for educational management, student information, and collaboration. 
With dedicated tools such as a syllabus tracker and online attendance marker, alongside real-time data-driven insights into students' academic performance, institutions can now be empowered with the right data to make intelligent decisions faster. 
For starters, Eduwonka comes with an in-built messenger and noticeboard to keep communication at the heart of your institution. 
Moreover, with its SMS broadcast feature, schools can share timely updates to parents, students, and teachers on key events such as school closures or changes in school timings.
Eduwonka also comes with rich data visualizations and dashboards to help teachers and administrators understand patterns and make decisions faster. 
Additionally, its access control feature ensures the ongoing security of your sensitive school data by giving the right access permissions to the right people within your institution. 
Furthermore, it can simplify daily tasks such as student enrolment, management, and updating of student data. 
Not to mention, its financials feature can help schools keep track of incoming, and outgoing payments, as well as when financials are in the red. 
Key Features of Eduwonka 
Syllabus Tracker 
Online Attendance Marker 
Real-time Data-driven Insights 
In-built Messenger and Noticeboard 
SMS Broadcast Service 
Pricing
Eduwonka's paid plan starts from $50/year for 50 students and can go up to as high as $15000/month for around 5000 students. 
OpenEduCat is an open-source cloud-based educational management system for schools, colleges, and universities. 
It helps the institute to manage student information, faculty data, courses, exams, admissions, and financial information with just a few clicks. 
It allows for an easy-to-follow and transparent registration process, a comprehensive student profile, multiple evaluation methods, automated report cards, and an automated fee reminder. 
It also features an easy collection process, expense and income tracking, easy reconciliation, and detailed compliance reports.
Not only that, but OpenEduCat also provides an advanced faculty profile, connected with HR Management, classroom scheduling, course scheduling, and payroll & expenses. 
Key Features of OpenEduCat
Faculty data management
Course management
Multiple evaluation methods
Automated report cards
Automated fees reminder
Detailed compliance reports
Pricing
OpenEduCat starts at $199/year for 500 users and costs extra for different integration options.
School Knot is a school automation and analytics company that offers centralized, user-friendly school management software that can be accessed online via the web or mobile. 
School Knot helps to improve communication and efficiency between parents, students, teachers, and school faculty. 
It allows for seamless communication with its smart notification system, and its admissions feature allows for growth and robust admission management. 
It also has a finance management system with fee reminders, offline and online fee collection, and detailed collection reports. 
It also offers – leave application management and a secure SSL-certified portal for data protection. 
Key Features of School Knot
Seamless Communication
Robust Admission Management built with Analytics.
School Branding (Customized mobile application)
Multi-Branch Management
Exam-Result Management
School Bus Tracking
Pricing
You can contact them to know more about the demo product and their pricing plans.
Conclusion
Choosing the right school management system for your school is an important decision and one that can have a big impact on the success of your school. 
We've outlined 12 of the best school management software solutions and systems to help you make the right choice for your school. 
Each of these systems offers unique features and pricing plans, so be sure to consider your specific needs and budget when making your decision.