Picture this – you're in a foreign country and dying to catch up on the latest episode of your favorite Netflix show.
Alas, it's not available in that region.
Or, let's say you're a journalist working on a sensitive story and need to communicate with your sources securely.
Enter NordVPN, which allows you to connect to a server in your home country, and voilà!
Simply put, VPN allows users to connect to the internet securely and anonymously by encrypting their online activity and routing it through a private server.
With over 5,000 servers in 60 countries, NordVPN offers top-of-the-line encryption, lightning-fast speeds, and a slew of other nifty features that make it one of the best VPNs on the market.
NordVPN's double encryption feature ensures that even if someone intercepts your messages, they won't be able to decipher them.
So if you want to:
Access geo-restricted content
Bypass internet censorship
Protect against hacking and identity theft
Etc.
Then keep reading!
What is NordVPN?
NordVPN is a virtual private network (VPN) service that helps you protect your online privacy and security by encrypting your internet traffic and directing it through remote servers.
When you connect to NordVPN, your online activity is hidden from prying eyes, including your internet service provider, hackers, and even the government.
Be it securing your online activity, accessing blocked or geo-restricted content, protecting your privacy, or web downloading, NordVPN is an excellent tool for anyone who wants to stay safe and secure online.
Best NordVPN Features
Being headquartered in Panama is not the only reason to trust NordVPN. There are a lot of features that make it different and special.
Let's uncover them, one by one!
1. Security and encryption
When it comes to online security, hiding your real IP address is one of the easiest yet sure-fire ways to ensure that all the data you send and receive is hidden from everyone, including:
Government agencies
And your Internet Service Provider (ISP)
To put simply, NordVPN helps you keep your online identity, well, private.
Besides all, NordVPN makes your VPN experience robust and safe with the help of the following features it offers:
Robust data encryption: NordVPN creates a remote server and protects your internet connection with a really strong and powerful shield called AES-256, which makes it nearly impossible for anyone to break in and steal your data.
IP Address Protection: NordVPN makes sure that your IP address is protected all the time by disabling some internet protocols that can cause leaks. This way, your online traffic is always secure and private.
Kill Switch: If your VPN connection gets interrupted, the Kill Switch will quickly stop your device from going online. This protects your information from being exposed until the connection is restored, or you manually disconnect from the server.
To enable Kill Switch for specific applications, head over to NordVPN's preferences > Kill Switch and then add apps that you would want to quit if the connection to NordVPN gets affected.
Multifactor authentication: NordVPN uses Multi-factor authentication, an extra layer of security to protect your account. It means that you need to provide more than just a password to access your account, like a code sent to your phone.
DNS protection: When you type a website address, your computer needs to know its unique location on the internet, and this is done through DNS servers. NordVPN takes extra steps by using only its own DNS servers, which keeps your online activity private.
You can add new DNS and custom DNS servers by heading over to the preferences again.
2. Threat protection
NordVPN protects you and your data from ads, trackers, and malicious malware with the help of its threat protection feature.
Threat Protection works by leveraging NordVPN's extensive network infrastructure to monitor and block suspicious traffic.
This is done in real-time, and the system uses advanced algorithms to identify and prevent threats before they can harm your device or steal your sensitive data.
To see Threat Protection in action, simply head over to NordVPN's preferences, where you'll see Threat Protection settings.
Enable it, and you're all ready to browse the web safely.
You will also see another feature named "Use Lite Version". Turn it on and NordVPN will automatically block all the flashy domains and ads.
For example, let's say you receive an email with a suspicious link.
If you click on the link without proper protection, you could be directed to a phishing site that looks like a legitimate website but is designed to steal your login credentials or personal information.
However, if you have NordVPN's Threat Protection enabled, the link will be blocked, preventing you from accessing the potentially dangerous site.
3. Meshnet
Instead of connecting to a VPN server, Meshnet enables you to connect directly to other devices remotely. It allows you to access data and files remotely and send your online traffic through another device.
To connect multiple devices, log into NordVPN and activate the Meshnet feature on all the devices you want to connect.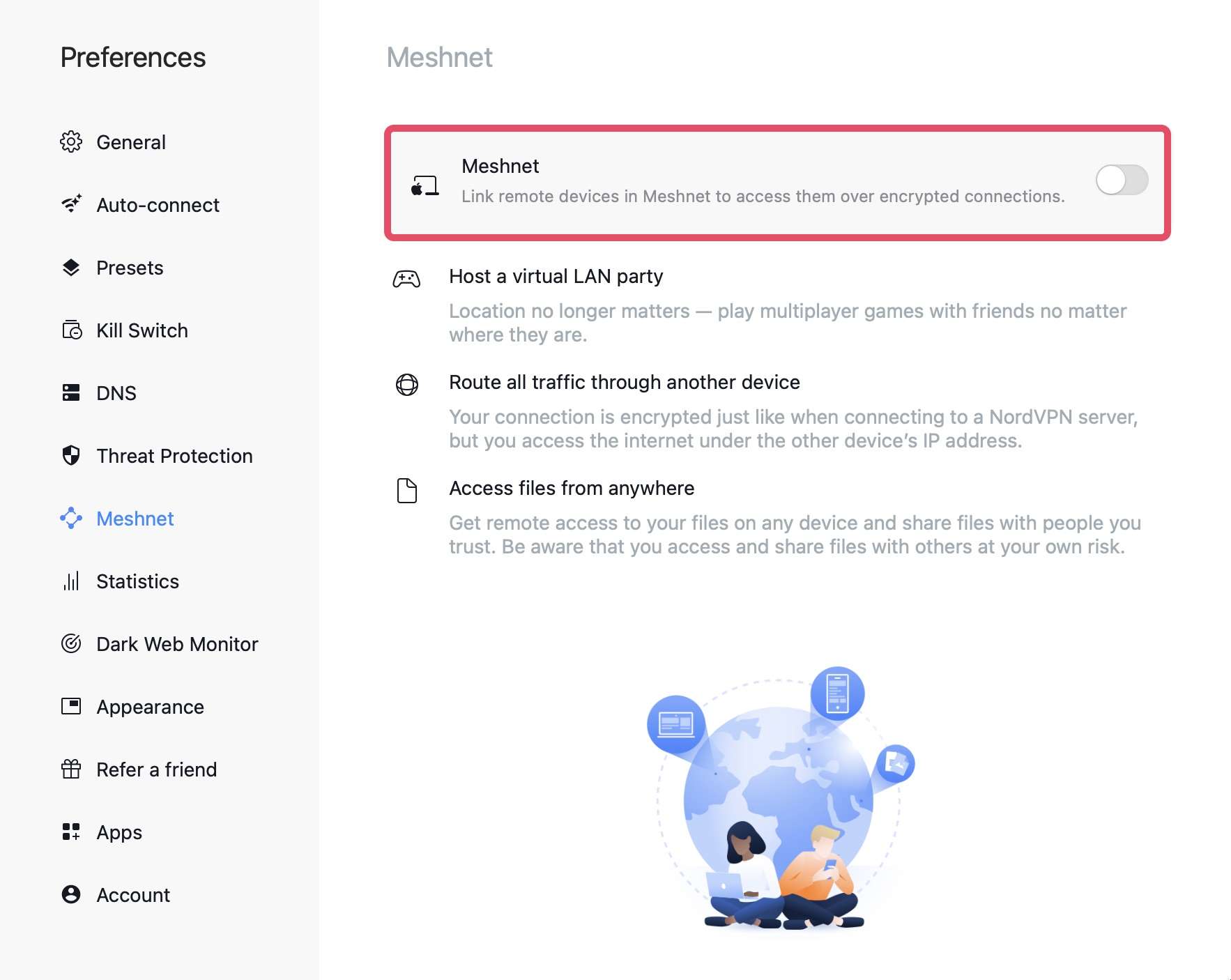 Once activated, the devices will be automatically connected.
If you wish to allow others to connect their devices to your network, you can send invitations to other NordVPN users or accept their invites.
Similarly, you can access other devices using the Meshnet Nord name or IP address.
In a nutshell, Meshnet allows you to:
Make your devices detectable on a local Wi-Fi network
Detect other devices on the same network
Share folders with other devices
Create a gaming server
And plenty more!
Note: You can link up to 10 devices using the same NordVPN account, or have up to 50 different devices of other users linked to one of your devices simultaneously.
4. Dark web monitor
NordVPN's dark web monitoring regularly scans the dark web for any compromised credentials, such as your email address or password, and notifies you if any of your information is found on the dark web.
For example, if you enable the dark web monitoring feature, and if your email address is found on the dark web, you will receive an email alert from NordVPN.
This alert will inform you that your email address has been found on the dark web and suggest that you take steps to secure your account by changing your password or other relevant details.
Like all, the dark web monitoring feature can be enabled from Preferences.
And once you turn it on, it's autopilot – it will take care of everything else.
5. Device compatibility
With a single subscription, you can protect your whole family, meaning you get to 6 secure up to 6 devices at a cost of one subscription.
Moreover, NordVPN is available on all devices and operating systems including – Windows, macOS, Android, iOS, Linux, and more.
These were some of the novel features that make NordVPN, well, NordVPN!
Remember that these are just some of its capabilities, and there's definitely more to it.
With that said, let's see how NordVPN performs when challenged.
Performance
When it comes to choosing a VPN, the most important thing to look out for after good security is – SPEED & PERFORMANCE of their servers.
Here's a look at how well NordVPN performs in terms of speed, stability, and uptime.
Speed
NordVPN's speed is generally quite good, with servers located all around the world.
However, as with any VPN, your speed will depend on several factors, such as:
Your location
Your device
Your internet connection
Here's a speed test I did on Speedtest.net from a remote village in India (with chosen server location = United Kingdom):
(Not bad considering this test was done from a remote village in India)
And here's a speed test from a 100 Mbps fiber connection:
NordVPN's speed is the best I've seen from any VPN yet.
Additionally, Cybernews did a great job in comparing different VPNs in terms of updated speed.
Here's the screenshot of top VPNs by Speed based on the last 30 day's data:
We can see that for the whole month, NordVPN stayed at the top when it comes to the highest download speed.
Similarly, if you're a gamer, you might find it exciting to know that NordVPN scores second just after Proton with an average ping of 78.3 (which is considered very solid for good gameplay).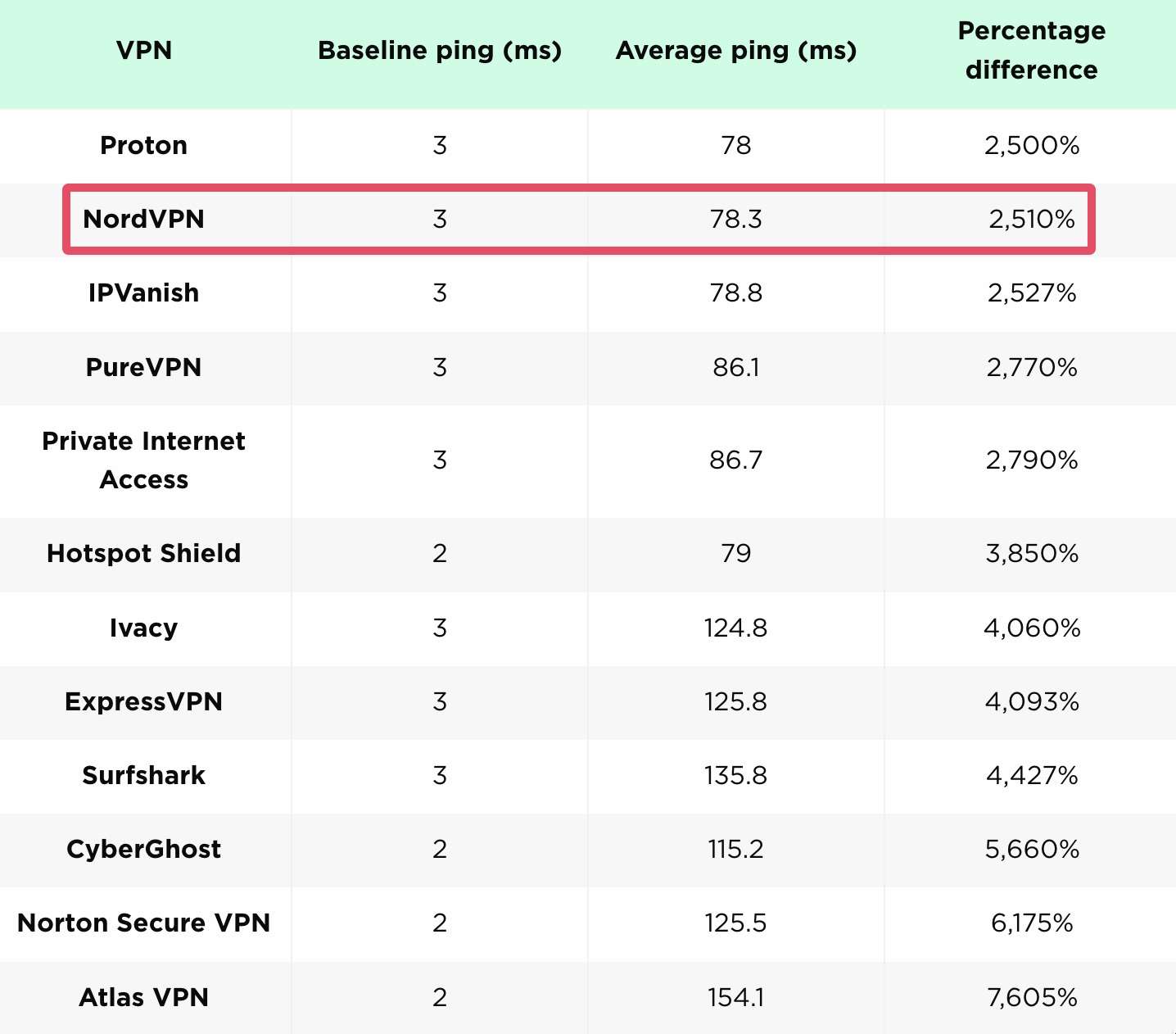 (Image Source – Security.org)
Lastly, VPNRanks conducted a speed test of NordVPN's speed across different server locations. Here are some useful insights from the same:
Brazil servers ranked higher for download speeds (topping with an average of 96.92 Mbps).
When it comes to the Upload Speed, Singapore beats all with an average speed of 98.09 Mbps.
And as far as ping is concerned, Singapore wins again with the lowest ping rate of 84 ms.
Stability
NordVPN is known for being a very stable VPN service, with few connection drops or interruptions.
This is due in part to its large network of servers, which are spread out across more than 60 countries.
NordVPN also offers a variety of connection protocols, including OpenVPN and IKEv2, which can help ensure that your connection remains stable even in the face of network congestion or other issues.
Uptime
NordVPN has a very high uptime rate, which means that its servers are almost always up and running.
In fact, NordVPN guarantees a 99.9% uptime rate, which is very impressive.
Here is the graph of last 30 days NordVPN's response time:

And here is the snapshot of their uptime status: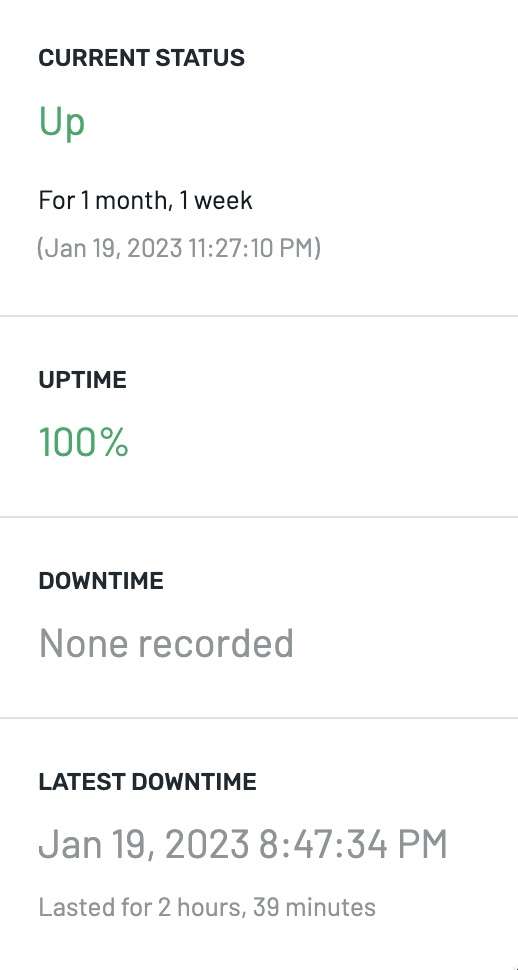 Impressive!
Ease of use
NordVPN is a highly user-friendly VPN app that is easy to install and navigate, even for beginners.
Here are some key aspects that make NordVPN stand out in terms of ease of use:
Installation Process
NordVPN has a simple and straightforward installation process that only takes a few minutes to complete.
Users can download the app from the NordVPN website, and installation is as easy as following the on-screen instructions.
The app is available for Windows, macOS, Linux, Android, and iOS devices, as well as for browser extensions.

User Interface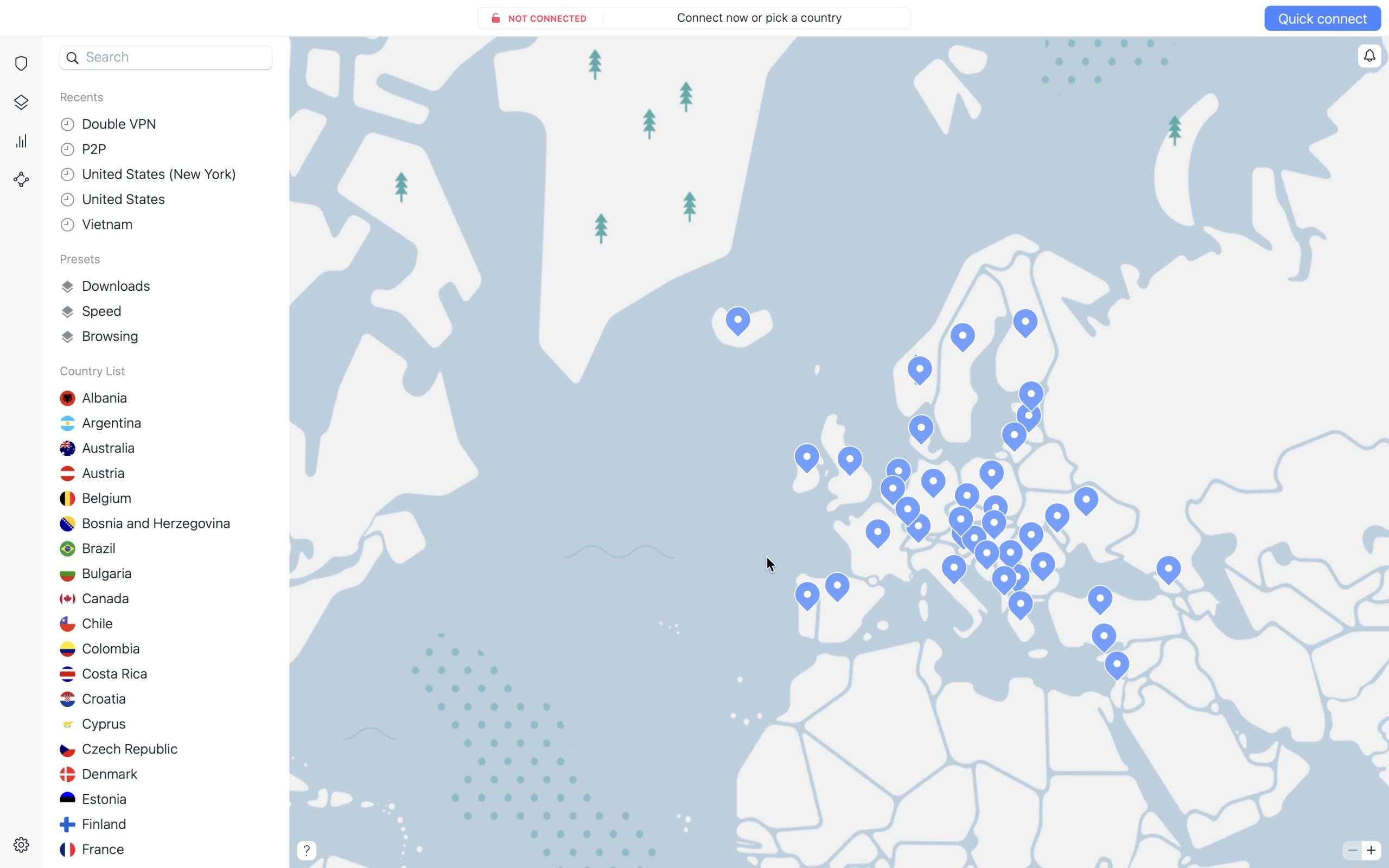 The NordVPN app has an intuitive and user-friendly interface that is easy to navigate.
It features a sleek and modern design, with a clear and concise layout (with both light and dark modes).
The main screen displays the available servers on a map, with the option to select a specific country or city for the connection.
Users can also easily access the app settings and their account details from the minimal left bar. You will also see a blue colored 'Quick connect' button that lets you quickly connect to a random server.
Pricing
NordVPN offers three different pricing plans: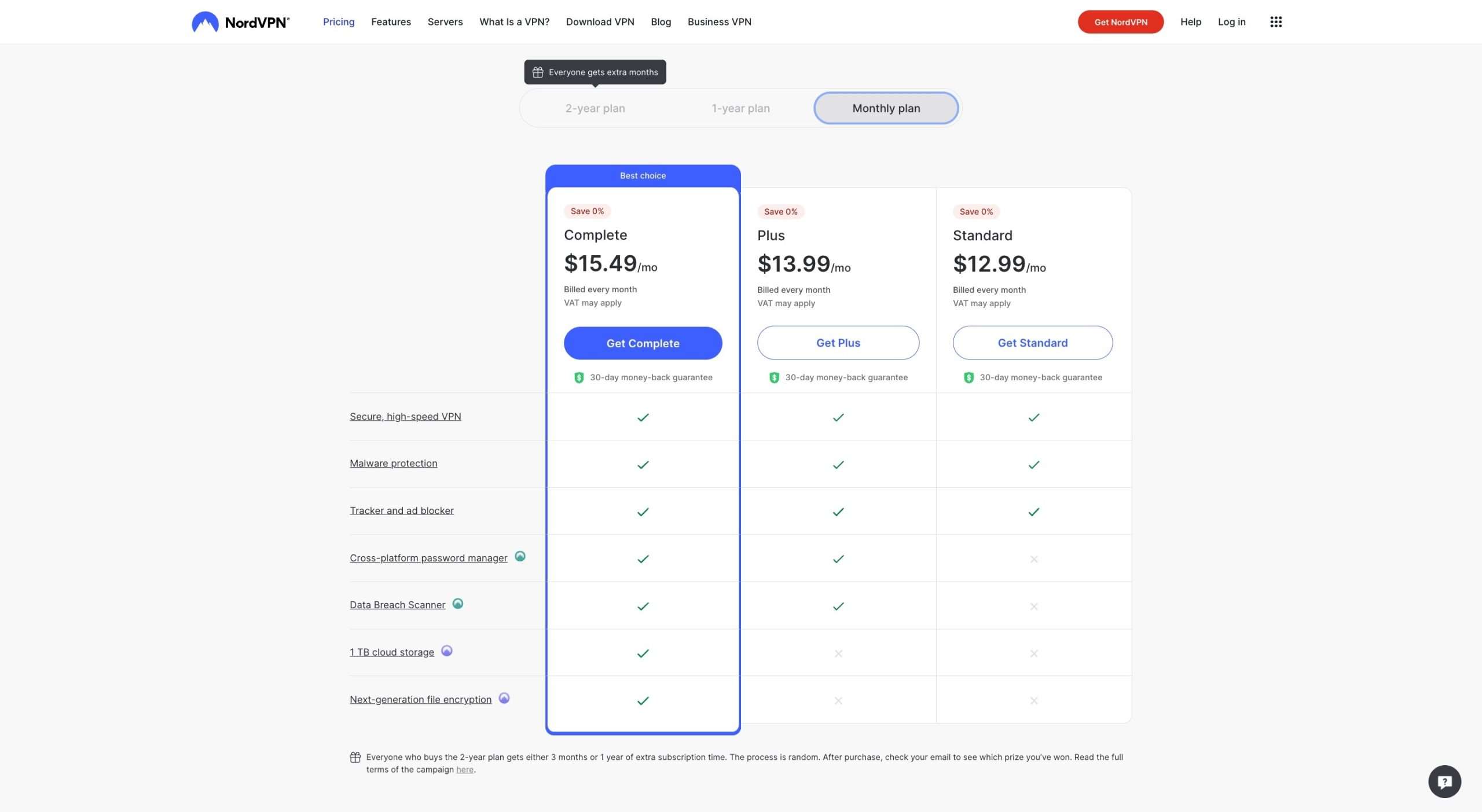 Monthly plan:
Standard ($11.95/month)
Plus ($13.99/month)
Complete ($15.49/month)
1-year plan:
Standard ($4.99/month)
Plus ($5.99/month)
Complete ($7.49/month)
2-year plan:
Standard ($4.19/month)
Plus ($5.19/month)
Complete ($6.69/month)
NordVPN's pricing plans are competitive when compared to other VPN services on the market.
For instance, ExpressVPN offers a 1-year plan for $99.95, which works out to $8.32 per month, making NordVPN's 1-year plan more affordable.
In terms of the value NordVPN offers, it's important to note that the service has access to one of the largest server networks among VPN providers.
NordVPN also offers features such as Double VPN, which routes your internet traffic through two servers for added security, as well as Meshnet, which blocks ads and malicious websites.
Not to mention, Its no-logging policy ensures no one interferes with your online activities and logs, including them.
Lastly, you get a sense of relief through its impeccable encryption and security features.
Customer support
In terms of response time, NordVPN's customer support is generally quick to respond to queries.
They offer 24/7 live chat support, and you can also contact them via email.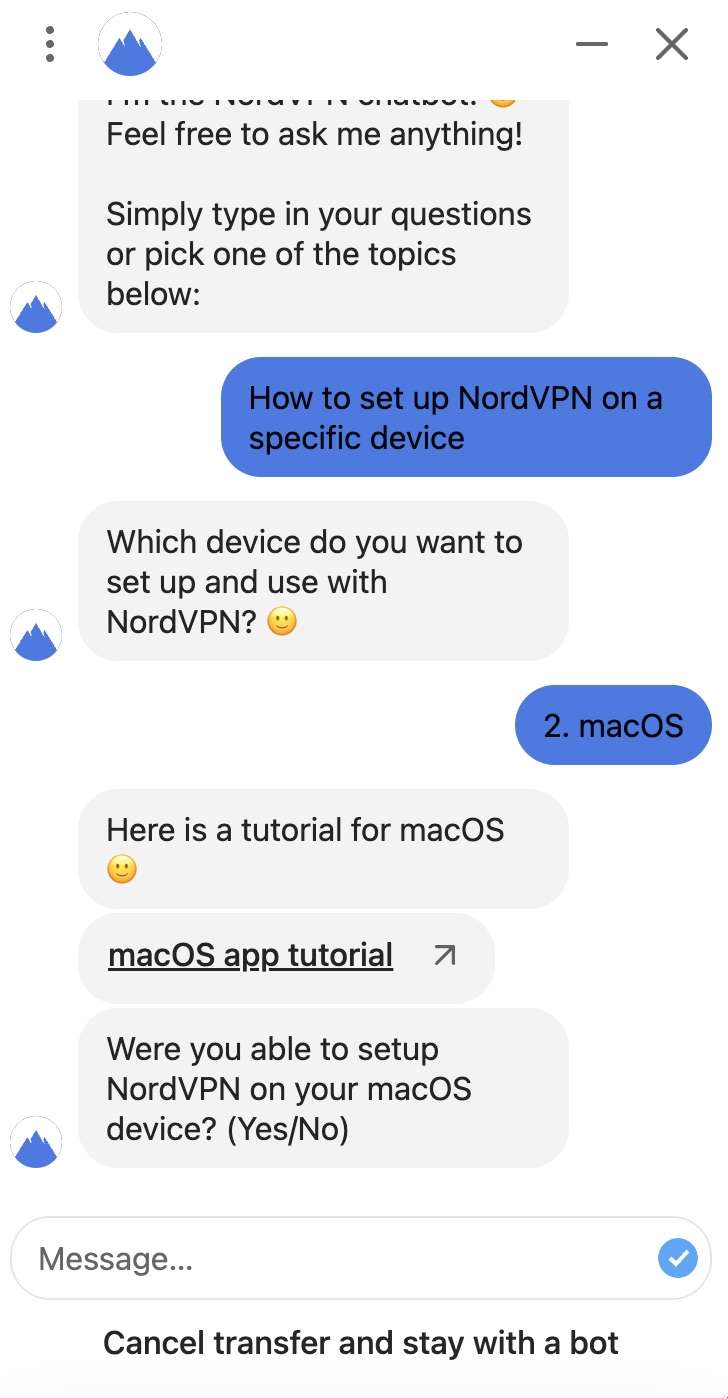 NordVPN's website also has an extensive knowledge base with detailed articles and tutorials, which can help you find answers to your questions without needing to contact support.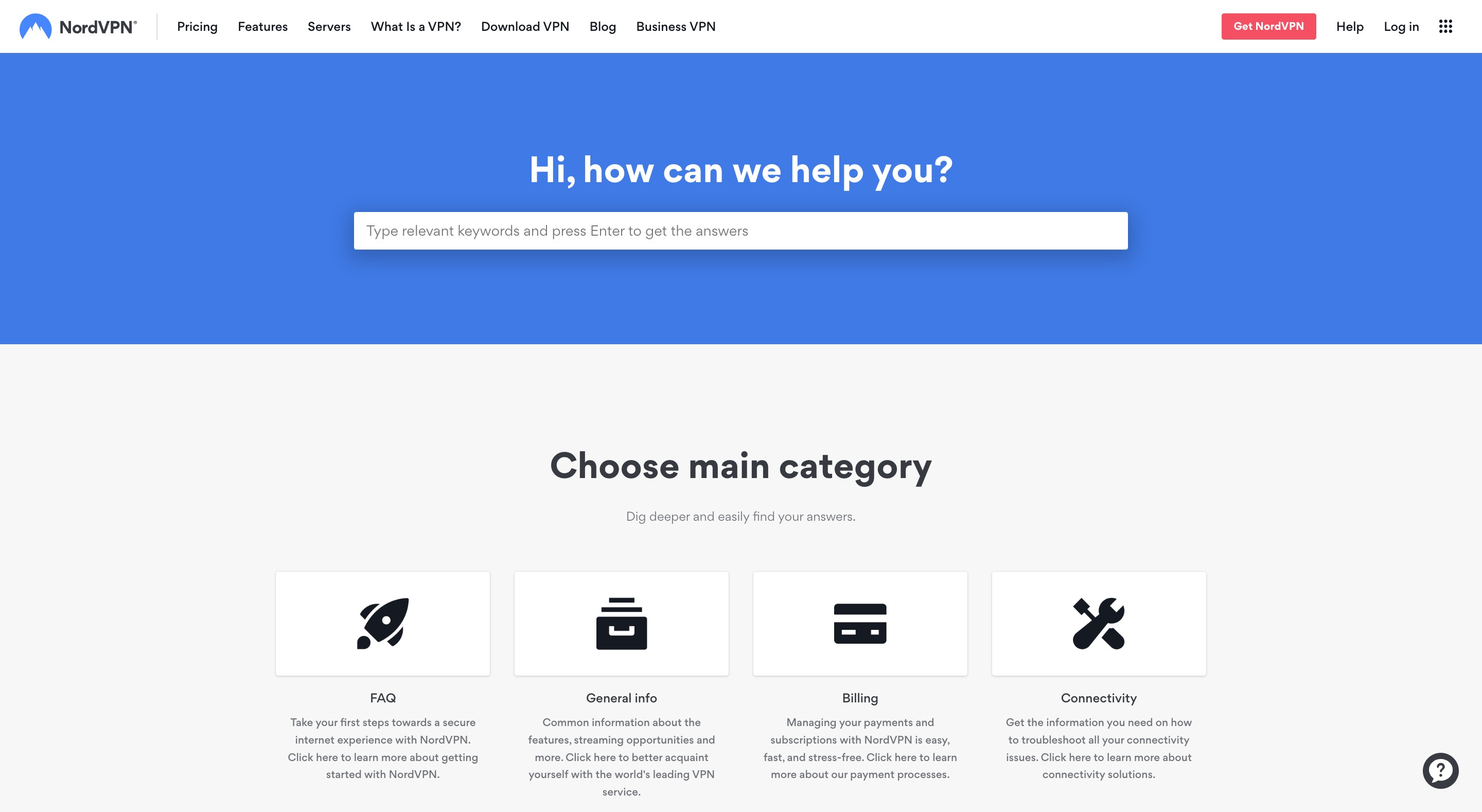 Even better, NordVPN has an active blog where they publish truly helpful and insightful articles revolving around – safe browsing, internet security, and so on.
Regarding availability, NordVPN's customer support is available around the clock, seven days a week. This means that you can get help whenever you need it, regardless of your location or time zone.
NordVPN Pros and Cons
Pros
User-friendly interface: NordVPN has a user-friendly interface that is easy to navigate, making it an excellent option for those who are new to VPNs.
Strong security and privacy features: NordVPN offers robust security features, including AES-256 encryption, double VPN, etc., which protects against malware and ads.
Wide server network: NordVPN has over 5,000 servers in 60 countries, providing users with plenty of options to choose from and ensuring fast and reliable connections.
No-logs policy: NordVPN has a strict no-logs policy, meaning that it does not collect any information about your online activity, providing an additional layer of privacy.
Affordable pricing: NordVPN offers a range of pricing plans, including a 30-day money-back guarantee, making it an affordable option for those on a budget.
Cons
Slower speeds: Although NordVPN offers fast and reliable connections, it is pretty normal to assume users face slower internet connections when using certain servers.
Inconsistent streaming performance: Although NordVPN unblocks geo-restricted content on OTT platforms like Netflix, its performance can be inconsistent (again, this varies on the server).
What Do Big-Time Users Say About NordVPN?
It's time to hear it from those who are using NordVPN for a significant time now.
Mario B. who used NordVPN daily for 2+ years says: Overall it's been a good overall experience, I have been able to mask our company IP Address for more security on the network. Sometimes it tends to slow down the internet, which is my main complaint with this product. (Source)
Scott L. who used NordVPN daily for 2+ years says: Our experience has been close to flawless. It is a great budget option with a ton of features and support (Source).
Piotr P. who used NordVPN daily for 1-2 years says: All in all, it definitely improved my everyday internet experience. Most importantly, I can use different wifi networks without being exposed to danger. Additionally, local browsing restrictions do not bother me anymore – I can reach promotions and bargains across different countries. As I not living in my homeland, I use it also to watch local VOD services from my country (Source).
Conclusion
As a VPN expert (or at least pretending to be one), I've had the pleasure of using NordVPN for some time now, and I have to say, it's pretty darn good.
First off, NordVPN has a massive network of servers around the world, which means you can connect to a server almost anywhere and get fast speeds.
NordVPN also offers strong security features, including AES-256 encryption, a kill switch, and a strict no-logs policy.
Another feature I love about NordVPN is their "Double VPN" option, which routes your connection through two servers instead of just one.
This adds an extra layer of encryption and makes it even harder for anyone to track your online activity. Overall, I would definitely recommend NordVPN to anyone looking for a reliable and secure VPN service with the least amount of learning curve.